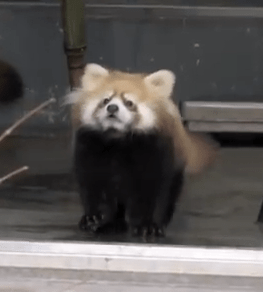 Today's cute of the day is this surprised red panda. Yes, perhaps the zookeeper scared him on purpose, but come on. Is that not the most adorable pose in the world. Red Panda, "Ack! What was that? Let me impose this zookeeper by rolling on my back!" Thanks to Bernardo for forwarding this to me.
The following two tabs change content below.
Jasmine Greene has been a freelance writer for over four years with experience in video game, book and movie reviews. She lives in Manhattan. Nardio is her second of hopefully many (successful) web ventures. When she is not working as an executive assistant or at Nardio, Jasmine volunteers at Kitty Kind so that she can get her crazy cat lady on.
Latest posts by Jasmine Greene (see all)