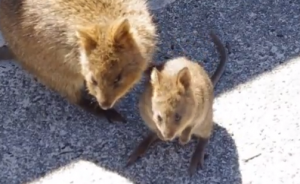 Today's cute of the day are these two quokkas. What is a quokka? They're funny little marsupials that originate in, you guessed it, Australia. Unlike every other cute and cuddly animal in Australia, these little guys are actually very harmless. They're mainly found around Rottnest Island and are pretty friendly with human visitors. They look like a mixture of rat, kangaroo and koala…the cute parts.
The following two tabs change content below.
Jasmine Greene has been a freelance writer for over four years with experience in video game, book and movie reviews. She lives in Manhattan. Nardio is her second of hopefully many (successful) web ventures. When she is not working as an executive assistant or at Nardio, Jasmine volunteers at Kitty Kind so that she can get her crazy cat lady on.
Latest posts by Jasmine Greene (see all)