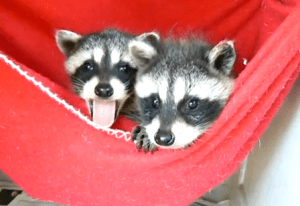 Today's cute of the day are these adorable baby raccoons. Raccoons get a bad rap because they're often seen picking through people's trash and are associated with Rabies. But in reality, these guys are actually quite fastidious with their cleanliness. While they can carry rabies, that is true of any mammal living the wild. These little guys are super cute and seem to know how to enjoy their life. I mean what better way to relax on a lovely summer day than in a hammock?
The following two tabs change content below.
Jasmine Greene has been a freelance writer for over four years with experience in video game, book and movie reviews. She lives in Manhattan. Nardio is her second of hopefully many (successful) web ventures. When she is not working as an executive assistant or at Nardio, Jasmine volunteers at Kitty Kind so that she can get her crazy cat lady on.
Latest posts by Jasmine Greene (see all)