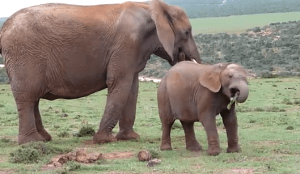 Today's cute of the day is this baby elephant sneezing. I've never really though elephants were that cute, but hey, baby anythings for the most part are pretty adorable. I love how his whole body goes into that sneeze too and the way his big ears just flop around. I wonder if he got some of that grass up his nose. Or maybe it's allergies? Either way, that looks like it was one powerful sneeze.
The following two tabs change content below.
Jasmine Greene has been a freelance writer for over four years with experience in video game, book and movie reviews. She lives in Manhattan. Nardio is her second of hopefully many (successful) web ventures. When she is not working as an executive assistant or at Nardio, Jasmine volunteers at Kitty Kind so that she can get her crazy cat lady on.
Latest posts by Jasmine Greene (see all)