Cute of the Day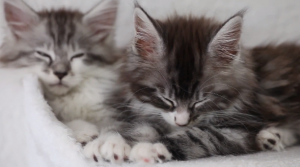 I have to say, now that we have a Maine Coone mix kitty of our own, I'm totally partial to them. They're sooo fluffy, even their tail! These breeds are pretty large, one of the largest in the world in fact. Of course, they're still small when they're kittens and just as playful. The nice think about this breed is that they're known to be very dog-like. They will follow you around, can learn how to play fetch and can even be taken out on walks. I'm not sure how much these little kittens have learned except for hamming up the cuteness.
The following two tabs change content below.
Jasmine Greene has been a freelance writer for over four years with experience in video game, book and movie reviews. She lives in Manhattan. Nardio is her second of hopefully many (successful) web ventures. When she is not working as an executive assistant or at Nardio, Jasmine volunteers at Kitty Kind so that she can get her crazy cat lady on.
Latest posts by Jasmine Greene (see all)