Cute of the day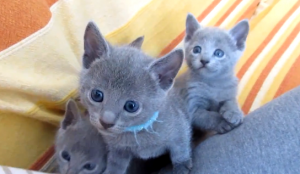 Once there were four Russian Blue kittens that were videotaped. Then one after the other they fled the ever present eye of the camera and lived happily ever after, the end. Not much happens in this video, but heck, cute kittens! I do love Russian Blues. They're fur is super dense and soft and there's just something about them. The last time I had a gray cat though, I realized that their fur shows on everything, so I haven't gotten one since. These little guys are making me reconsider though.
The following two tabs change content below.
Jasmine Greene has been a freelance writer for over four years with experience in video game, book and movie reviews. She lives in Manhattan. Nardio is her second of hopefully many (successful) web ventures. When she is not working as an executive assistant or at Nardio, Jasmine volunteers at Kitty Kind so that she can get her crazy cat lady on.
Latest posts by Jasmine Greene (see all)