The Nardio Review
Is Telepaint Worth Your Time?
Yes!
What Should I Play it On?
I enjoyed this on my iPad. I really enjoyed this on my iPad. That said Telepaint is also on my iPhone and I love it dearly.

Why it Works and How it Plays: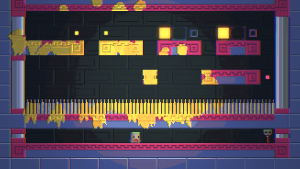 Just buy this. I love Telepaint. 
First off: Wow. Just when I started to lose hope in the Apple Store to feature quality content we get this game. Sure it wasn't featured as hard as last week's pay to win game that I will not bother to name, but still I'm happy Telepaint was recognized by Apple instead of being buried. Now on to the game!
I love platforming games and I love puzzle games. Telepaint is right up my alley. Long story short: this game is a must own experience if you want a quality puzzle platformer game. Everything about it works from the simple yet adorable art style to the smart and at times frustrating puzzles. Telepaint's difficulty ramps up at an acceptable pace, but can get frustrating every now and then. Of course that makes conquering the puzzle feel that much more rewarding. I can honestly say the difficulty is more or less perfect. Over time you get introduced to more things to do and it gets more complicated. But it never really feels like too much nor feels like you are being led along either.
Telepaint has super duper catchy music. Your character also adorably moves in sync with the rhythm of the background music. Everything works wonderfully and I love it.
In Telepaint your character constantly moves. You turn when you hit a wall. The big trick of the game is the ability to teleport yourself or objects at specific spots on the map.  It's simple, but it works marvelously.  Just buy this game, support a quality game developer and thank me later.
Get this.
Basic Info:
$2.99
67.5 MB
Puzzle Game
Weblinks
If you enjoy these sorts of posts please try and help us by supporting us on Patreon.