The Nardio Review
Is PKTBALL Worth Your Time?
Yes.
What Should I Play it On?
Unless you have a very large phone I say stick with tablets. A lot happens on screen and I think you are going to want all the space you can get.
Why it Works and How it Plays:

Simply fun zaney tennis that's free.
PKTBALL is a fun and fast paced tennis game that works perfectly on the iPad. The visuals are great and the gameplay is really fun. At it's core PKTBALL is the evolution of the classic game Pong. So is PKTBall another app store rip off of a much better classic game? No. PKTBALL changes things up enough that old school players will feel right at home here and fall in love all over again. Younger gamers will find a new classic on their hands. PKTBALL adds just enough to the formula to make things feel fresh and new while maintaining the core Pong like gameplay.
You can read on and find out all the reason why I love PKTBALL or you can just save your time and just get it. Once again Apple has totally surprised me and featured an excellent game that absolutely deserves the spotlight and attention. There is hope for the app store it seems.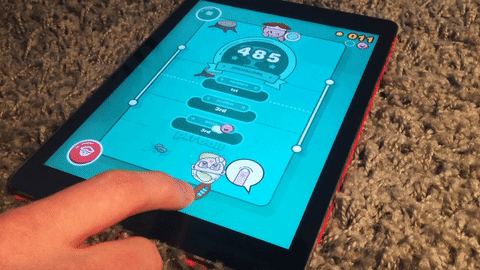 PKTBALL uses simple one finger controls. At first the controls felt wrong and kinda broken for me. The tutorial had me a bit annoyed. It took me a little while to "get" it, but when it did I found myself engrossed in every match. After I "got it" I was hooked. The controls went from feeling strange to totally natural. I found myself spending a good chunk of the weekend playing it whenever I had free time. Heck this review is a little late today because I have been busy unlocking characters. Laser Dog Games has nailed it. Absolutely nailed it with PKTBALL.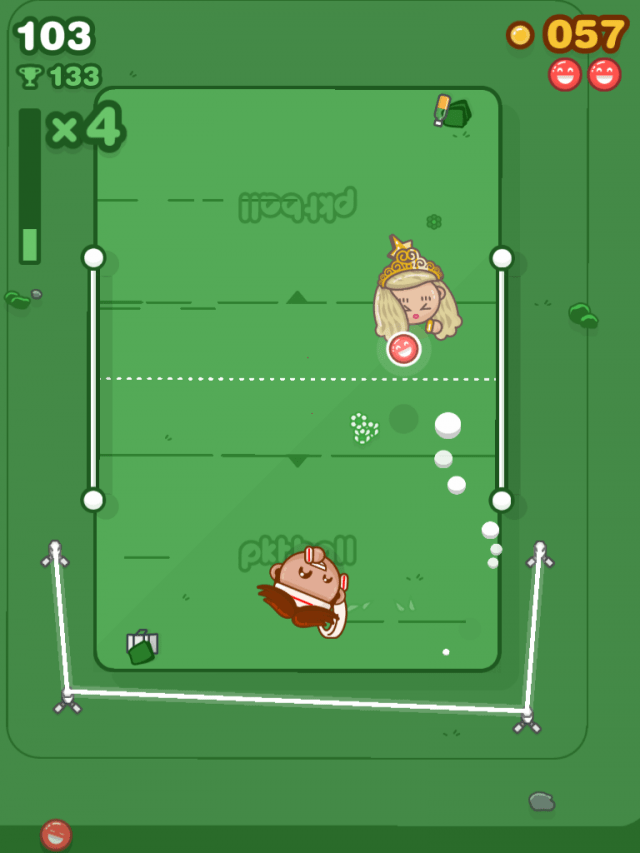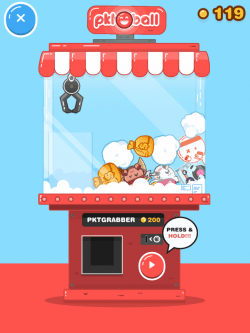 PKTBALL has a lot of characters you can unlock with real money or in game currency.  Surprisingly, currency in't very hard to earn in PKTBALL. You can get it slowly during matches. Now it isn't very fast, but as soon as you find yourself hooked you'll realize you've earned a ton of gold. PKTBALL is never a grind. You also have the option to watch video ads to earn extra currency. These ads are never forced on you so don't worry. I've watched a few just to support the developers as well as making a few in app purchases.  PKTBALL is great and totally deserves my ad money and real money. Once you have enough gold you use that to play an arcade claw game to pick up new characters. For the most part I was able to get a new character every time.
The unlockable characters all bring unique background courts and music to the game.  The more you unlock the more there is to see. I know I'm kinda gushing a bit but PKTBALL  totally deserves it. The art is really fun. I love unlocking the new characters and seeing the new courts. I love hearing the cute sound effects and taking in the new music. I just love the gameplay. Like I really, really love the gameplay in PKTBALL. It's so simple but still really tight. Gameplay starts off slow and then ramps up.  Add in zaney power ups and free ball to keep the match going and you have yourself a super addictive game that earns a permanent place on your device. There are a lot of options that make the game better. The screen shake and flashing was a bit much for me, but thankfully there are options to shut those off. I really love that the developer took the time to make sure the players are in control of their own experience this much.  Great job.
Best of all: PKTBALL has same device multiplayer!
I love this. I love, love, love, love this! I love apps that I can share with those around me. So far I've only enjoyed the two player side of things, but I may soon try the four player version soon.  I can go on and on about how much I love this game but just get it.
PKTBALL is a must own game. 
Basic Info:
Free with in-app purchases
Opt in video watching ability to earn currency.
60.9 MB
Weblinks
If you enjoy these sorts of posts please try and help us by supporting us on Patreon.