The Nardio Review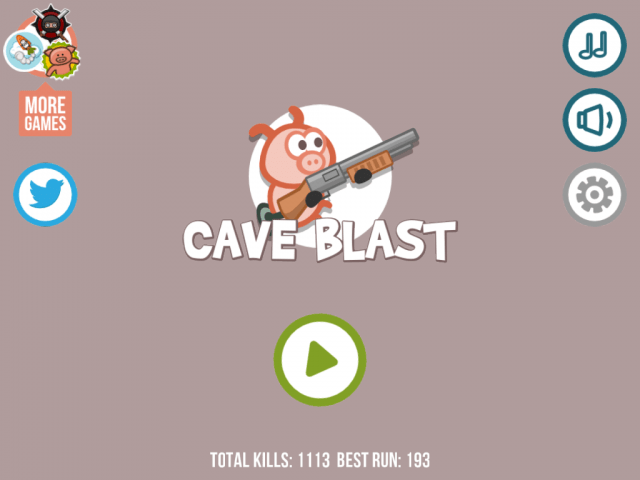 Is Cave Blast Worth Your Time?
Yes!
What Should I Play it On?
I've played it on my iPad and on my  PC. I feel that the controls are tighter for the iPad version overall, but the game runs pretty great on PC. At least with only a keyboard and mouse. A controller can make a world of difference here if it's implemented right. That said I don't recommend this for small phones. A lot happens on screen and you want all the screen space you can get to survive.
Why it Works and How it Plays:
Cave Blast is a fun endless high score game that is fast fun and addictive.
It's weird how some endless high score games can feel fun fresh and addictive while others tend to feel lazy and lifeless. Cave Blast at first glance honestly looks like the latter. The graphics look like a GameSalad or Spriter game with stock assets that seem forgettable.  Yet, it's so much more than that.  I found myself loving the art style. The gameplay has just the right amount of progression along with moderately brisk gameplay that I found myself hopelessly addicted this pretty much all day today. I can honestly say that Cave Blast might just have earned it's permanent place on my iPad.
Cave Blast is a twin stick shooter that has you endlessly flying around a small cave space shooting the spawning monsters, leveling up and collecting weapons, power ups and random items. Remember I said random. Some runs will have you with all the items you will ever want/need while others will have you struggling it our to make due. Don't worry, it works. Well, it more than works, it's pretty amazing. The controls are tight and very intuitive. I found myself having no problem controlling my guy as I waved in, out and in-between enemies and projectiles on my iPad. Honestly that is kinda awesome.  Lot's of games attempt the twin stick shooter design and very few nail it.  Thankfully it works flawlessly in Cave Blast.
The art style is simple, but endearing. I would have preferred if enemy projectiles stood out a bit more, but otherwise it works wonderfully. What at first glance looks underwhelming and a game that could easily be dismissed quickly becomes awesome thanks to the constant character quips and fun gameplay.  I feel like a jerk for not having a more open mind as I looked up the game and downloaded it.  Bad Bernardo. Bad, Bad Bernardo.
Cave Blast's music is simple, but just good enough that it works flawlessly and quickly becomes something you will find yourself humming after you tear yourself away from the game. It was stuck in my head so bad I had to throw some Taylor Swift on to clear my head as I sat down to write this review and resist the delicious temptation to go back and try to raise my high score.
Now back to that amazing gameplay. I love it. I am not usually a fan of rogue like games that reset my progress after playing, but it works well here. Leveling happens fast enough where you never really feel like you are losing progress. Cave Blast is designed to be and plays like a perfect pick up and play game for short sessions. Sure It could have used some sort of permanent progression system, maybe the ability to jump in during harder waves for those of us who want to just  get in on the action.  But as is I love this game, I really do.  It's just fun.
I would love to see some new stages added. As is it works, but there is definitely room for expansion/improvement here. A few more levels to play around in with various types of level design and level specific hazards and skins would be amazing. It would also help keep the game interesting days from now. I just downloaded Cave Blast a few hours ago and I already unlocked all of the characters and have neared 200 kills in one run. Please give me more.
Cave Blast is a Freemium game that is very, very light on ads and I see no in-app purchases at all. I sort of wonder how the dev is going to make money on this. There is an option to watch video ads for coins, but I have no idea what coins actually do. You can earn power ups for future games, but none of those are available to buy in any way.  The ads that do pop up happen pretty rarely so I never felt the need to shut off my internet connection because I felt like I was being spammed. If anything I'd like some sort of tip button in game to thank the dev for the amazing work. That said the developer SnoutUp has a Patreon if you feel like helping to support his work.

Now I've also played Cave Blast on the itch.io site for a bit and so far shooting controls are far far better and moving works very well. I've noticed that I do better here because everything is spaced out better. The player's character seems smaller here than it does in the iOS version and so are the enemies. This makes moving around way easier. There is also more screen view space so there is more room to move in. The huge down side for me is controlling the plane is no where near as precise as the iOS touch screen edition. It just doesn't work well at all with the keyboard.  That said it's still an amazingly addictive experience….Again why this review is coming out so late.
Cave Blast is a great game that will devour your time and attention.
GET THIS!
Basic Info:
Weblinks
If you enjoy these sorts of posts please try and help us by supporting us on Patreon.