Nardio Event Coverage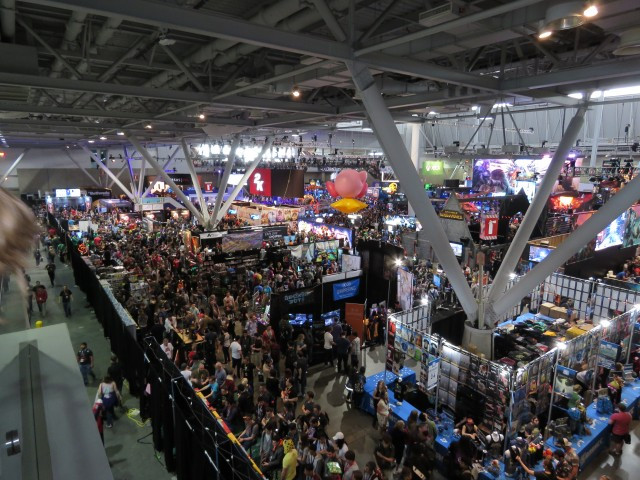 PAX East is perhaps the biggest gaming convention on the East coast. As such, it sells out within minutes. Luckily this year we were able to get in as press! It's the first PAX East officially for Nardio, though I went a few years back with a different crew. Things have changed significantly. Blizzard had a huge presence this year showing off Overwatch and there were a ton of amazing indie games scattered around. Of course, with advent of VR technology there were a few pretty awesome VR games. I even got to try out the HTC Vive thanks to a demo from Newegg. Of course, getting a Vive means I'll need to seriously upgrade my video card. Maybe in a couple years. I was able to set up an interview session with some pretty amazing games, but there were a few I really wanted to highlight:
Dragon Fin Soup
By: The Grimm Bros
Dragon Fin Soup was a really nice mix of RPG with deep rogue-like elements. But what really sold me was the whole spin in fairy tales. You might remember that I also developed a game that had a different spin on fairy tales (shameless plug: Once Upon a Runner) so this was definitely up my alley. You play as Robin Hood, a sassy, spunky and seriously alcoholic bounty hunter with a wolf pet named Big Bad. As you play you learn about her back story, what's going on in the world and collect bounties. There are several different modes. The story mode allows for save points but the other two do not so when you die, you die for realsies. I really enjoyed the colors, artwork and how smooth everything looked. We were lucky enough to do an interview with them and where you can learn more about the game. The game is out right now and 50% off on Steam right now so go pick it up!
Super Dungeon Tactics
By: Underbite Games and Soda Pop Miniatures
I stumbled upon this in between two interviews and I was super excited to see a developer working on a tactics game – Super Dungeon Tactics. I've been a huge fan of this genre whether it's the more traditional games like Ogre Tactics or the more freewheeling Disgaea series. Besides the tactics element, I also loved the adorable artwork so I gave the game a try. While it has the more traditional tactics mechanics where you move your characters and perform attack, there's a twist in the form of dice. Each turn you 'roll' dice and each dice can apply a special effect to your character whether its activating their special, increasing defense or healing. While the dice roll itself is random, you can customize the actual die face for each character by equipping weapons, trinkets and armor. It adds a really interesting element to the gameplay and I think it makes the game that much deeper because of it. I unfortunately didn't get a video interview because I was just having way too much playing the game! With that said I'll definitely follow up with these guys and provide you with at least a written interview if I can't catch them a different day. The game is already greenlit on Steam so you can follow their progress and be alerted once it's available for sale.
Marooners
By: M2H Studios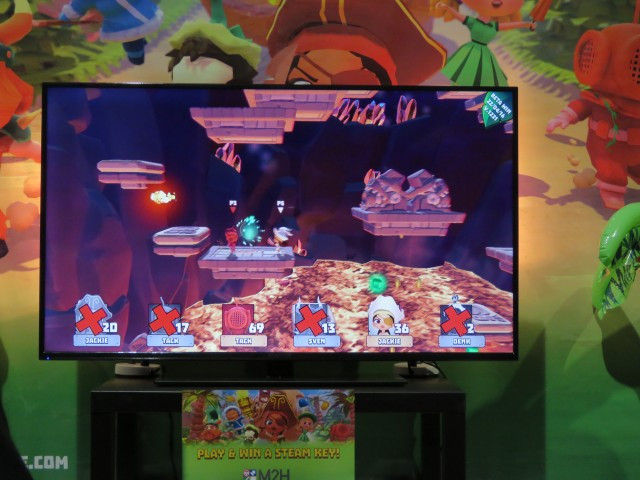 I love the fact that local multiplayer is making a comeback and in a huge way. Marooners is a really cute and fun multiplayer game very similar to Mario Party with a dash of Warioware. You play 5 quick minigames with your friends and the one to collect the most points wins. If you don't have enough people to play a game, you can also connect online to play with people digitally. The artwork is super cute and each of the 8 different levels offers a very unique mechanic. In one you have to run away from a rolling ball a la Indiana Jones while another one you need to avoid bricks/boulders falling from above. This game and its developers came all the way from the Netherlands and based on the conversation I had with them, a lot of people loved it. It's already available on Steam for early access so go pick it up for endless hours of entertainment!