Nardio Cosplay Adventures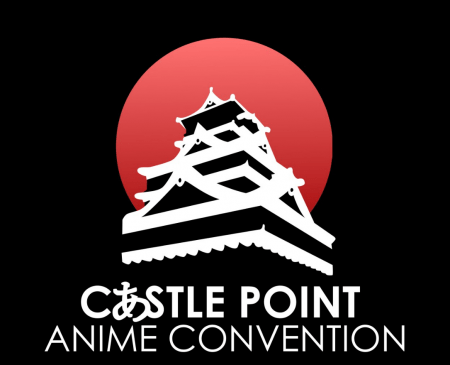 Castle Point Anime Convention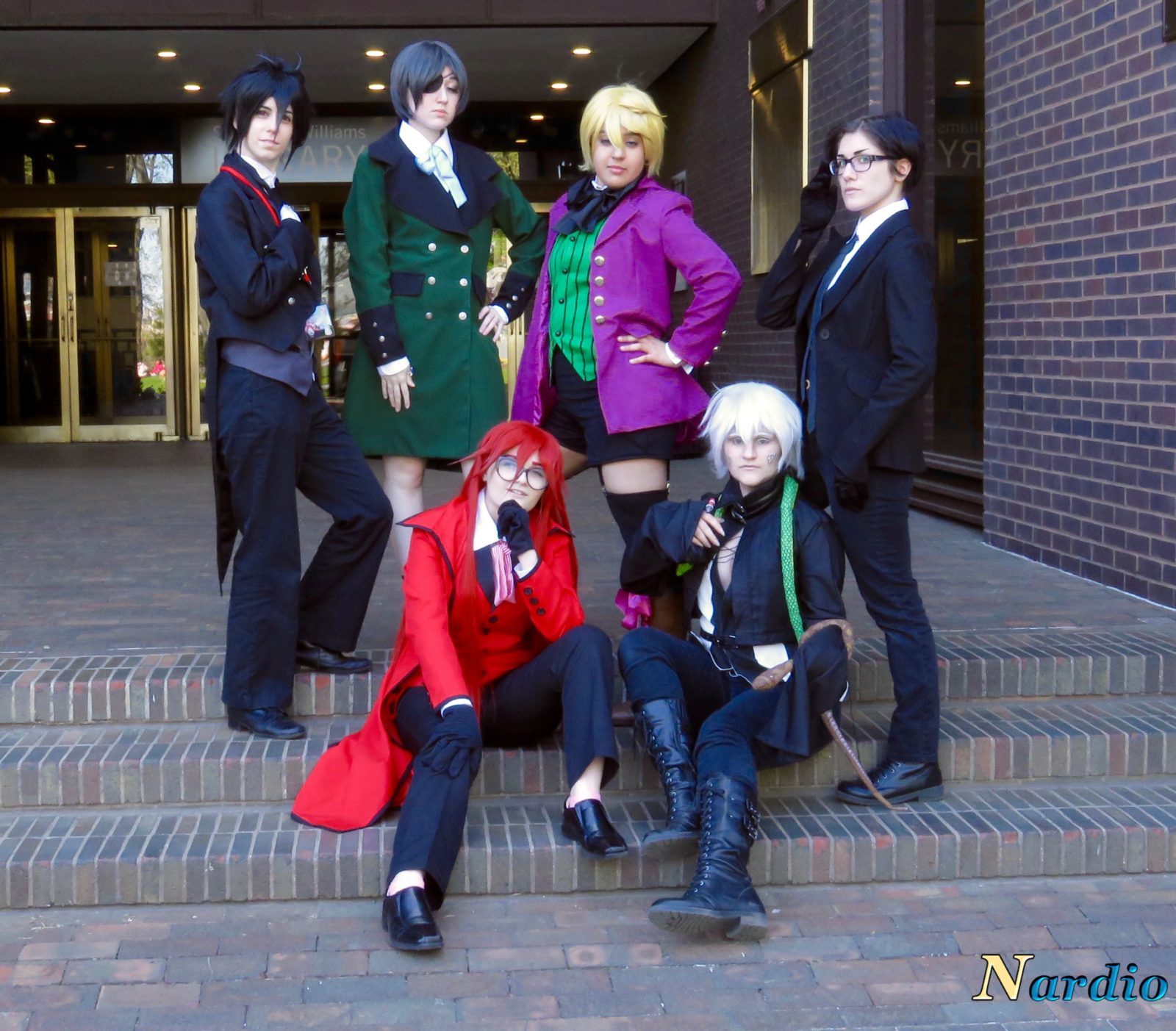 Monochrome Manor Cosplay!
Day two of the Castle Point Anime Convention and I stumbled into something called a Black Butler panel.
Mysterious murders have been occurring in the Phantomhive Household and we need your help in solving them. Monochrome Manor is proud to presents Black Butler: Book of Murder. It's one full of twists, turns, and surprises. Come for our games and activities in which it will brings us one step closer into discovering who done it, when, and where in the Phantomhive House. In addition, you will have the opportunity to get a good look at the crime scene (a.k.a. episode viewing) and interrogate the suspects present (a.k.a. Q&A session). However, we all must be quick about it for another poor soul may be next to die.
I sort of understood what it was about when I was looking up the panel events earlier. Some cosplayers would pretend to be some characters from the show and put on a bit of a show and take questions from the crowd in character.  Honestly it seemed a little lame to me. I mean how interesting could it be? I thought, it might be just a few cosplayers acting pretentious to a crowd of folks or worse yet a near empty room. It didn't help that I never watched Black Butler so I was loath to check something out that might be chock full of spoilerness.
Well, I was very wrong. Scratch that. I was totally wrong and later on felt like an ass for my silly thinking. Any who, lets get back to the con.
My second day at Castle Point as I noticed a lot of people excitedly going into a building for some event.  After a few minutes of this I decided to check it out. The place was packed! People were hanging out in the doorway trying to see what was happening. Everyone there looked really excited. So I nudged my way past the fans at the door and flashed my press badge to get past a few folk who didn't wanna move. I finally scooted in and started taking pics and stock of the event.
Turns out it was one of those lame panels. Monochrome Manor Presents Black Butler Book of Murder. Welp, time to get some shots and learn.
In the front of the repurposed classroom there was a group of  cosplayers that I guessed were characters from the Black Butler show. I knew nothing of Black Butler, but what I did see from the cosplayers, it seemed pretty interesting. The characters were eccentric and full of life. The cosplayers ranged from serious to holding back laughter. From everything happening on stage I totally understood.
I felt like I was missing out a bit. I tried my best to get a few good shots, but wow these folk moved a lot. After getting said shots I looked around and just watched how happy everyone in the audience was, then I'd look back and see how happy the folk performing were. The cosplayers who were performing had the audience int he palms of their hands. Everyone was into it. Everyone had their eyes on stage. No one looked bored. No one there thought the panel was lame.
As I stood there taking shots and admiring the Black Butler actors devotion to the panel, I started to think. I found that I was really glad this was happening. A lot of people don't have friends to share their love of anime with. So panels like this must be a godsend. I felt bad about not being open minded enough about this sort of thing before hand, and promised myself I would check out as many of these as I could from now on. I also really wanted to talk to the folks in the panel.  Not only are they brave and cool enough to cosplay, they are on stage performing and living up to the fans expectations of who these characters were. The more I watched the performance the more I admired and respected them. Experiences like this are what I was hoping to find and explore at Castle Point Anime Con.
I really wished I watched Black Butler before the panel so I was able to share in the fun. After that I decided to move Black Butler up a few notches in  my queue (Watching it now) and then jump in on any other panels on shows I follow. Maybe I should participate in a Hunter x Hunter panel next year?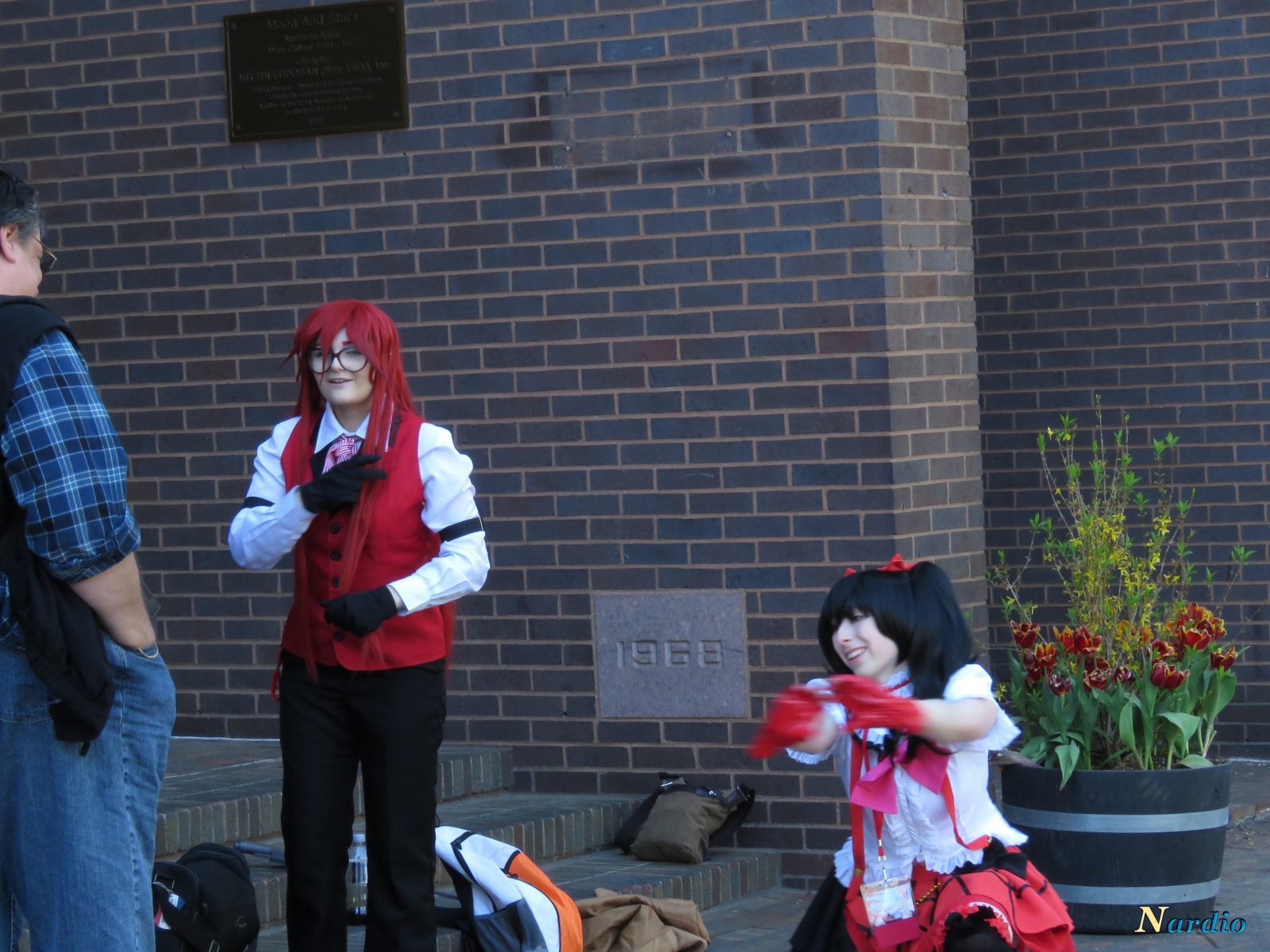 Later on I found some members of the panel outside "derping" around and asked for an interview. I had no idea what I was in for and had an absolute blast. They were talkative, fun and best of all interesting. I had a great time and I think they did as well. For some darn reason my new camera started to shut down randomly during the video interview, but the group was so chill that they didn't care and patiently waited until everything worked. The best part was they weren't performing for the camera. They were themselves before and after recording and they were just awesome. They were kind enough to share stories about their love of anime and cosplay. The stories were interesting, personal and fun.  I have the feeling that if we were all someplace more comfortable with a more cooperative camera we could have chatted and recorded for hours and it would have still been fascinating. I can totally see why they run these panels and understand why they are so much fun to watch.
Check out the interview below:
(Beware! My foot is firmly in my mouth at the start of the interview. Stuttering ahead!)
This group of amazing and talented people were everything I had hoped to find in the convention. I know I am gushing a bit, but this group really was fun and inspiring to talk to. They were genuine fans of everything going on here. They wanted to be a part of something they loved and share that love. I found that inspiring. This group was just positive, welcoming and genuine. I loved that they took the time to do this panel. I loved that every single one of them had a story to tell that was personal but still relatable. People and groups like this make me wish I joined the community ages ago.  Thank you very much Monochrome Manor Cosplay for taking the time to speak with me and share your stories and fun.
Check out Monochrome Manor Cosplay on Facebook here!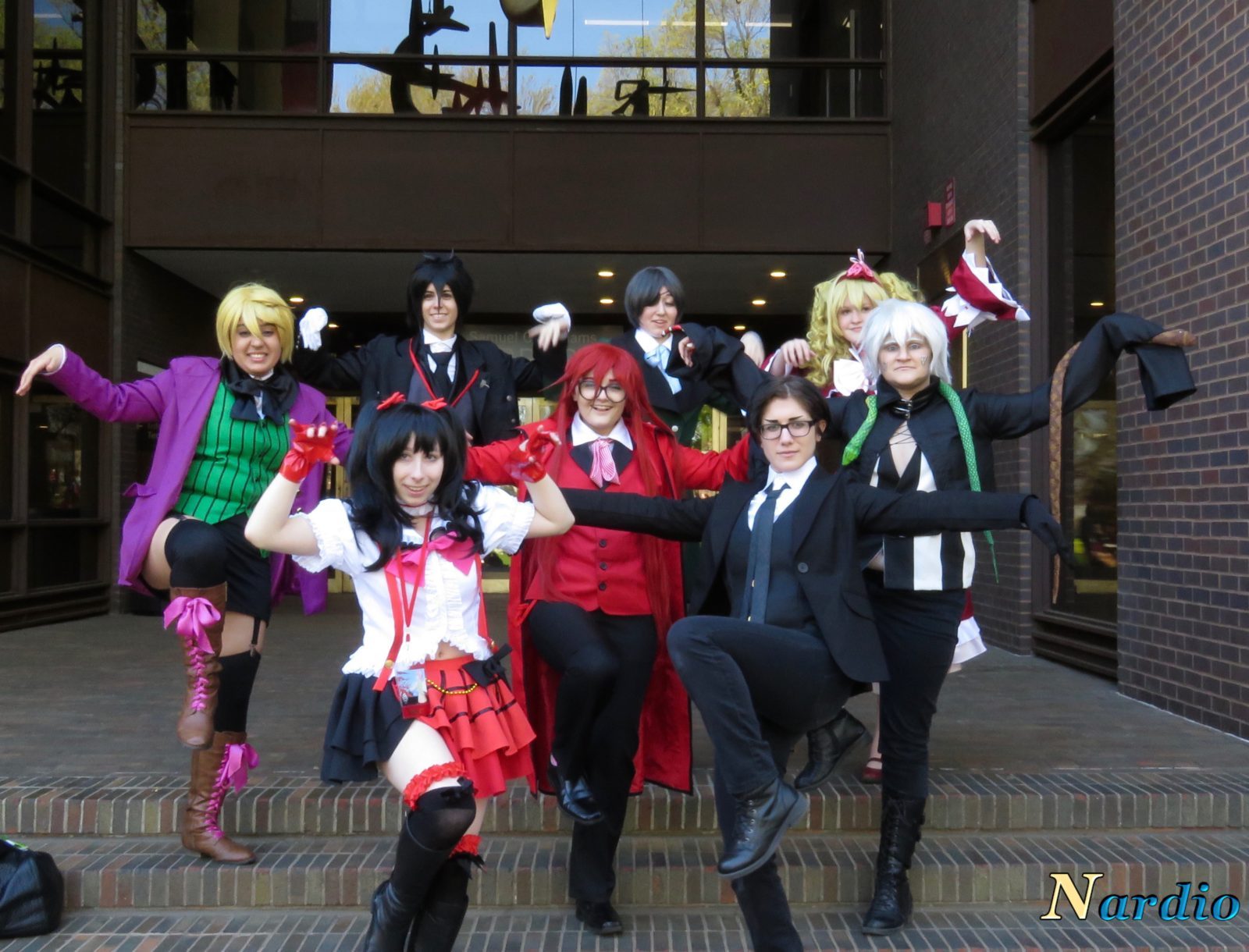 If you enjoy these sorts of posts please try and help us by supporting us on Patreon.