Nardio News
IndieCade East 2016

Get in. Get out. Get paid.
During our time at IndieCade East we came upon a really interesting multiplayer game called 3 Nights in Chicago. Instead of the usual beat/shoot em up game that we are used to 3 Nights in Chicago has players teaming up to rob banks.  It's an interesting take on the local multiplayer genre. The more we watched and played it, the more we found the premise made a lot of sense and seemed like a perfect fit.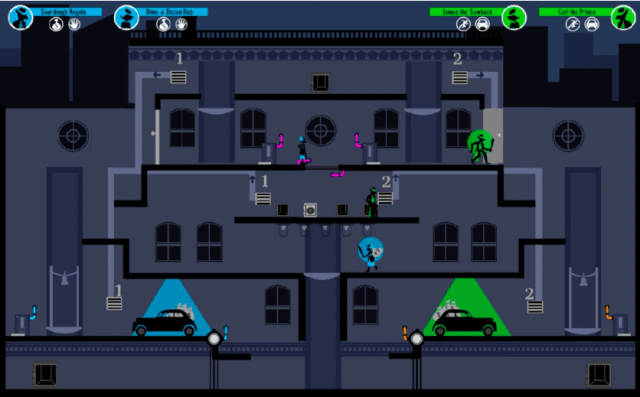 3 Nights in Chicago is a senior thesis game from several students in the NYU Game Center. It was a little rough around the edges, but all in all it was a great game with tons of potential. We spoke to Carl Farra who is a part of the team behind 3 Nights in Chicago and had a blast with him. He was super nervous to be interviewed at first, but once the camera started rolling he knocked it out of the park and his enthusiasm and passion immediately took over.
Check out the interview below:

The interview was great. I loved learning about the game's origins and the team's willingness to scrap previous work to get what they wanted. I don't think I could have done that with a project I worked so hard on so close to a major deadline, but they did.
The gameplay is pretty fast paced and really interesting. 3 Nights in Chicago is not just some a mindless beat-em up. Players need to communicate with each other and pay attention to a lot things at once. You and your partner need to open safes to get money then take the money to your escape cars. You can also attack other players to stop them from collecting money.  But there is a risk reward mechanic here. Attacking enemies can slow them down, but it also stops you from being able to help your partner open switches and get larger amounts of money. Also if you get knocked down, your partner is essentially on their own while you are stunned.
Figuring out how best to tackle a level to get the most money keeps you on your toes. I was surprised with the amount of depth and tactics needed for this game. Naturally, Carl and his teammate kicked Jasmine's and my butts in game. I can see this being one of those great party games that gets more and more entertaining the more my friends and I master it. I love multiplayer games that need strategy and cooperation.
I have high hopes for this game. As you can see in the interview, 3 Nights in Chicago can only get better. The team has built a solid foundation for a game that is already entertaining. Depending on how much work they are willing to put into it, 3 Nights could be the next big thing. The crowd really enjoyed it and we totally understand why.
To find out more about 3 Nights in Chicago please click the link below. Also if you are in NYC 2016-05-19 at 6PM you can check out the game in person! Links below:
If you enjoy these sorts of posts please try and help us by supporting us on Patreon.