Nardio Book Review
Is Dragons Rioting Volume 2
Worth Your Time?
Yes! Dragons Rioting is one of the best action manga on the market today.
What Did I Think Without Spoiling It?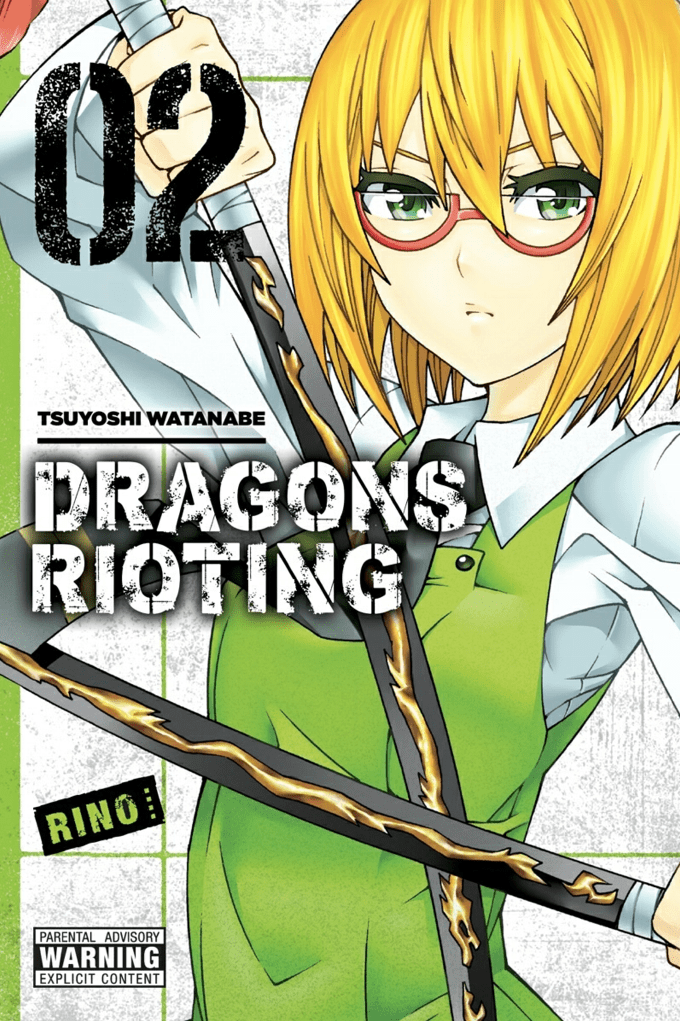 I love Dragons Rioting. 
Tachibana Rintaro is back again along with the rest of the insane cast of school fighters in this action-packed comedy adventure. Rintaro is still just trying to go to school, enjoy himself, and stay alive. Unfortunately (?) he now has to deal with someone pestering him to become his apprentice. It doesn't help that the person is a beautiful female classmate.
Dragons Rioting Volume 2, takes everything you loved about the first volume and dials it up to 11. Then adds another 50. Even more fighting, even more insane art, even more scantily clad women. Even more Rintaro freaking out because of all the scantily clad women! Dragons Rioting Volume 2 also brings a good amount of character building along with some very interesting new characters. If you were a fan of the first volume then volume 2 is a no brainer. If you have never read Dragons Rioting I suggest you start at volume 1. Check out my review to find out more.
Why Dragons Rioting Volume 2 Works: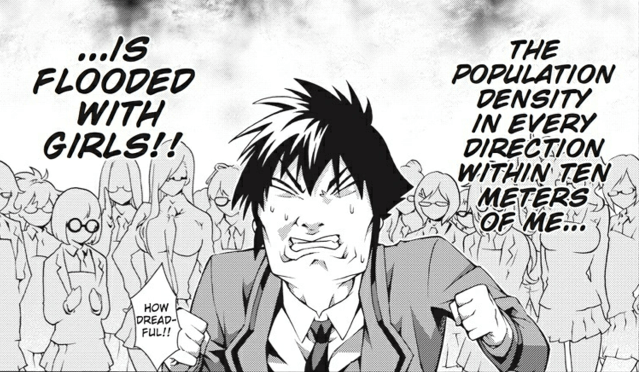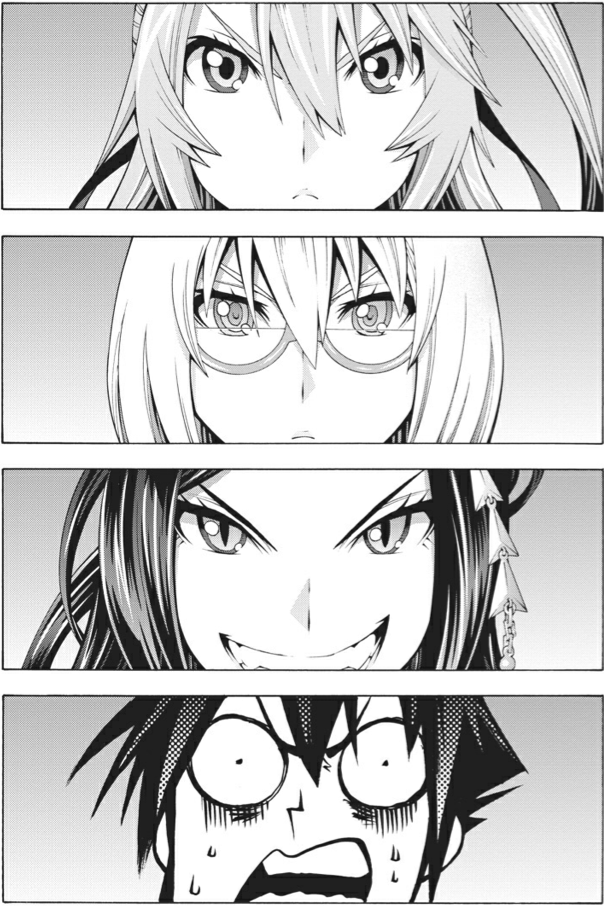 Dragons Rioting Volume 2 still has you following Tachibana Rintaro, a boy who diagnosed with Hentai Syndrome – a rare disease that could be fatal if he becomes sexually aroused. He trained with his father to master martial arts to control his emotions. Unfortunately, mistakenly he enrolled into a mostly girl filled school that is all about fighting. To make matters worse he accidentally made a big spash and every woman there now has their eyes on him for various reasons.
Besides being the focal point for many women, he also landed an apprentice. Watching him trying to take on that responsibility was really entertaining. But it's the later part of volume 2 that really got me invested in the series. The introduction of the character Mell was brilliant. Here we start some really good character and world building. Mell herself is a fun character that is sort of a scene stealer. Along the way we learn more about her, some of the other students and even Rintaro. Having him open up to Mell really helped him become a solid character. When I first started reading Dragons Rioting I was worried that he would be a one note character. Thankfully this is where we start to see him open up. As a long time reader I can honestly say it only gets better.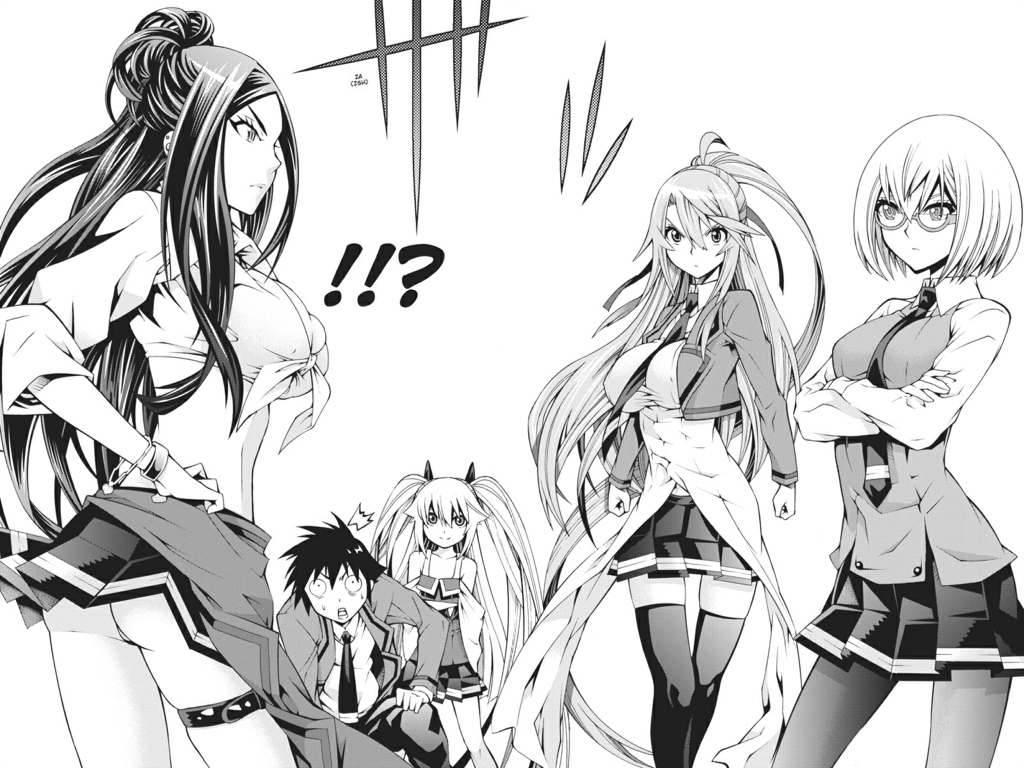 The story is still pretty absurd and thankfully funny. Rintaro proves himself to be a bad sensei, which is very understandable considering the situation. I honestly loved the intro of the volume when Ayane was just staring laser beams of hope into his soul. It was a quick gag, but a great one. His friends still are hopeless perverts and are now relegated to quick and funny one liners. I did really, really love how Rintaro has a chance to shine and show off some badassery. There is a reason he caught everyone's attention in this volume – he goes even bigger and inadvertently turns himself into a bigger focal point and possibly target. The actions scenes are awesome and the art is still phenomenal.
I still very much love Dragons Rioting. Volume 2 looks amazing on my iPad. While part of me regrets not buying the printed edition, another part recognized just how much better this looks on my retina screen. The pictures are larger and I can zoom in to appreciate all the details. Two page spreads look absolutely magnificent. I wholeheartedly recommend reading this  manga on a tablet device. I gotta say once again how happy I am that this series is legally here in the United States. The translation is excellent and the art is just flawless. This is far superior to any scanlation I have ever read before. I also love that I am now legally supporting one of my favorite manga creators. Thanks Yen Press for bringing this to America.
I wholeheartedly recommend this book.
Read this.
No Like?
There is no Mad House or Trigger anime adaptation announced.
Agree? Disagree? Write your comments below.
Read our other book reviews.
Basic Info
Available on Kindle for $6.99
Amazon Paperback for $9.91
Author: Tsuyoshi Watanabe
Genre: Fight/Gag/Ecchi/School
160 pages
The following two tabs change content below.
Hi I'm Bernardo Español. I'm a guy with way too much energy and not enough free time.
Latest posts by Bernardo Español (see all)