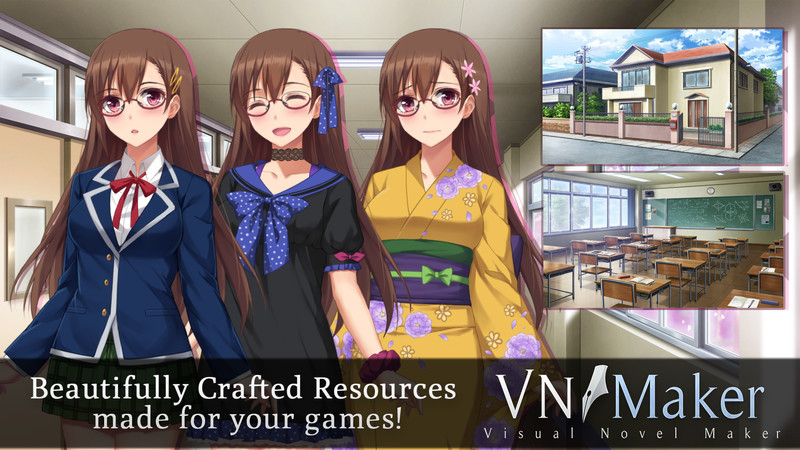 You might know Degica now as the studio that imports a ton of Japanese games to the US, but did you also know their claim-to-fame is RPGMaker? Love it or hate it, RPGMaker empowered a lot of people to dabble into game development thanks to its easy drag-and-drop interface. Today, they've added more features including the ability to adjust the code.
Degica is doing it again, but this time with visual novels. Their Visual Novel Maker will make it super easy for anyone, even those without programming experience, to create their own visual novel. While they provide free to use assets, you can always create your own for a more unique experience. There's even voice over support. Read the press release below for more information:
A revolutionary new tool for Visual Novel Creation. Coming soon to Steam!

July 1st, 2016 — Degica is pleased to announce their latest installment to the 'Maker' series of game development tools, Visual Novel Maker.

Visual Novels are taking the world by storm and becoming an incredibly popular form of entertainment. With this growing demand for Visual Novels, we saw the need for a user friendly (yet powerful) toolset for creating them.

Visual Novel Maker is our answer and we couldn't be more excited to show you what we've built.

Features:

Beautiful, free to use assets to get you started.

Dynamic creation tools aimed for artists and writers.

Scripting and Extension for user-integrated functionality.

Live2D and voice sync support.

Multiple resolution support.

Multiple exporting options.

Easy Game Localization tool.

Product Details:
The following two tabs change content below.
Jasmine Greene has been a freelance writer for over four years with experience in video game, book and movie reviews. She lives in Manhattan. Nardio is her second of hopefully many (successful) web ventures. When she is not working as an executive assistant or at Nardio, Jasmine volunteers at Kitty Kind so that she can get her crazy cat lady on.
Latest posts by Jasmine Greene (see all)