PAX East 2016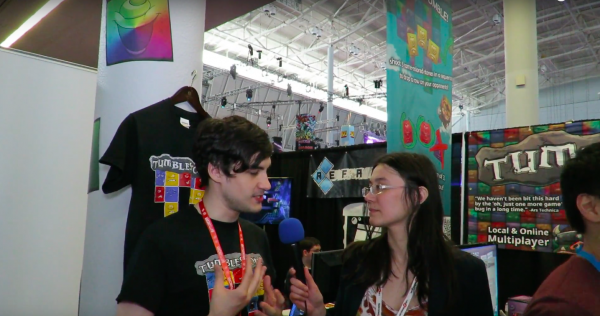 Whew, we've finally gone edited all of our videos from PAX East! One of the games that really excited me when I played it at PAX East was Tumblestone. At first glance it might just look like a standard match 3 game, but it really turns the genre on its head.
One of the more interesting aspects of Tumblestone is its multiplayer mode. As the name suggests you play against other players and try to clear the screen as fast as possible. The interesting thing to note about the gameplay is there's a very specific way to beat the levels. You need to match exactly three blocks. If you end up with blocks left on the board, the level restarts and you need to find another strategy. The fastest person to complete the board wins. This creates an interesting balance because you need to think quickly, but you also need to slow down and think about your next move.
This leads to the single player/story mode. While the basic gameplay remains the same, as you play longer you're introduced to new mechanics. For example, there might be an obstacle that appears/disappears each time you send off a block. On other levels instead of shooting one block you shoot two. These additional mechanics keep the gameplay fresh and keeps you on your toes.
We  had the good fortune to interview Ty Taylor, the developer of Tumblestone. Watch the video below to learn more about this awesome match-3 game! You can buy it now on Steam.
You can learn more about the game on their site and be sure to follow them on their Facebook and Twitter.