Nardio Book Review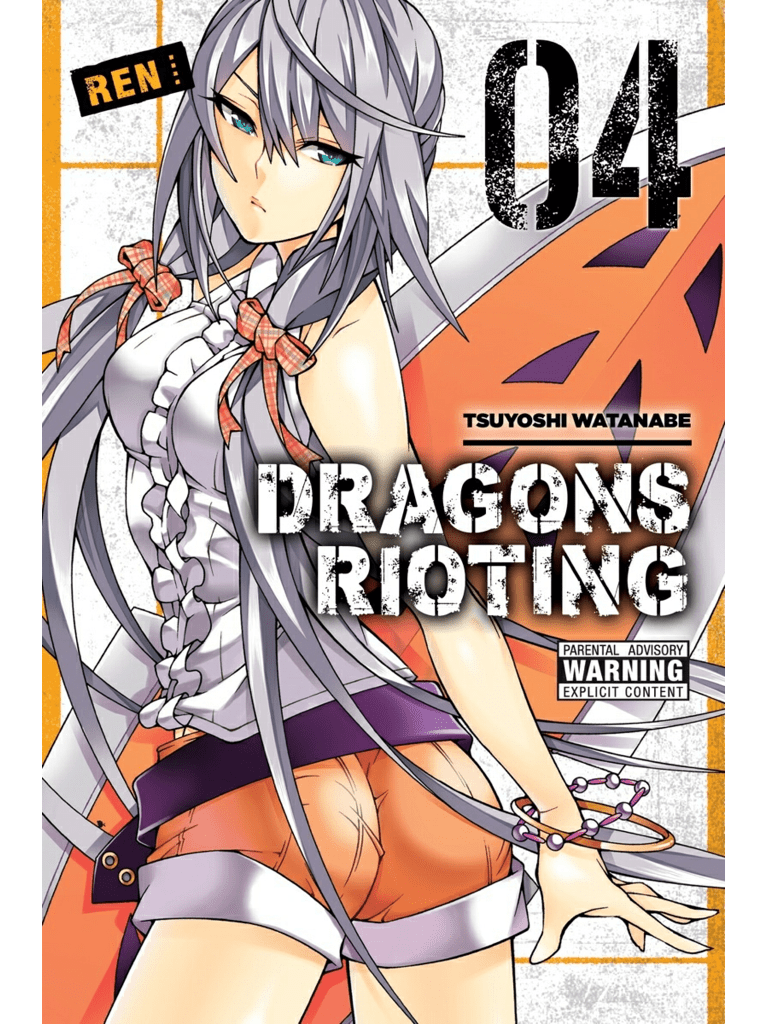 Is Dragons Rioting Volume 4
Worth Your Time?
Yes!
What Did I Think Without Spoiling It?

Just get this. Make sure to get volumes one, two and three first.

Welcome back to Tachibana Rintaro's (Rin) crazy high school life as he attempts to stay alive in a high school full of fighting. Not only that, but he also has to keep his mind calm around all the female students otherwise he might literally die.
Dragons Rioting Volume 4 pits Rintaro against his greatest foe: Summer. Everywhere he looks the girls are in swim suits and revealing clothes. Soon he finds himself investigating a school thief and battling a foe whose power rivals his own.
Dragons Rioting Volume 4, takes everything you loved about the first three volumes and adds even more humor and characters into the mix. Of course there is still the kick ass fighting we all know and love. 
Just like the previous three volumes, Dragons Rioting Volume 4's art is as amazing and the cast keeps growing. Rintaro, continues to be forced out of his shell and the results are hilarious and interesting. He seems to be getting used to his school and classmates, but is still struggling with the world of buxom women around him.
This volume squeezes in even more comedy, fighting and character growth. I bought it on Amazon Kindle to read and enjoy on my iPad and it looks and reads wonderfully. If you were a fan of the first three volumes then volume four is a no brainer. If you have never read Dragons Rioting, what are you waiting for?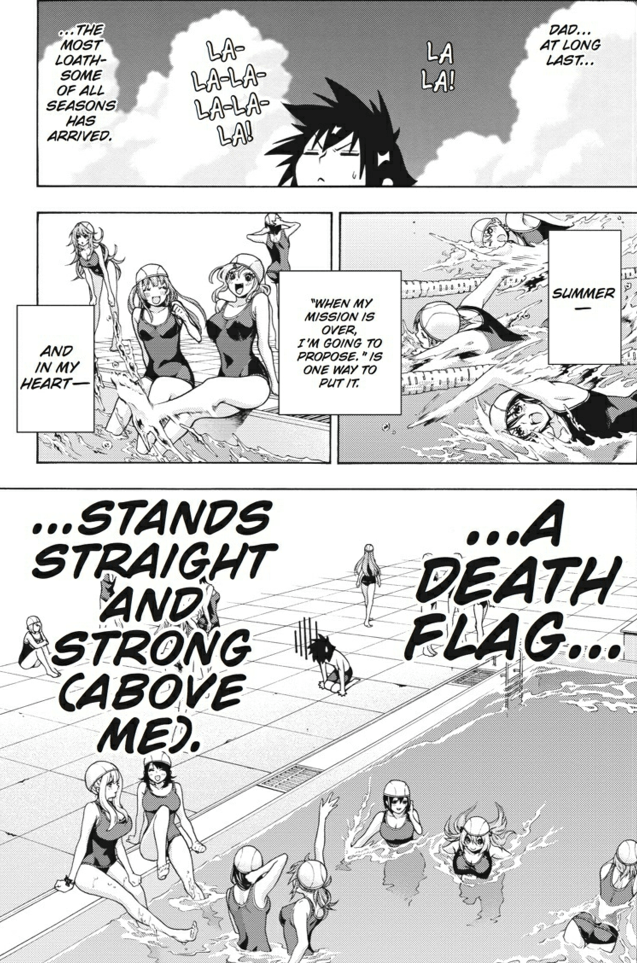 Why Dragons Rioting Volume 4 Works:

Spoilers
It's summer and that means co-ed swim classes. Everyone else is happy. Yet our hero is miserably and fearing for his life. While hiding in the corner of the pool Rin discovers a new friend who seems to share his own fear and dislike of all the wanton female exposed flesh and nudity.
I loved that we are treated to another male character in the world of Dragons Rioting who shares Rin's views. It was also really fun to have Marokichi being Rin's antithesis in terms of his condition. I'm guessing later on he will have to fight in place of Rin in some overly ecchi situation.
It's also really interesting that Marokichi was too much for Rin. If it weren't for the hilarious end to the fight, Rin could have suffered another defeat. What's more, despite being on the losing end, Rin once again discovers his love of fighting. This adds more depth to his character. From the beginning, he viewed martial arts merely as a tool to stay alive. After the fight with Kyoka he starts to understand the appeal. Now with Marokichi he's starting to let loose a bit more. Still, of all the characters, he's still the only one who would rather be in a world that is devoid of fighting and mostly naked women.
I also adored Rin showing his dorky side with his love of mystery manga and TV shows. Going so far as to try and emulate a character in front of everyone was cute. It was silly, but it made me relate more to him. I also loved that he was comfortable enough to share this in front of the various women and his friends.
This leads to the greatest shocker of Dragons Rioting volume 4 – Rin casually inviting Ayane along with him as he goes to investigate the underwear thefts.
Waaaa!!!
This is huge! Rin is actually comfortable hanging around Ayane now. So much so that he invites her along to investigate…together…alone! Then for the rest of the volume he doesn't freak out around her once. The craziest part is that it's treated as normal. Rin is having some major character growth and it's happening pretty naturally.
Speaking of Ayane, she is also getting more time to shine. Granted, I am torn between shipping Kyoka or Rurina for Rin. But it was still nice to see Ayana get some more screen time and actually make use of it. We are finally seeing some growth thanks to Rin's "training" and the results were pretty badass.
I'm really happy about this. For a while it sort of felt like Ayana was just going to become Rin's second fiddle or that he would handle all of her problems. Seeing her step up to face this volume's threat was cool. Sure she needed Rin's help, but having her save Rin with one of his techniques that she learned just by watching him shows her potential.
Speaking of heavyweight, we are introduced to the legendary Dragon: Ren.
I love her already. Sadly she doesn't get much action this time around, but she takes a liking to our hero. More importantly she never seems taken aback or overly impressed. I interpret that as Ren being stronger than Rin. I love that she acknowledges his strength enough to ask him to look out for her little sister. Ren is a fun and quirky character that makes a good impact, but left me wanting more. I really hope she becomes a regular in the series mainly so I can see her throw down.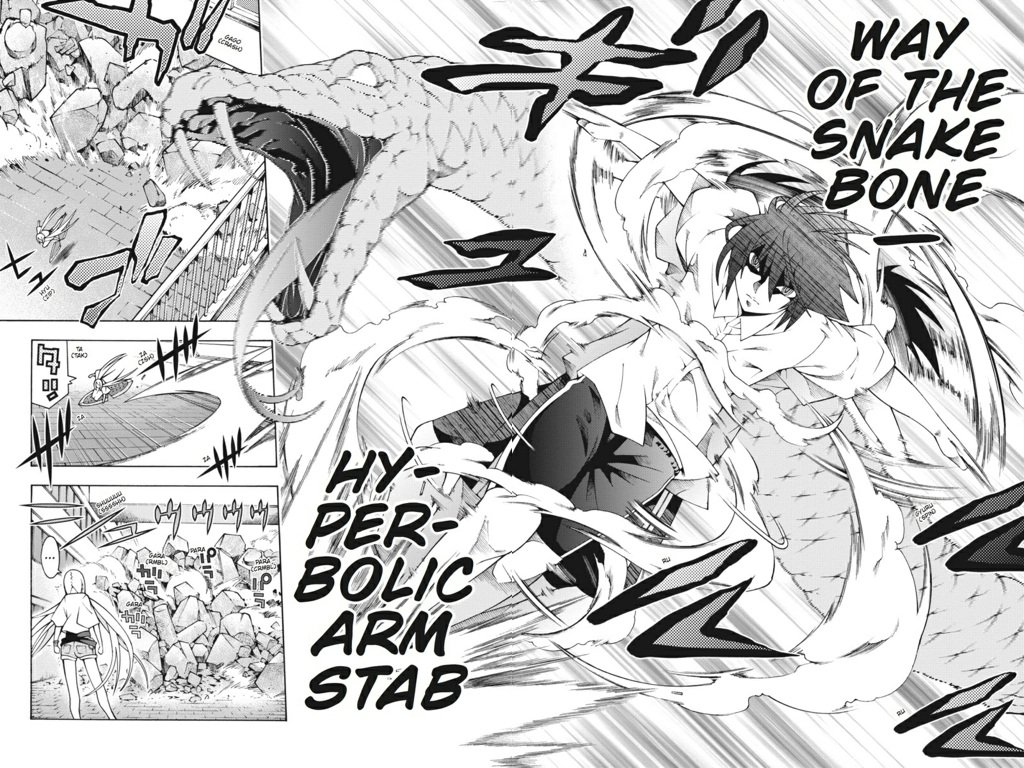 Dragons Rioting Volume 4 manages to have a story that is even more absurd than the last few, but still action packed and interesting enough it never feels too goofy. Rintaro continues to prove himself as a great main character and the series as a whole is still going full throttle.
I have to once again I wholeheartedly recommend reading this manga. The translation is excellent and the art is just flawless.
Read this.
No Like?
The time between these volumes releasing is kind of insane. I have to wait until November for the next one! There is no Mad House or Trigger anime adaptation announced.
Agree? Disagree? Write your comments below.
Read our other book reviews.
Basic Info
The following two tabs change content below.
Hi I'm Bernardo Español. I'm a guy with way too much energy and not enough free time.
Latest posts by Bernardo Español (see all)