Nardio Manga Review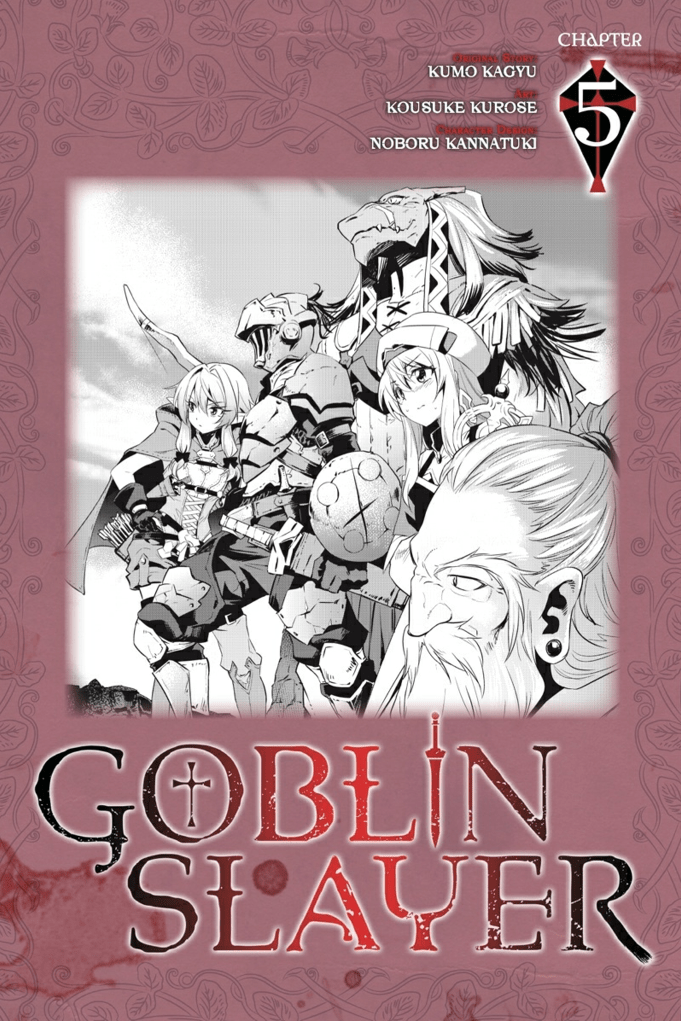 IS GOBLIN SLAYER CHAPTER 5 WORTH YOUR TIME?
Yes.
WHAT DID I THINK WITHOUT SPOILING IT?

Goblin Slayer chapter 5 is another world building issue that manages to make me feel even more invested in the universe. 
I enjoyed it. 
First off if you haven't yet, go read our spoiler free reviews of chapter one , chapter two and chapter 3 then decide if this is for you.
Chapter 5 of Goblin Slayer is a massive world building issue that had me hooked from start to finish. We encounter new races, new threats and discover what maybe the cause of Goblin Slayers recent busy streak. Goblin Slayer chapter five hits the ground running introducing us to lovable new characters and massive world building. Thankfully it still manages to feel fascinating and informative instead of a forced info dump. The newly added characters are all very well done and play off classic fantasy characters while not feeling recycled and forced. The art as always is mindbogglingly magnificent as always. There isn't any action in this issue and that is more than fine for me. The information we are treated to more than makes up for it. In fact, I honestly think these lore chapters get me more invested in the world than the action chapters. I am a lore whore. I love world building and I revel in character building. This is a win win for me.
Once again I have zero complaints or reservations about this chapter. It was masterfully done and brilliant. The art and story are absolute perfection here.
GET THIS!
SPOILERS SPOILERS SPOILERS SPOILERS
SPOILERS SPOILERS SPOILERS SPOILERS
SPOILERS SPOILERS SPOILERS SPOILERS
SPOILERS SPOILERS SPOILERS SPOILERS
LETS TALK ABOUT GOBLIN SLAYER CHAPTER FIVE!
Dwarves, Lizardmen and Elves. Cities filled with demons. Sealed threats coming back for revenge. Potential war on the horizon.

Sqweeeee!!
Sooooo much info! So much to think about. Yet our hero remains resolute in his mission. It somewhat borders on insanity, yet at the same time it makes perfect sense. If he here to take up these "bigger" threats who protects the people? Who holds the goblins at bay. This newest revelation makes Goblin Slayer's mission all the more important.
Goblin Champions and Kings? Ooooo new threats to think and worry about.  Will Goblin Slayer be up to the task of dealing with these threats? Those are platinum ranked threats against a silver ranked hero. We may well see our hero go against enemies he stands no chance against. Then what? Is there a platinum ranked hero willing to deal with goblins? Why are the goblins building such a huge force in the elven lands?
So much to over think, but in the end it's these kinda questions that keep me hooked. It also seems that we will get to see our hero in larger party. How will that work? Can we trust them all? This new threat of war between the nations seems like a perfect set up for some backstabbing.
This series continues to be a must read experience for me. I wholeheartedly recommend it for dark fantasy fans.
READ THIS.
Agree? Disagree? Write your comments below.
Read our other manga reviews here.
BASIC INFO
Amazon: Kindle for $1.99
Barnes and Noble: Nook for $1.99
Author: Kumo Kagyu
Artist: Kousuke Kuose
Character Design: Noboru Kannatuki
Genre: Dark Fantasy/Adventure/ Mature