The Nardio Review
IS High Risers WORTH YOUR TIME?
Yes.
WHAT SHOULD I PLAY IT ON?
I've only enjoyed it on my iPad. I can see this working marvelously on my iPhone, but I'd be to darn distracted then to function. It's also available on Google Play if you're into that sorta thing.
WHY IT WORKS AND HOW IT PLAYS:
High Risers is just the right mix of relaxing and addicting to sate that endless high score itch.
Every once in a while you wanna just shut off your brain and play a game. You don't want anything too complicated, but just enough for you to distract yourself and have a good time. Enter the endless high score games. Enter High Risers.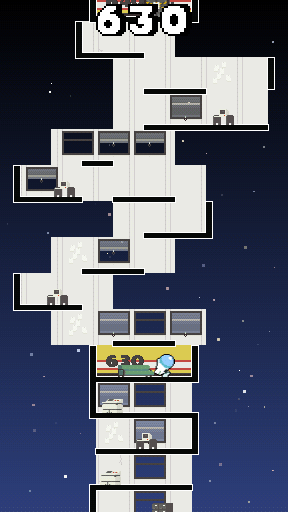 High Risers challenges you to pay attention, but doesn't overwhelm you with stuff to do. Just tap the screen at the right time and climb higher and higher. Will you make it all the way to the top? Doubtful. Will you forget about the rest of the world for a few minutes as you play? You betcha!
High Risers has you endlessly climbing to the moon and outer space… but you need to start from the ground on good ole planet Earth. One tap controls are all you need to ascend the heavens here. Your little character moves by itself and changes directions only when it runs into something. This makes your climb very interesting and forces you to pay attention. Later on you will have to jump into walls which makes things a lot more tricky. High Risers is a fun game that's kept me busy since it's launch in between commercial breaks, waiting for dinner to cook and just whenever I needed to zone out. It's not deep, but it's engaging and addicting enough that I find myself wanting to play more and more.
High Risers is a freemium game done right. No aggressive ads, no obvious paywalls or timers, just optional ads for in game currency, boosts, and continues. You can also purchase things if you so choose. High Risers was developed by the amazing indie game developer Kumobius. Kumobius, is famously known for Bean's Quest, Beans Dreams, Duet, and Time Surfer, High Risers is a worthy follow up to those games.
If you are a fan of endless high score games you need to get this. 
BASIC INFO:
Free with in-app purchases
Opt in ads for bonus currency
No aggressive pop ups.
30 MB
WEBLINKS: