The Nardio Visual Novel Review
IS Lily's Day Off WORTH YOUR TIME?
Yes it is!
WHAT DID WE THINK WITHOUT SPOILING IT?
Lily's Day Off is one the most imaginative and fun visual novel I have experience yet.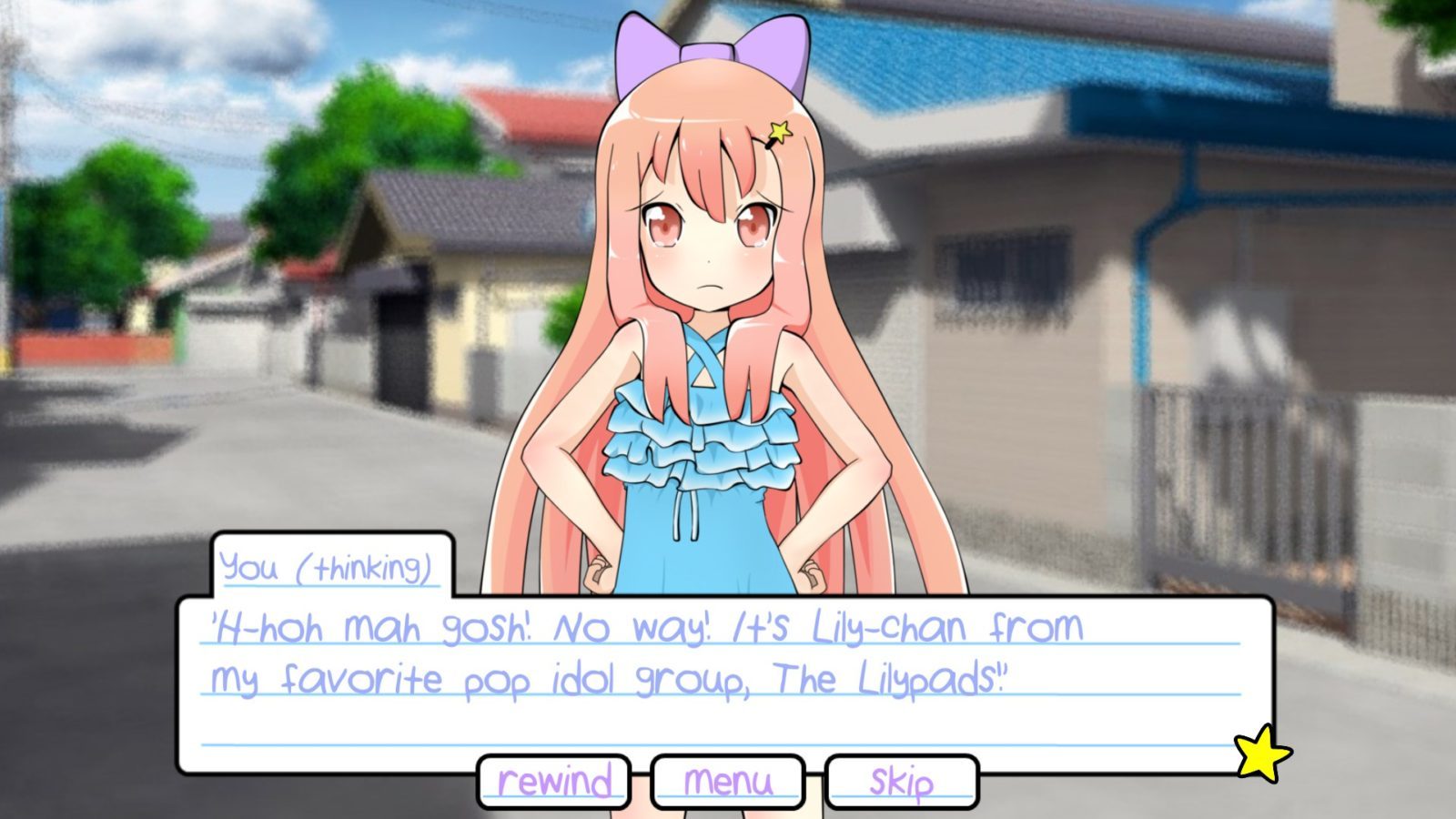 In Lily's Day Off you play as an anonymous guy that suddenly finds himself in some neighborhood where a teenage girl is crying. You recognize her as the famous pop idol singer Lilypad Lily. You immediately freak out to yourself and then realize something is off with her. From here on out it's up to you to decide what happens next.
Except you don't.
In lily's Day off you are along for the ride. Sure you make the choices, but where you go…well that's up to the zany, twisted and brilliant creator of the game. Some routes are very, very cliche visual novel. Others, well.. I found myself shocked several times. Many of them had me laugh out loud in delight and or surprise. Others had me gasping.
Lily's Day off is genius.
At first, it looks kinda campy and low budget…and it sorta is. But it doesn't need to be more because the people behind this game made magic happen with what counts: the story. The story paths of Lily's Day Off are bonkers. Depending on the choices you make will get some crazy outcomes sooner and later. During my playthrough, I had four normal'ish stories before it got insane. Once that happened I was freaking hooked.
With options to hear the music, change clothes and see all of the unlocked endings in the main menu I can't ask for much more. Sure nothing here is so mind blowing art wise that I want to make screen savers out of em, but damn there were plenty of memorable moments. There is light humor, dark humor black humor and stuff that kinda makes ya think. I loved this. 
Lily's Day Off is a must have visual novel.
Now, yes the game is short. You can complete all of the paths in just about an hour. That said that was one solid hour full of entertainment. The second my partner was able to I showed her the game, and she was hooked. The interesting thing is she started off with one of the craziest paths first so she was taken aback right from the start. 
There is one "True Ending" and 14 others that are for the most part all interesting and fitting if you think about it and have an open mind. I just realized the Steam page mentions hidden menus so maybe there is more that I haven't found. I really, really hope the creators of this game are successful with it and can write some more Visual Novels because I would love to read them. I can't imagine what crazy awesomeness would happen if they had a bigger budget and made a bigger game.
YOU MUST GET THIS!!!
 
Agree? Disagree? Write your comments below
Check out more of our Visual Novel Reviews Here
BASIC INFO & WEBLINKS:
IF YOU ENJOY THESE SORTS OF POSTS PLEASE TRY AND HELP US BY SUPPORTING US ON PATREON.