Nardio Game News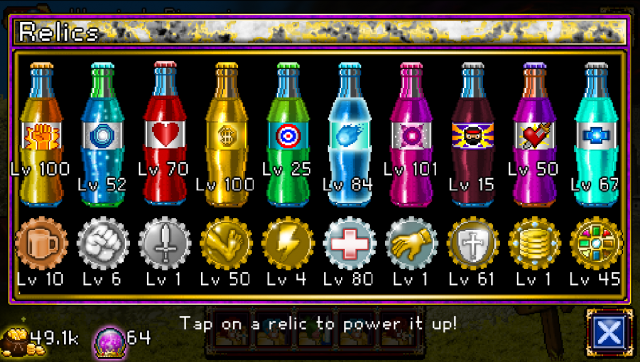 Soda Dungeon Is On Steam!
Omg the addiction. The addiction followed me to Steam and yea… I got it.. I plan on playing it this weekend. Send help if I don't post anything next week.
I'm sure the Steam experience will be perfection. The developer is really passionate about the game and the community.
Workin' on some of that new content for the soda junkies out there. pic.twitter.com/XQb0DrNY4F

— Shawn Tanner (@anpShawn) April 13, 2016

It also went through a good beta and the community is always there to help out with testing. We interviewed the developer AFRO-NINJA PRODUCTIONS a little while ago and he seems like a great guy. I wholeheartedly recommend this game.

Now available on Steam!

We just released Soda Dungeon on Steam as a free download! We are currently working on a save transfer system that we hope to have released to our mobile versions by the end of the month.

As always, Soda Dungeon is also available as a free download on the iTunes App Store and on Google Play.

If you would like to get involved with the community and help shape the game's future, please join us at /r/sodadungeon!

Thanks!
-Shawn
Description

Stock the tavern with rare sodas, entice adventurers to join your cause, and plunder a massive dungeon for loot in this turn-based dungeon crawler. Soda Dungeon takes the nostalgic RPG combat from your childhood, mixes in an epic treasure syrup, and shakes it with great vigor to a fizzy concoction that leaves you wanting more…

History

Released for iOS on October 7th, 2015, Android on November 12th, 2015. Released on Steam on February 7th, 2017.

Features

Raid the dungeon for loot and rare items.
Stock your tavern with sodas to attract legendary adventurers.
Strategic, turn-based combat.
5 unique dungeon locations and ten dimensions to experience.
Over 100 unique enemies, mini-bosses, and dungeon bosses to fight!
Offers auto-play for efficient adventuring.
BETA: Save transfer system: play on your desktop or your phone with one simple code!
Daily arena quest for bonus rewards.

GET THIS!