The Nardio Review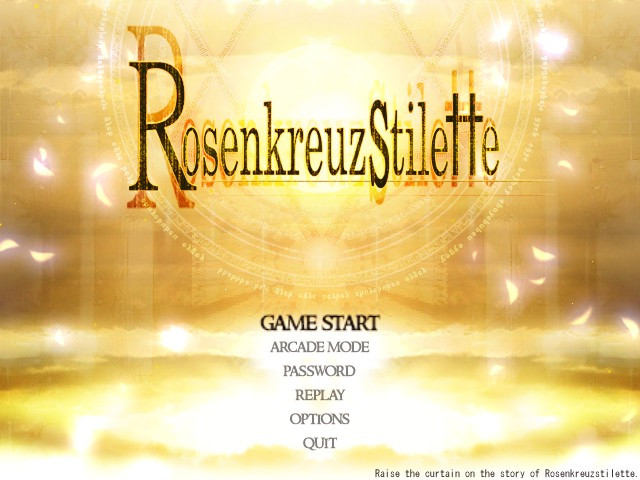 IS Rosenkreuzstilette WORTH YOUR TIME?
Ehh not really.
WHAT SHOULD YOU PLAY IT ON?
Just don't.
HOW IT PLAYS AND WHY IT FAILS:
Rosenkreuzstilette was made to be a clone of the original Mega Man game. Sadly it takes most of the bad from that game and then adds more to it.

I wanted to like this game. But mandatory level memorization, lazy short levels, cheap attacks, piss poor controls and finally horribly designed bosses sapped all the fun out of this for me.
Yea there is a lot wrong with Rosenkreuzstilette.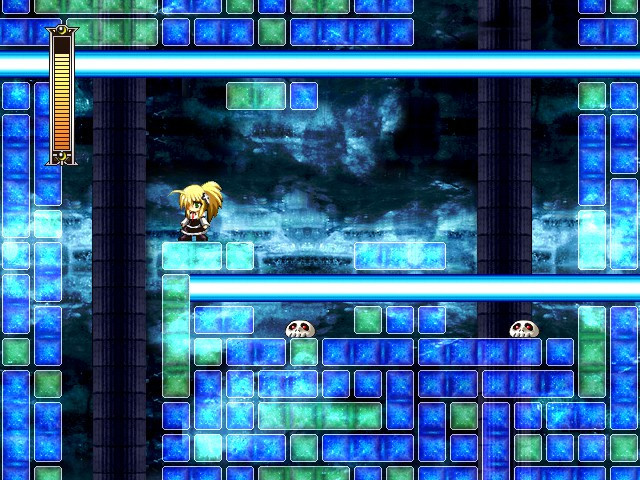 Rosenkreuzstilette has a really nice looking art style in the ads and trailer, sadly in game it's just kinda ugly. Everything is blurry and the screen resolution just seems wrong. Even worse the level design is lazy and the enemies are as well. Most of the challenge here is with areas that will damage you or instantly kill you if you have't memorized the level. Rosenkreuzstilette is a "game" that you need to die often to explore. Sadly once you "get it" the levels pose no real challenge. It's more about memorizing the problem areas than player skill.
I hate that.
Sadly there is even more wrong here. Besides the super short levels the enemies are just kinda dull. The challenge with them is their punishing placement and at times punishing attack range. Some will attack when they are off screen. Other will attack when you are almost to close to react.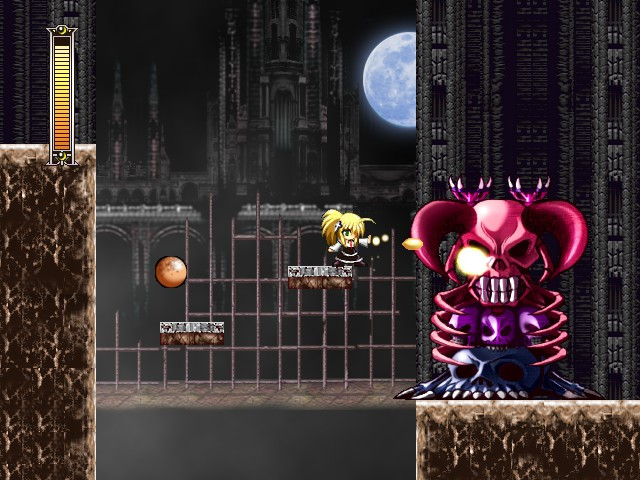 Its just not fun.
The final nail in Rosenkreuzstilette's coffin for me are the bosses. The bosses created to punish players with seemingly no rhyme or reason. Attack patterns vary wildly to the point it's just safe to call the bosses randomized. Attacks just happen without any corresponding choreography to let the play know what is about to happen. The bosses are just badly designed.
It's not fun.
It was at this point that I knew that Rosenkreuzstilette was just not for me. I know there are fans of broken games like this. Games that hearken back to retro, yet forget the very basics of good game design. There are some sad, sad, masochistic players who get off on this. Rosenkreuzstilette was made about ten years ago and has a sort of cult following. I did not know this before I requested the game. I just thought this was going to be a retro Mega Man like game. Whelp it's on Steam now and a new generation of players are going to either love or hate this game. I can't really see a middle ground here. I got sick of it in under 20 minutes. There is a reason people don't make platformers this way anymore.
I am not a fan.
There is so much wrong with Rosenkreuzstilette that I can't recommend it at all. Rosenkreuzstilette is just a horrible game that tries to imagine itself as a retro game to hide it's many glaring short comings. Sure this was made in 2007, but there were better games made at that point. Maybe this is just me being salty, but I am sick of games being made to look retro, but are just bad.


Every time you defeat a boss or lose all of your Extra Lives, a password recording your current progress will be displayed. Be sure to write this password down in case you need to quit your game for any reason. If you're feeling lazy, press the F12 key to save a screenshot of your password to the game's "screenshot" subfolder.
Wanna save your game? Input a code… then come back to the game with said code. Why? Because retro! The only way to control your character is with the joystick.. Not the directional pad. Who makes a platformer that controls with the joystick and not the D-Pad? This doesn't help the stiff moving character feel any more responsive. With our protagonist's slow move speed and limited jumps, the gameplay of Rosenkreuzstilette is just not fun to me.
I can't. I put in about an hour with Rosenkreuzstilette and that was only for this review. The publisher kindly provided a key for the game and I wanted to do right by them and gave Rosenkreuzstilette an honest try. Sadly it was not worth my time and it is most certainly not worth your money. There are much better platformers out there on Steam.
The only interesting thing about Rosenkreuzstilette is the story in the beginning. We actually have a hero who would rather talk things out. Sure the plot is stupid confusing, but dammit, I love that our hero keeps trying to reason with people.
AVOID THIS!
A FREE STEAM KEY WAS PROVIDED TO ME TO REVIEW THIS GAME.
Agree? Disagree? Write your comments below
BASIC INFO:
Single Player
Controller Support
Steam Trading Cards
WEBLINKS
I can't promote this in good conscious.