Nardio Cosplay Adventures
International Cosplayer Interview
It's cosplay Wednesday time. For this, the month of our five year anniversary, I wanted to expand our cosplay coverage to amazing cosplayers around the world. Just like in our regular cosplay interviews, I looked for talented cosplayers whose works made me say wow and spend time admiring their pictures and talent. This month I have a wonderfully diverse group of cosplayers. I am proud of each and every one of these interviews and delighted to share their stories and work.
It is my great honor and pleasure to present our very first international cosplayer interview – Luxlo Cosplay from Ontario, Canada. I cannot praise her enough. Her cosplays are wonderful. Best of all she makes all of her own work and they're amazing. Her Facebook page is an absolute treasure trove of pro level cosplay, works in progress and bits and pieces of herself mixed in. It's fascinating, inspiring and awesome.  I am unbelievably thankful that Luxlo took the time to answer my barrage of questions and share a bit about herself and her journey as a cosplayer. Making this interview even better, a bunch of pro cosplay photographers who took photos of Luxlo at cons have allowed me to use their photos for the interview! I hope you all enjoy this interview as much as I did.
Enjoy my friends!
Luxlo Cosplay
Can you please introduce yourself and tell us where you're from? 
I'm Luxlo from Ontario! I am 22 years old and started getting into cosplay in 2012. My first fully self-made cosplay I made in 2014: My Guild Wars 2 Thief. I usually attend cons around the Greater Toronto Area but occasionally get to travel a bit for further ones. 
What got you into cosplay and can you tell us a bit about what your first experience cosplaying was like?
In 2012 my friends invited me to go to Anime North with them. I happily agreed and was looking forward to my first convention ever. My friends were going to be cosplaying as Persona 4 Characters and explained to me how a lot of people dress up for these events so they would too. I have always loved costumes and dressing up so I wanted to join in, but wasn't comfortable doing P4 since I never played it before. Instead, I chose a character from a series I loved that I thought was "doable" for me: Marceline from Adventure Time (in her most simple outfit). I bought different pieces like the shirt, shorts, vampire fangs, and contacts, and I made my own Axe Bass Guitar prop out of foam and other things. I feel I did a pretty good job on my first prop ever- though looking back on it now I can laugh and be happy to know I could make one so much better. At the con I was amazed by how far people took these costumes and was completely inspired by the creativity and elaborate pieces of the costumes that I wanted to try to get into this. For Anime North 2014 I made my first ever full costume then- My Thief from Guild Wars 2, and since then I've been hooked on this hobby.
What do you like about cosplay?
My favorite things about cosplay are the art, creativity, problem solving and dedication that goes into the craft. I love the celebration of fandoms in such a cool way, and how it is such a fun niche hobby to bring people together and make new friends. I also personally love the self-satisfying feeling of completing a project I've worked so hard for months on and feeling proud to have pushed myself on a new project.
How often do you cosplay?
I cosplay whenever I go to a convention or a photoshoot. I go to cons a few times a year. I make new cosplays a few times a year.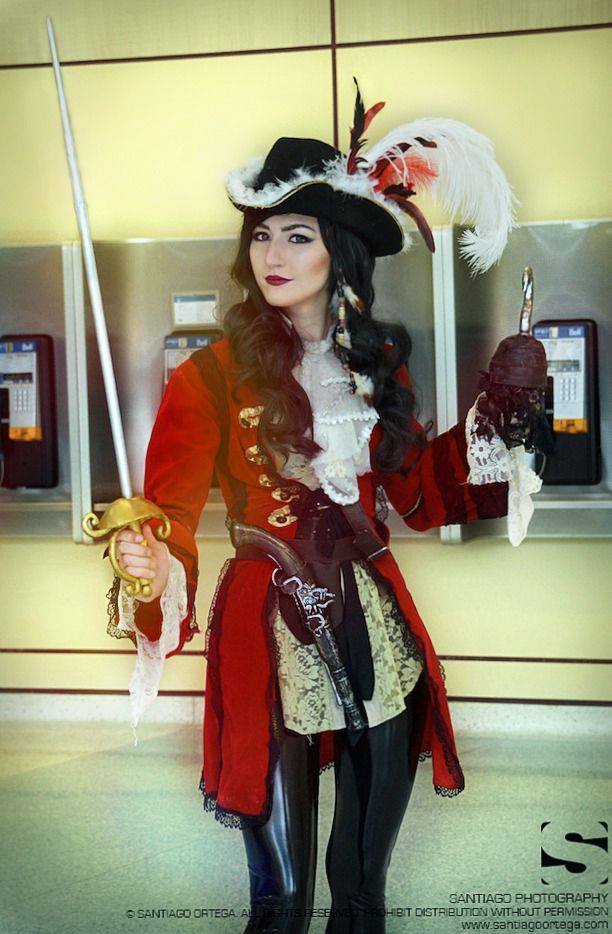 How many conventions do you try to attend every year?
Whatever I can afford and/or whichever ones really interest me. I can't afford to go to every con I'd like- I'd have no money left to make cosplays for them at all haha! I have definitely been going to more each year over the years though.
What do you like about going to conventions?
I love meeting up with people I've connected with who I might only usually get to see at cons. I love seeing all the cosplay in person! I like the feeling of debuting a new cosplay or cosplaying at a con in a group. I also enjoy attending some panels and trying out games, checking out the artist alley, dealer's room, etc.
Are there any cosplayers you admire or are inspired by?
For sure! I follow mostly cosplayers on Instagram for example, and looking through my feed inspires me every day. I admire the skills and work ethic of many cosplayers. There are just too many to name, but for one example, 
Kamui
was a great inspiration when making my own first armor set, because she has given so much to the community via tutorials and blogs.
Do you have any fond memories of cosplaying that stands out?
Cosplaying in groups is a particularly special cosplay feeling! I have done a couple duo cosplays with my boyfriend (Guild Wars 2 Thieves, Peter Pan and Captain Hook) and this year I am doing a huge armored Disney group for Katsucon.
You make your own cosplays, how did that start? Are there any cosplay builds that you are particularly proud of? How did you learn to do this?
I started small with my first cosplay ever, Marceline, and I just made the Axe Bass myself. I looked online to get info to help me. From there- I decided to go big and be ambitious, and I made my Thief. A lot of it was trial and error, but it still is today. I also have done a lot of research over the years on different crafting techniques and materials. My favourite cosplay of mine yet is my Mesmer. On my facebook page, under photos>albums, I keep an album full of the work-in-progress post/pics for every cosplay I make.
Princess Peach photos shot by Con Mom Photography
You also wear sponsored costumes, can you tell us how that started and how does that work? Any costume makers you want to recommend?
I have only worn a sponsored cosplay once. I saw that they were accepting sponsorship requests so I asked and we set it up. (For Princess Peach). This was from
Miccostumes
and I think the cosplay was pretty nice and fair for its price!
What materials would you recommend for beginners when making cosplays like yours? Any online tutorials you would like to link to?
I have to recommend worbla because I think it is lenient and beginner friendly. If you mess something up it is usually fixable, and the fact that it sticks to itself is pretty helpful too. There are tons of tutorials online for worbla or making worbla armor. I recommend checking out
Kamui's blogs
or googling "(amor piece) worbla tutorial" to help you get started.
Are you an avid Gamer? If so what games/genres do you enjoy? Anything you recommend that we try out?
I love games (video games, board games)- but I am too busy to play them *that* often since I work, go to university, spend a huge amount of time on cosplay, and other life things. I am currently playing Persona 3, Majora's Mask and Monster Hunter Generations (just taking my time with each of them). I plan of playing more Elder Scrolls Online when I get more free time in the Summer. I also of course recommend Guild Wars 2. I have 1000+ hours in that one and have definitely had my fun with it.
Are you an anime and/or manga fan? If so what do you like? Any recommendations?
I am! But I am also very picky and don't just like any anime… Some favorites are Gankutsuou, Death Note, Fate/Zero,  Ajin, Death Parade, Erased, and ghibli stuff of course.
What do you do for fun when you aren't cosplaying?
Play games, watch movies/shows… I also enjoy reading but admit I don't do it that much- it can be hard to find a good book.
What cosplays are you hoping and or planning on doing this year?
My biggest one I'm hoping to finish this year is an armor cosplay from Monster Hunter. I would love to do other MH cosplays, and Final Fantasy's Lightning someday.
What encouragement would you tell someone who is shy and nervous but wants to get into cosplay?
Do as much research online as you can! There is soo much info already out there and it is super helpful to read up on it. If you're doing a specific character, try looking up a tutorial on how to make that specific character cosplay since others may have done it before. You can also buy patterns for some sewing and armor pieces- you can either use them directly or modify them to your needs.
What advice would you give someone who just started cosplay?
If you're having fun, you're doing it right. Try not to compare your cosplay to others, and don't worry about what others think of your cosplay. Oh, and as I said before, try doing research online to help with construction and even more info on the character or pose ideas to help you feel comfortable cosplaying at a con. Even try practicing 2-3 poses in a mirror at home first!
What draws to want to cosplay certain characters? What do you avoid cosplay wise?
First and foremost is whatever fandom I love or am currently really into. Then there is the character design of course! A character's design might draw me to check out the game/anime, but if I'm not into it, I'd never cosplay it. As for what I avoid.. I don't do "boudoir" cosplay, and hmmm maybe designs with complicated sewing because I am not at that skill level of sewing yet, or if the overall design seems out of my skill level/budget/time frame.
How do you go about creating a costume when you have decided on what to do? Do you have a regular plan by now or do you wing it?
First of all.. research! I look up if the character has been made before and if so how it was done. I gather as many useful reference pictures as I can and start making a bunch of idea notes. Then I probably start patterning, and usually I tend to like starting with the biggest piece of the cosplay. I like leaving the props for last.
If time and money were not an issue, what is your dream solo cosplay and what is your dream group cosplay?
Some of my dream cosplays are Lightning from FFXIII, Shego from Kim Possible, and Thumbelina. Though these might sound simple to some, for me they are "dream" cosplays because not only do I love the characters or series, but I feel my sewing level is not nearly high enough to attempt any of them, at this point in time anyway. A dream group cosplay would probably be Monster Hunter! Hopefully I get to meet up with some other MH cosplayers when my big one is finished.
What movie do you recommend everyone experience?
What conventions are you planning on attending this year?
Tell us something interesting about yourself.
I am currently in school to be an elementary school teacher! I love working with little ones and hope I can reflect my geekery and creativity in the classroom in a useful way 🙂
Thank you very much Luxlo for taking the time to share your story with me and your cosplay adventures with all of us. Please check out Luxlo's social media links below for a wealth of amazing pics of an amazing cosplayer.
A huge thank you to every single talented photographer who captured Luxlo in all her glory and allowed me to share their work with her in this interview. Thank you all so very much. Please check out their links below: