Nardio Cosplay Adventures
Hey all, Bernardo here. We started covering cosplay last year at Katsucon and fell in love with the community. After that, we decided to make it a regular feature on Nardio. After going to some more cons, we figured we would bring in some new voices to provide you guys with an inside look into cosplay and the people behind it. So we've brought on some guest bloggers to cover their experiences and journey. Today's cosplayer is Luxlo Cosplay who we just recently interviewed. Her jaw-dropping craftsmanship and willingness to open up and share her experiences cosplaying made me think that she would be a perfect fit for this new series. Luxlo is also going to be attending several cons that we are unable to attend ourselves. In a way, she will be our eyes, ears, and camera to these cons. So here we are. This is the story of her first KatsuCon.
My First Katsucon and Group Cosplay Experience!
By-Luxlo Cosplay
This year was my first time attending Katsucon. It was such an amazing experience that it's hard to know where to begin talking about it! I guess I'd start with how I planned to go. Which is a bit funny because it wasn't much of a plan, but an impulsive decision that I had to run with!
I was well aware for a few years now that Katsucon is a hugely popular and well-known con for being fun, beautiful and packed with "A-Game" cosplay. Since I felt like I had no one to go to Katsucon with and since I knew I would have school, I just accepted I wouldn't be going. In the months getting closer, I kept seeing people posting about their excitement for Katsucon and group cosplay ideas and I suddenly decided. Screw it. I'll try to get a group of cosplayers together for Katsucon and just go! I will find people to carpool and room with, and I will go!! I decided to take time off school because I think this is the kind of experience I would regret missing.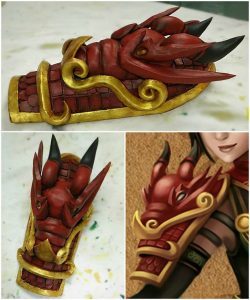 I made slow but steady progress on Mulan over the months I worked on the cosplay. As usual, I am pretty slow with making my cosplays because I also have university/homework/work and other things to juggle. I usually not rush so that I can do my best on whatever I am trying to make.
The hardest and most frustrating piece for me to make was the dragon pauldron. I loved this part of the design, so it was frustrating to have it not turning out how I wanted. Eventually, it got to a point I was happy with it. It started out as a base carving out of just insulation foam, at which point I was super unhappy with how it was looking. From there I covered it all in worbla and added the horns and eyepieces (carved out of foam and covered with worbla), and by then I was feeling a lot better about it. Then I added the rest of the borders onto the sides (made from worbla) and attached it to the pauldron base I'd made first. It all came together okay in the end, but I always stress out during the process!
The next hardest part for me was the sword. I carved the blade out of insulation foam and used worbla and craft foam for the other parts of it. I was a bit lazy, and also rushed, so I didn't even bother using a sharp enough blade which is my fault for why I ended up with a million holes in my foam blade, to begin with. A lot of filling and sanding made it usable in the end, but definitely, a lesson for me to learn from for the future is to…not be lazy and change my knife blades from time to time!
The construction of my Mulan cosplay also involved fabric painting, cutting out a ton of armor scales, and making EVA foam borders which are a bit out of my comfort zone. The breastplate, as usual, was the first piece I decided to make and although I was initially torn on whether to make it look more armor-like or more fabric-like, I was pretty happy with the likeness I achieve to the reference in the end and how it suited my style.
My oth
er cosplay plan for the weekend was Mary Jane. I wasn't too worried about because all I had to do for it was paint the shirt and style the wig. Painting the shirt was a little harder than I thought, but nothing compared to most of my costumes. Mary Jane was going to be my fun, simple and comfortable costume of the weekend! I chose to cosplay Mary Jane because firstly I love Spider-Man (As a superhero, the early 2000's Spider-Man movies, and my nostalgia for The Amazing Spider-Man cartoon when I was little) and secondly because I wanted to add another new cosplay to my Katsu lineup that was realistic for me to complete in time. Not to mention that Katsu would be perfect for it since it isn't the warmest cosplay, but since my hotel would be the actual con space, I wouldn't have to worry about that at all in February. 
This was soon finished and after working on Mulan for months, she was finally finished too, with a little over one week left before the con! In this time of relief, you think I would want to enjoy it, and relax with what little time I had left before the con but nope, crazy me decided to pump out one more costume before Katsu because apparently, I can't let myself rest! This was my idea of cosplay of a Palico from Monster Hunter! I decided to add Palico to the lineup because I had been toying with the idea of cosplaying a Palico for a little while. I didn't view it as a very elaborate costume so I figured I could use the last week I had to pump out this one last one before the con. It was actually much more challenging than I thought it would be given its simple looking design. It brought new challenges to me like building a helmet and working with fur to make wearable foot paws. I was able to finish it right before the con, and I was so happy I decided to do that. It also felt nice to have a different cosplay lined up for each day of the convention!
Out of my three cosplays, I am definitely most proud of Mulan, which makes sense since it is the one I worked the longest on by far and had the most thought and passion put into it. The same goes for why I think it was my most "well received" or "popular" costume of the weekend. It was obvious that it has more time and work put into it, and debuted as an entire 10- person armored group, I can see why it would get the most love. I also have to mention how proud I am of my Palico though, because that is the most work I've ever completed in such a short time, so I'm happy I pushed myself to get it done!
The drive was about 8-9 hours to get to Katsu but it was well worth it! I had great people to spend the ride with and room with when we arrived. I am also so happy we chose to stay at the con's main hotel, the Gaylord. It just added to the experience, being so beautiful and convenient- for forgetting something in your room, needing to rest or if you're not feeling well, to change cosplay, or making an emergency fix to your costume.
My friends and I were not too impressed with the hotel restaurants (that we ended up eating at.. every night..) or their staff, but this was a small hiccup in a fantastic weekend and stay at the Gaylord. I was so surprised but how beautiful the con space was, and the variety of photo spots you could get just inside one hotel. To top that off, we were incredibly lucky this year to get fantastic weather for the con weekend. We heard that most years it is way too cold to go outside, especially to shoot less warm cosplays! We all spent lots of time outside in the sun to hanging out, exploring, and for scenic photo shoots.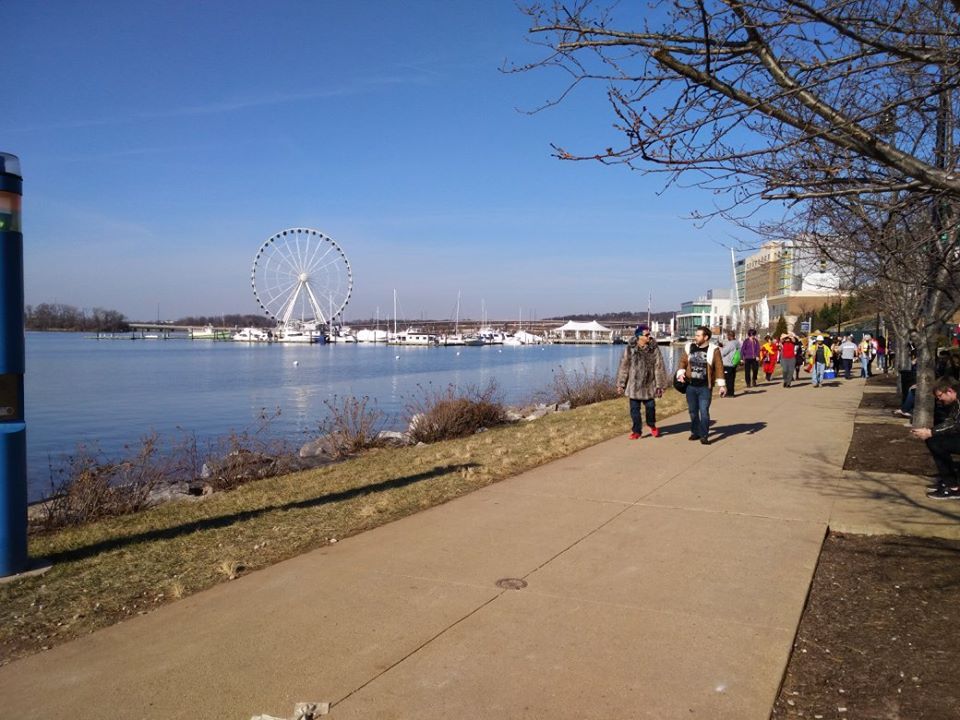 Katsucon was truly a social con a
nd felt like one big party of geeks. Pretty awesome. I ran into so many new people and some where we have been following each other on social media and got the chance to meet at Katsu. There were talented cosplayers and photographers everywhere who came from many different places to make it to the con. I made a lot of new friends
and strengthened ones I had too! 🙂 This has to be my favorite thing about this convention.
Besides that, I, of course, loved seeing the amazing cosplays taking over the hotel, and meeting up with my Disney group on Saturday. All the people in my group worked so hard and did such a fantastic job making their costumes!! I was so happy seeing them all in person and having us all gathered together.
On Saturday, the group was a little bit all over the place, and we were only together with every person in the group for a very short time. Alas, such is the way of large groups. It was still really fun and very sweet to see how many people loved our costumes and had nice things to say. It also made me so happy to have people coming up to me who knew Gladzy. She is the designer of the Mulan art that inspired my cosplay. They wanted to snap a photo to share with her since she couldn't make it to the con. It is an amazing feeling also to have the original artist who inspired our group, be so excited about it, too. Clearly, Saturday and the group cosplay was a great experience because many of us have already been talking a lot about possible group plans for the future haha!
The weekend was… extremely busy and crowded, to say the least. At times this was a bit annoying. We found that it was just too crowded on Saturday for a lot of our tastes, but with such a great con and going into it knowing it would be like that, I don't want to complain too much. In some ways, it was good that it was so busy. I loved knowing that at any hour of day or night you could go out and people will be around hanging out. In that way, it was really unlike any other con I've gone to, and I really liked that about it! One night I managed to stay up to about 3, but most nights I packed it up between 12:30-1:30 because I either knew I had to be up pretty early for a long day the next morning or because I simply didn't have the energy to stay up any longer haha. It was a very exhausting weekend, but I tried to make the most of it even when I was pretty tired because I knew how fast the weekend would fly by and I didn't want to waste it!
My final thoughts would just reiterate the amazing time I had with the great people I went to the con with and met with while I was there. I'm so excited for next year!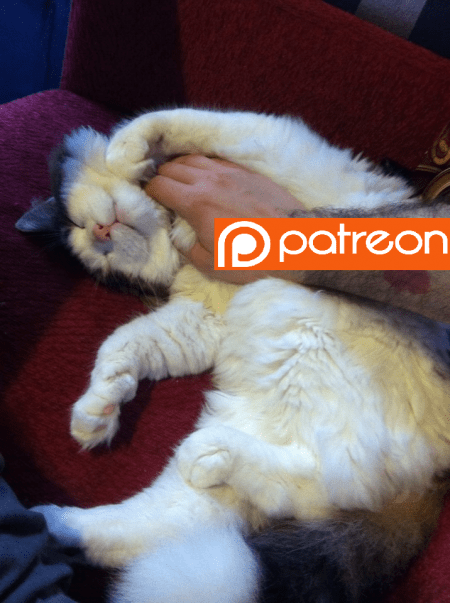 The following two tabs change content below.
Latest posts by Luxlo Cosplay (see all)