Nardio Cosplay Adventures
INTERNATIONAL COSPLAYER INTERVIEW
It's cosplay Wednesday time. For this, the month of our five year anniversary, I wanted to expand our cosplay coverage to amazing cosplayers around the world. Just like in our regular cosplay interviews, I looked for talented cosplayers whose works made me say wow and spend time admiring their pictures and talent. This month I have a wonderfully diverse group of cosplayers. I am proud of each and every one of these interviews and delighted to share their stories and work.
I am honestly excited to present our next international cosplayer interview – Alex Cosplay from the East Coast of England. Alex is a foam crafting god.
As I was stalking around Facebook looking for talented cosplayers I stumbled across a few of his power ranger builds and thought to myself "That's nice, he orders the outfits and cosplays as a Power Ranger… wait no. He made those!" I then obsessively stalked his page and found a ridiculously talented armor cosplayer who seems like a heck of a fun guy. His cosplays are great, from AAA Cosplayer, to fun dorky fan.
I just had to beg Alex for an interview to learn more about him and to share his amazing work with all of you. I hope you all enjoy this interview as much as I did.
Enjoy my friends!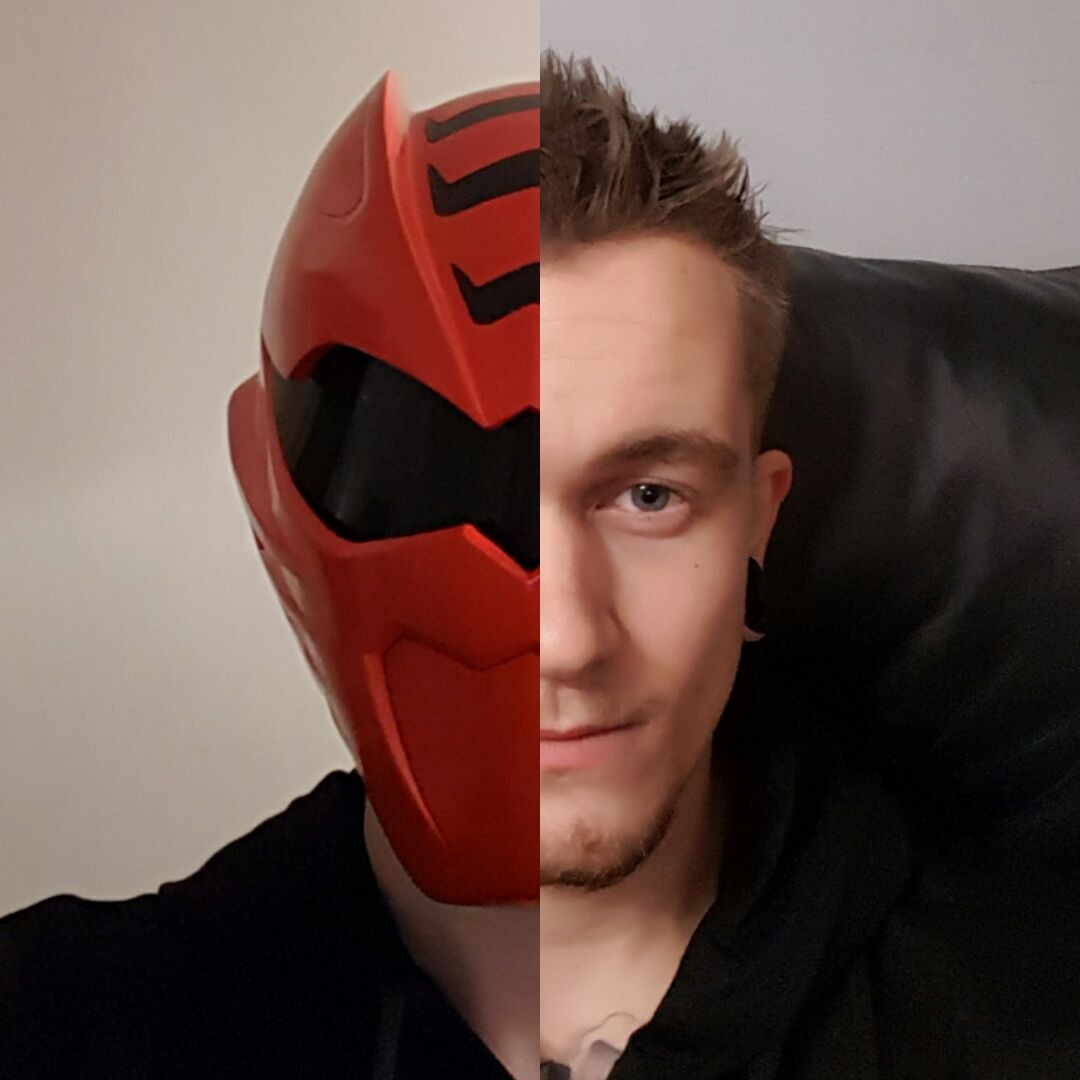 Can you please introduce yourself and where you're from?
Hi! My name is Alex, aka AlexCosplay. I'm a Cosplayer/PropMaker from the East Coast of England. I've been doing bits of cosplay and prop making since late 2014, but have been able to start taking it a lot more seriously over the past 12 months or so.
What got you into cosplay and can you tell us a bit about what your first experience cosplaying was like?
I can't remember exactly what got me into it. I just remember seeing some friends post about how good Comic Con was, and I thought "oooh! I wanna go!" Everyone told me that people went in costume. So, being a fan of Halloween and fancy dress, I threw together a dreadful costume and set off for London, haha. I felt so awkward and had no idea what to expect, but it was such a great experience, it somewhat changed my life.
What do you like about cosplay?
I just really enjoy meeting up with friends and having a laugh. I think I get more enjoyment out of making the cosplays than I do wearing them.
What was the first convention you attended?
My first convention was London MCM Expo in October 2014
How often do you cosplay?
I try to cosplay at least two of the days at each convention I attend. So anywhere between two and ten times a year.
How many conventions do you try to attend every year?
As many as I can afford. At least four different conventions across England. This year I'm attending my first one abroad and going to Holland's 'Dutch Comic Con' in Utrecht.
What do you like about going to conventions?
The cosplay. All cons tend to have the same old stuff for sale on the stalls etc. So I pretty much go purely for the cosplay. I've gained quite a few friends in the community in the short time I've been cosplaying, so I tend to hunt them down and fangirl over their costumes. I always like to try and meet new people I only know from social media at each con.
What are your thoughts on the cosplay community?
How long have you got? Haha. It's a strange community. On the one hand, you have a lot of very talented costume and prop makers. Lots of genuinely nice, friendly people, who are there for the love of the craft and their love of the character/series. These are my kinds of people! They are what I'm here for.
On the other hand, there are nasty people. People, who are only there to troll and bully. It is an increasing problem, but it is one that we are fighting to get rid of.
You also have the "fake gamer girls" who think that they can go to a con wearing very little and it'll help them become a model/get people to buy then stuff off their Amazon wish list. The ego on some of them is sickening! These people cheapen and taint the hobby in my opinion.
I try my best to ignore these kinds of people.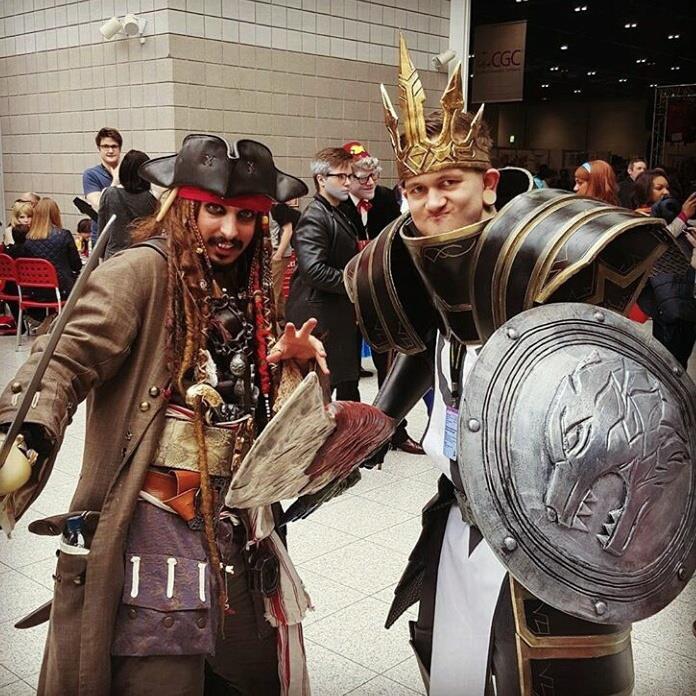 Are there any cosplayers you admire or are inspired by?
There are so many. With my Foam prop builds, I'm pretty sure Bill Doran at Punished Props and Evil Ted Smith have taught me more helpful things than I learned in my entire school life!
Adam Savage/Frank Ippolito at Tested on YouTube are huge inspirations too. They are more on the prop maker side of things, though.
I tend to hunt down cosplayers who don't get the same level of love that, shall we say the well endowed female cosplayers. Male cosplayers need love too!!!
Do you have any fond memories of cosplaying that stands out?
I'm an absolute nightmare at Comic cons for forgetting to get any photos. I spend six months working on a costume then never get any pictures. My fondest memories at Comic Con weirdly are the end of the day hunt for food (I like food. A lot!)
We always stay in the same place in London, and at the end of the day when we are all delirious and tired from the day at the con, we stumble around to find a pizza place. Then everyone gets drunk haha!
You make your cosplays, how did that start? Are there any cosplay builds that you are particularly proud of?
Yeah, I'm really into my prop making. It's nice to have finally found such a fitting creative outlet. My first build was Edward Elric from Full Metal Alchemist. Looking back at it now, it was dreadful. My favorite full costume builds to date would probably be my Dark Magician from YuGiOh! Or Cyrax from Mortal Kombat 3.

I've recently started smashing through some Power Rangers/Super Sentai helmets which I am really proud of.
What materials would you recommend for beginners when making armors like yours?
Foam. Lots and lots of foam. I'm not a massive fan of Worbla. I definitely recommend foam and sealing it with Modpodge/PVA/Plastidip.
Are you an avid Gamer? If so what games/genres do you enjoy? Anything you recommend that we try out?
I'm not as big of a gamer as a lot of people in the community, but I definitely have my weaknesses. Resident Evil is my favorite series of all time. I'm 26 years old and still lose my life to Pokemon regularly. I still play my old SNES/N64/Dreamcast. Can't beat Shenmue, Mario Kart 64 and Super Mario World. Final Fantasy 7 too, that game is my jam haha.
Are you an anime and/or manga fan? If so what do you like? Any recommendations?
I do watch anime and occasionally read Manga. I'm a huge Death Note/FMA/Soul Eater fan. I have at least one tattoo from each franchise.
I recommend the anime adaptations of God Eater and Danganronpa.
What do you do for fun when you aren't cosplaying?
Prop making is my main hobby. Its near enough all I do in my spare time. That and watch TV series and play computer games. I'm quite reclusive haha.
What cosplays are you hoping and or planning on doing this year?
I've nearly completed my full suit of N7 Armour from Mass Effect.
I want to do something from Skyrim and something else from Mortal Kombat. I'm also doing 3 different forms of Power Rangers this year.

What encouragement would you tell someone who is shy and nervous but wants to get into cosplay?
If I can have the courage to do it, anyone can. I've never had confidence and always been shy with new people. I think being in costume gives you somewhat of a safety barrier. It's so much fun and definitely worth trying at least once. The people are lovely and, let's be honest. Cosplayers love to talk about their cosplays. They are like our children haha.
What advice would you give someone who just started cosplay?
Expect to fail, it won't be perfect the first time, and you will get better. Embrace the failures and learn from them. I've messed up and rage quit more costumes than I've actually finished
What draws to want to cosplay certain characters? What do you avoid cosplay wise?
I like cool armor and organic looking things like bones and wood. You get a lot more creative freedom when making natural things, as the more manufactured something has to look, the more precise your build has to be. Organic things allow you to put more personality into a piece.
I avoid anything fabric, as I can't sew to save my life.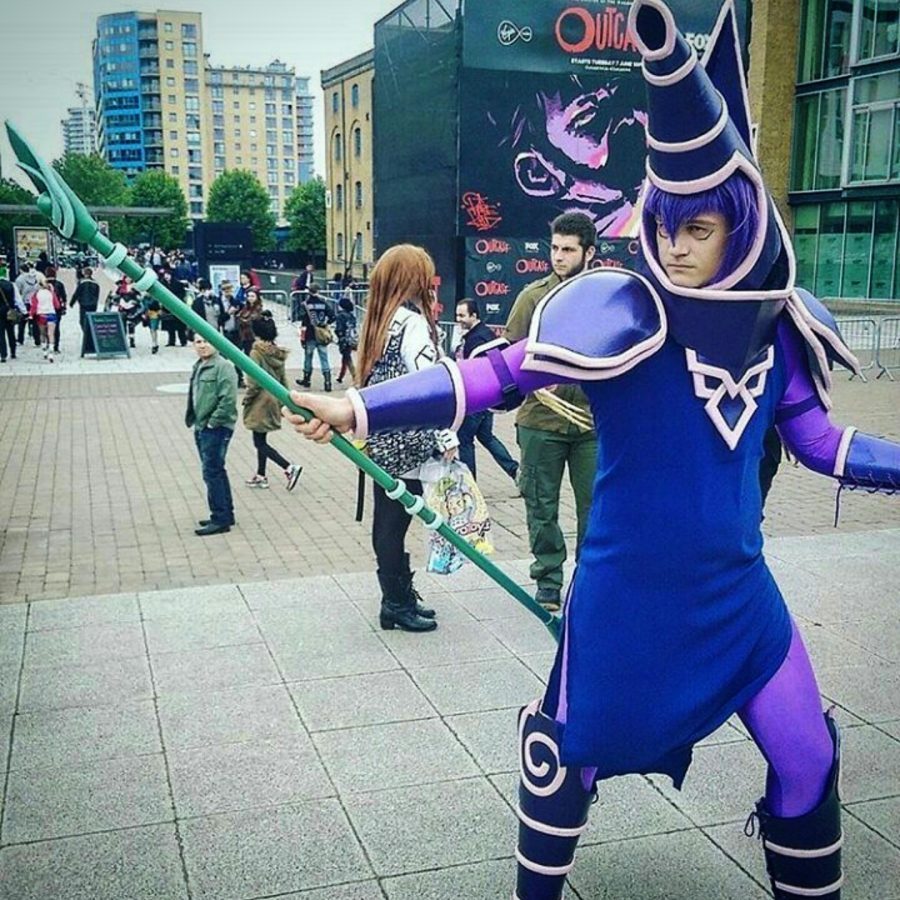 What is your dream cosplay?
Ooooooh there are so many: Guyver, Lord Boros from One Punch Man, DaiShi from Power Ranger Jungle Fury, the White Dino Ranger from Power Rangers Dino Thunder, and I would love to do a legitimate Predator cosplay.
22. What book/movie/show do you recommend everyone experience?
Dexter
What conventions are you planning on attending this year?
Dutch Comic Con in March
London MCM in May and October
NorCon in October
Tell us something interesting about yourself
I'm actually very dull haha!
I have a considerably large number of tattoos? I have a full sleeve tattoo dedicated to Resident Evil, and a fair few silly tattoos too.
(Me to Alex. Me to.)
I hope you enjoyed this interview as much as I did. Be sure to follow Alex on Facebook and Instagram. His accounts are honestly really interesting and he doesn't waste time with fluff posts. Seriously, its good stuff.