Nardio Cosplay Adventures
Hey all, Bernardo here. We started covering cosplay last year at Katsucon and fell in love with the community. After that we decided to make it a regular feature on Nardio. After going to some more cons, we figured we would bring in some new voices to provide you guys with an inside look into cosplay and the people behind it. So we've brought on some guest bloggers to cover their experiences and journey.  This week's cosplayer is ToastyBoxx.  We interviewed at DerpyCon and she felt like she would be a good fit for this series. So here we are. This will be the first of a two-part series about her first KatsuCon. This chapter of her story is all about her pre-katsuCon experiences.
We've spent too much money and time on this sh*t to not go.
We underestimated the pressure. It was completely our own fault. This is the story of a pair of cosplayers aiming for greatness at one the most famous venues for cosplay, Katsucon. Spooky already shared her side of this, so this is my story of my first Katsu-Crunch.
Since it was our first Katsucon, we wanted to leave a lasting impression on the con and get our names out there. Katsucon had always been a con goal for the both of us and finally being able to go didn't seem real. Unfortunately, we treated it like any average con and procrastinated until the very end.
DON'T DO THIS EVER, NO MATTER THE CON.
I didn't expect Katsucrunch to consume me as much as it did. During the week of Katsucon, I had slept probably 7 hours in the span of 4 days. I regret not spending my time more wisely than I had. Lets go back to the beginning and see what went wrong.
My first mistake was that I should've had a final cosplay set lined up much earlier than I did. My lineup had changed too many times throughout pre-Katsu prep. Spooky and I had too many other plans in mind even before I posted my first lineup (picture below). We ended up having to cut many cosplays that we had wanted to do- such as plugsuit Rei and Asuka from Neon Genesis Evangelion, Mei from Overwatch, and Blake and Weiss from RWBY to meet our time constraints.
I began asking myself questions like: "Can I finish this in time?" or "How willing am I to finish this on top of my daily life?".
I decided to make Palanquin D.Va very last minute to showcase my Korean pride and because it was a very adorable skin/outfit for her character! Making my own hanbok (Korean dress) attracted a lot of attention from my family. Every family member that saw it loved it. It felt nice to finally be appreciated by my family for cosplay it nearly brought me to tears!
On top of the stress of planning out my other cosplays, being a Love Live cosplayer did not help. We ended up joining group cosplays on a whim. This was obviously not beneficial for either Spooky or myself. Because of this, we had to deal with additional conflict with people dropping out and other such cosplay group conflicts that arose.
My Final Lineup And Why I Choose It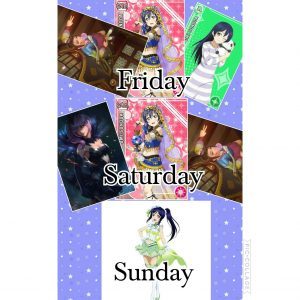 My final decision was to bring Palanquin D.Va, Dancer Umi, Elementalist Lux (Dark), and Aquarium Kanan to this year's Katsucon.
The reason for me choosing Palanquin D.Va is because she is wearing Korean traditional clothing, otherwise known as a hanbok, and because of my love for the game, Overwatch. The minute the skin was released, I knew I had to cosplay her since I am also Korean and her outfit just hit so close to home. It brought back memories of when I was younger and wore hanboks much more than I do now. I also wanted to impress my family and make a hanbok from scratch. I relate to D.Va a lot as I am a female, teen gamer (cough, addict) who is also Korean!
I also chose Dancer Umi and Aquarium Kanan because I love Love Live cosplays and I just can't stop making them/buying them. I had the pleasure of being in full Love Live cosplay groups with a bunch of other talented and pretty ladies!
Last but not least, I chose Elementalist Lux because I've been playing the game League of Legends for as long as I can remember (around ~6 years) and it only felt right that I cosplay a character from it since I finally felt confident in my sewing/crafting skills. Elementalist Lux was definitely a huge project for me. My favorite character to play in the game is Lux and Elementalist Lux was such a cool skin that I HAD to do it. I chose to do the Dark form of the skin since I really liked the purple and black hues of the outfit. I also like the dark form's personality a lot too! I plan to make her ice form as well. It is honestly my dream to cosplay all 10 forms of this skin.
Learning to believe in myself despite my insecurities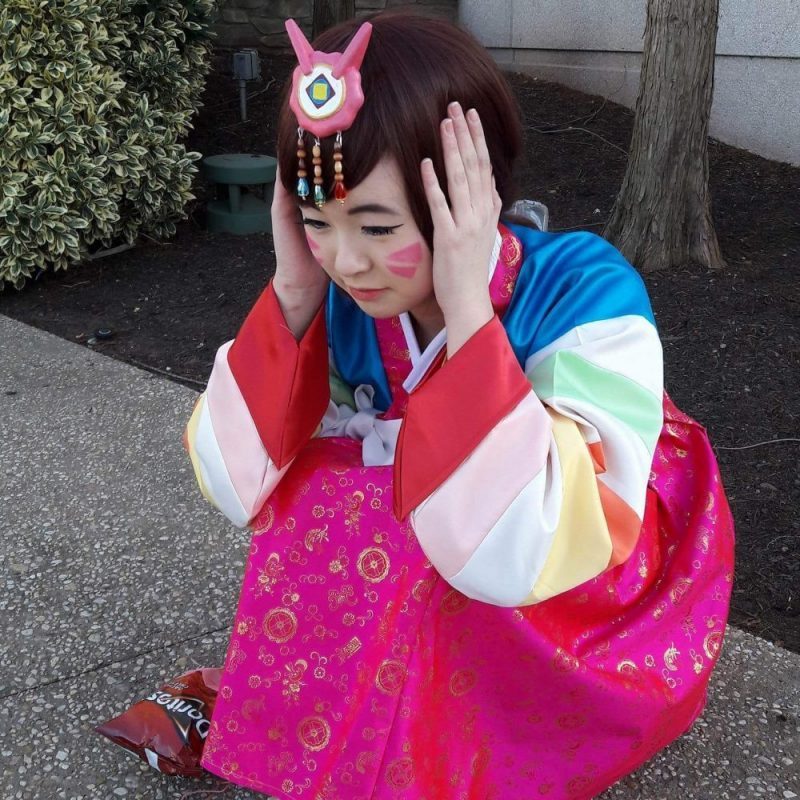 Note to aspiring cosplayers reading this:
Scrolling through the #KATSUCRUNCH tag on Instagram instead of working on your own cosplays is not a good idea!
I thought that watching other people being productive would also make me want to get to work as well. Sometimes it worked, but most of the time I felt the complete opposite. Unfortunately most of the time, I found myself feeling demoralized. Seeing everyone finishing their insane and complex costumes, while I was struggling to make a simple armor piece hit me in the wrong way. I regret underestimating the pressure of Katsucrunch. I didn't think it'd affect me as much as it did. Of course, I had heard previous stories of the insane con crunch that affected so many people but in the end, I couldn't get it in gear to work when I should have.
It took a lot of self-motivation and help from my online friends to get me through this funk. I can't thank them enough for helping me believe in myself and get to work. Without them, none of my costumes would've been finished. I want to thank them for staying up until sometimes three o'clock in the morning Skyping me and helping me push through.
Thinking back, I should've started on my biggest cosplay first: Dark Elementalist Lux. Unfortunately even looking at the design intimidated me. I had to incorporate a lot of new techniques into that costume that I wasn't used to, and I was afraid. I think I only started seriously working on my costumes around the first or second week of January. I should've started working as soon as it was confirmed that I was going to Katsucon.
The bright side.
I learned a lot from my Katsucon prep/crunch! It was a con of many firsts for me. Ok here it goes: I got to work with a worbla and heat gun. I made my first corset. Styled my first ponytail wig. Worked with LEDs. Satin-stitched. Worked with insulation foam and plexi glass/acrylic. And so much more!
I definitely would've preferred my firsts to been at a smaller scale (less stressful) con, but to be fair, Katsucon got my butt in gear to get my work to as perfect as I could. I am a perfectionist AND a procrastinator– probably the worst combination of personality traits anyone could possess. Katsucon made me realize that sometimes I won't be able to achieve all that I imagined I could in my head, that I needed to learn to move on and work on something else. I spent/wasted days working on one piece of a costume when I should've just left it alone and worked on the million of other things I had to finish. But, in the end, I was impressed with what I had accomplished in such amount of time– especially being a newbie and all.
Unfortunately, I didn't take too many progress shots:
Home Stretch!… Or not?
What seemed to be our biggest roadblock came just TWO DAYS before the con. Spooky had actually gotten into a car accident and it was devastating to the both of us. Of course, I was relieved that she was safe, but it wasn't news that the both of us wanted literally two days before such a huge convention.
Because of this accident, I ended up having to finish two of Spooky's unfinished costumes while still working on my own. Needless to say, I was a mess of anxiety and stress and did not sleep at all the week before Katsucon. It's the worst con crunch I've ever experienced in my life. I still remember staying up the entire day Wednesday into Thursday morning finishing Spooky's two costumes and finishing up my own. The whole experience was traumatizing. I just hope everyone else had a much better Katsucon prep than I did.
I was hoping to fall asleep during the car ride to Katsucon since I was up the entire night before. But yet again, I was wrong. The drive itself was actually exciting for me, and I couldn't sleep. I also had to make sure Spooky was okay to drive and that we were going in the right directions. We've set up a plan where I am the navigator and she is the driver for all the cons we go to. We were in disbelief the entire ride. It didn't seem real that we were going to Katsucon- a dream convention for us for so many years. The drive had been particularly nice once we entered Maryland and got to see many beautiful sights like the harbor.
The final pre-Katsu problem we faced was when Spooky and I tried to check into our hotel, which was in Virginia- right across the Maryland border. We were not allowed to check in! Apparently, there is a law where you must be 21 years of age to check into a hotel in Virginia. We were considering sleeping in the car at one point because we were so desperate. Luckily, there was a cheap motel nearby that we were allowed to check into (somehow?). It was then we finally able to settle down and prepare for whatever Katsucon 2017 had in store for us.
The following two tabs change content below.
Latest posts by toastyboxx (see all)