Nardio Manga Review
IS GOBLIN SLAYER CHAPTER 12 WORTH YOUR TIME?
Yes!!!!!
WHAT DID I THINK WITHOUT SPOILING IT?
First off if you haven't yet, go read our spoiler free reviews of chapter one , chapter two and chapter 3 then decide if this is for you.
Chapter 12 of Goblin Slayer is all about action and strategy. Goblin Slayer's adventuring heroes face off with the attacking Goblin horde and the results were dark awesome and over way to fast. This issue was interesting because we finally get to see what a platinum ranked Goblin Threat looks like and the results were fascinating.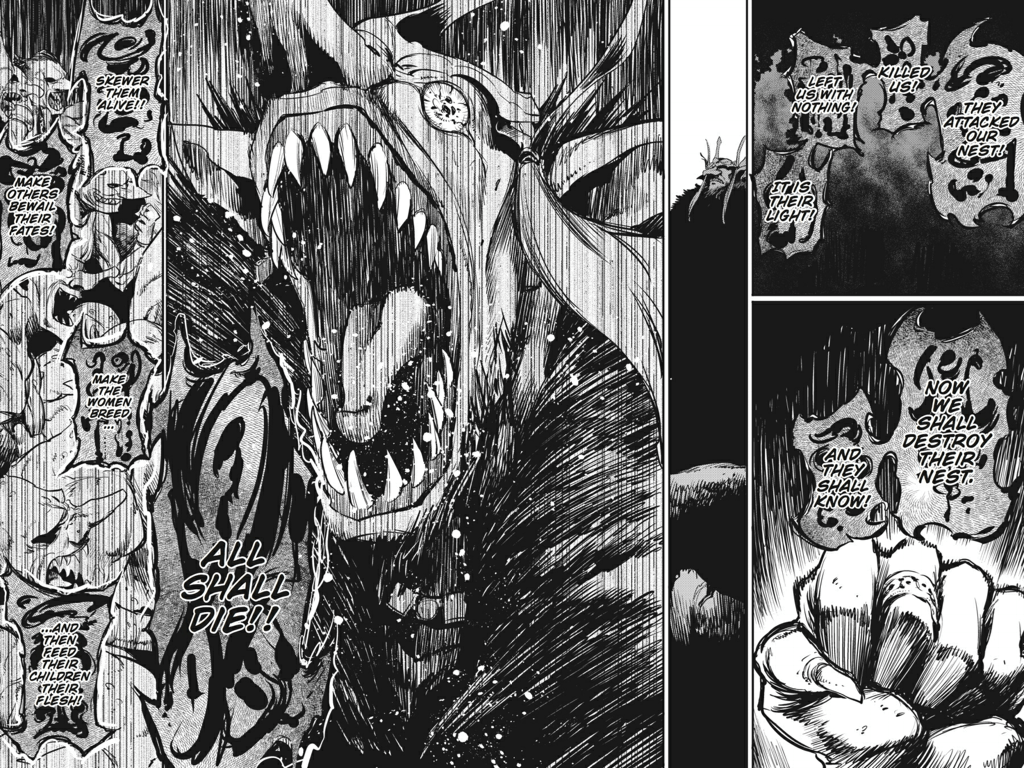 It's methods were cruel and it's tactics, reminded me of battles past. That said the most fascinating part was getting a glimpse of the goblins point of view. To them, they are the victims. They are here for vengeance and to build up again what our heroes tore down.
As per usual the art was insane perfection. I cannot overstate how much this artist blows my mind. The action is visceral, the characters stand a part and the flow matches perfectly with the writing.
I know I fanboy a lot with this series, but dammit, it's just that perfect. This is the second coming of Berserk for me and I adore it. Goblin Slayer chapter 12 was a great read and a fast read. I am going to look into pre-ordering chapter 13 now.
GET THIS!
SPOILERS SPOILERS SPOILERS SPOILERS
SPOILERS SPOILERS SPOILERS SPOILERS
SPOILERS SPOILERS SPOILERS SPOILERS
SPOILERS SPOILERS SPOILERS SPOILERS
LET'S TALK ABOUT GOBLIN SLAYER CHAPTER TWELVE!
Ugh.. This is gonna get so bad!
Our heroes are doing way to well. I get the feeling there is an attack happening at the main town while this is going on. So far our hero has predicted every single attack and has easily thwarted it. It's all going too well and no matter how well our combined heroes are doing I can't fathom it turning out well. I dunno, the way this series started I have a feeling that things have just been going to well for to long and we are due for tragedy.
Lets see what happens.
READ THIS.
Agree? Disagree? Write your comments below.
Read our other manga reviews here.
BASIC INFO
Amazon: Kindle $1.99
Author: Kumo Kagyu
Artist: Kousuke Kuose
Character Design: Noboru Kannatuki
Genre: Dark Fantasy/Adventure/ Mature
The following two tabs change content below.
Hi I'm Bernardo Español. I'm a guy with way too much energy and not enough free time.
Latest posts by Bernardo Español (see all)