Nardio Manga Review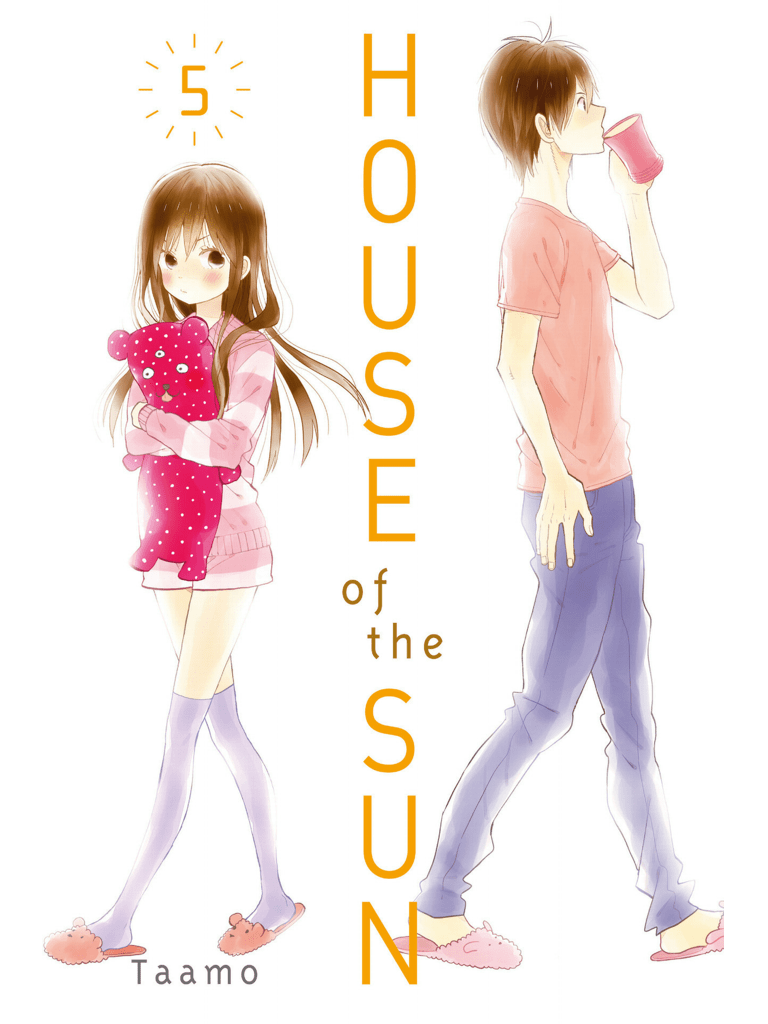 IS HOUSE OF THE SUN VOLUME 5 WORTH YOUR TIME?
Yes!!!!!
WHAT DID I THINK WITHOUT SPOILING IT?
I LOVED IT. 
First, immediately go read our review of volume one then buy it.
House of the Sun Volume 5 had me giggling and gasping like a school girl with her first romance novel.
I adored it.
No time is wasted going from one big scene to the next. We start off with the ramifications from last volumes ginormous cliffhanger ending and run full speed from there. Yes, I was holding my breath those first few pages….
The more I read this manga series the more I hate myself for wasting time with those one note bad romance harem mangas and slow slice of life books. House of the Sun is all about story progression and giving readers what they want.
I LOVE THIS!
Mao makes huge headway in her personal relationships and I love it. The ramifications are felt immediately and really changed things. I also adored how the other characters in the series keep getting plot development and continue to make me want to know more about them. New love triangles. New complications and yet none of it feels forced. This is just damn fine writing that has me totally invested. It was once again a wonderful read that I wholeheartedly recommend. 
The only downside I have with this volume is there is no follow up announced yet on Amazon…. Please, Kodansha Comics… Don't do this to me. I need to know what happens next. I need to know how this ends. Please announce the next volume so that I can preorder it. Please take my money.
Please.
.
YOU NEED TO READ THIS.
SPOILERS
SPOILERS
Spoilers!
SPOILERS BELOW!
LETS CHAT ABOUT THIS!
So bam confession city. You get a confession and you get a confession and you get a drunken almost confession…Ugh.. It was almost to much for me. This romance deprived man was loving every second of it. I mean when Chi-Chan was sitting there crying her little eyes out because the one she loves just got shot down by her best friend and dude is still hanging on?!?! Ugh..
What about the new love triangle in the house? I mean, yea I kinda saw it coming, but I'm not sure how I feel about it. I mean honestly I don't want Mao ending up with the brothers. Well, sorta, I mean, I am starting to like her and Hiro a bit more. Especially since it seems he is putting Mao before his longtime crush. But still….
I want her to keep the family as family and find someone else. I also am shipping Daki and Chi. I just hope they meet and they forget about everyone else.  I mean I bet Daki has a gigantic childhood crush on Mao, but they work so much better as platonic siblings. Daki is the stable, level headed cool guy that is sort of a rock for Mao. She goes to him when she is upset. She goes to him with help with work. She is that drama free sibling/friend that she has been desperately needing. I really hope Daki keeps his crush to himself and then finds love with Chi.
Is anyone else hoping Mao doesn't go home with her family? I mean, dad is almost irredeemable and honestly, I just think Mao is better off where she is now. I dunno, I'd rather have her find happiness at Hiro's place as a family member. Have Hiro end up with Sugimoto.
I dunno why, but I really like Sugimoto with Hiro. I think they would work.
I love this series.
GET THIS!
 Agree? Disagree? Write your comments below.
Read our other manga reviews here.
BASIC INFO
Amazon: Kindle for $8.79
Barnes and Noble: Nook for $9.99
Author: Taamo
Genre: Slice of Life/Romance/Coming of Age
The following two tabs change content below.
Hi I'm Bernardo Español. I'm a guy with way too much energy and not enough free time.
Latest posts by Bernardo Español (see all)