Nardio Manga Review
IS GOBLIN SLAYER CHAPTER 13 WORTH YOUR TIME?
Yes!!!!!!
WHAT DID I THINK WITHOUT SPOILING IT?
First off if you haven't yet, go read our spoiler free reviews of chapter one , chapter two and chapter 3 then decide if this is for you.
Chapter 13 of Goblin Slayer continues with the battle against the goblin horde. I have to say that I am really surprised with how the battle is turning out. I especially  like that we get to see the different background heroes having their time to shine is fun. I really, really wish this was a double sized chapter. It's over to fast. It's always over to fast, but still. I am not disappointed with the way things are turning out. My only worry is this arc will be over to fast.
The art is as always perfection. The brutal action and the slow points all look polished and amazing. Even when things slow down the artist's work blows me away. The plot moves fast and everything that happens makes sense.
As always I loved the issue. Now comes the inevitable and painful wait for next month's chapter.
GET THIS!
Extra:
I've decided to start reading the Goblin Slayer light novels that I own. I immediately bought them, but held back because I didn't want to ruin my manga experience. Now after waiting to long I decided to spend my July 4th reading it all in a park someplace. Reviews incoming.
SPOILERS SPOILERS SPOILERS SPOILERS
SPOILERS SPOILERS SPOILERS SPOILERS
SPOILERS SPOILERS SPOILERS SPOILERS
SPOILERS SPOILERS SPOILERS SPOILERS
LET'S TALK ABOUT GOBLIN SLAYER CHAPTER THIRTEEN!
That wasn't so bad. It was almost actually to good. 
This battle went almost to well. Our heroes did everything right. I mean, yea I am happy no one of importance died, but so far things are going way to well. I mean I guess this is a testament to Goblin Slayer's knowledge of the enemy, but the big bad threat seems neutered. I mean this is not the sort of manga where things just go good. Maybe next issue will be when things go wrong.
I don't mean to sound as if I want things to go badly, it just feels like things have been going to well for to long.
I appreciated the quick look into the big bad goblin leader. It's crazy to me that the only thing that seems to set him apart from the other goblins is a high intelligence. I wonder if there are any goblin hordes where they are all smart?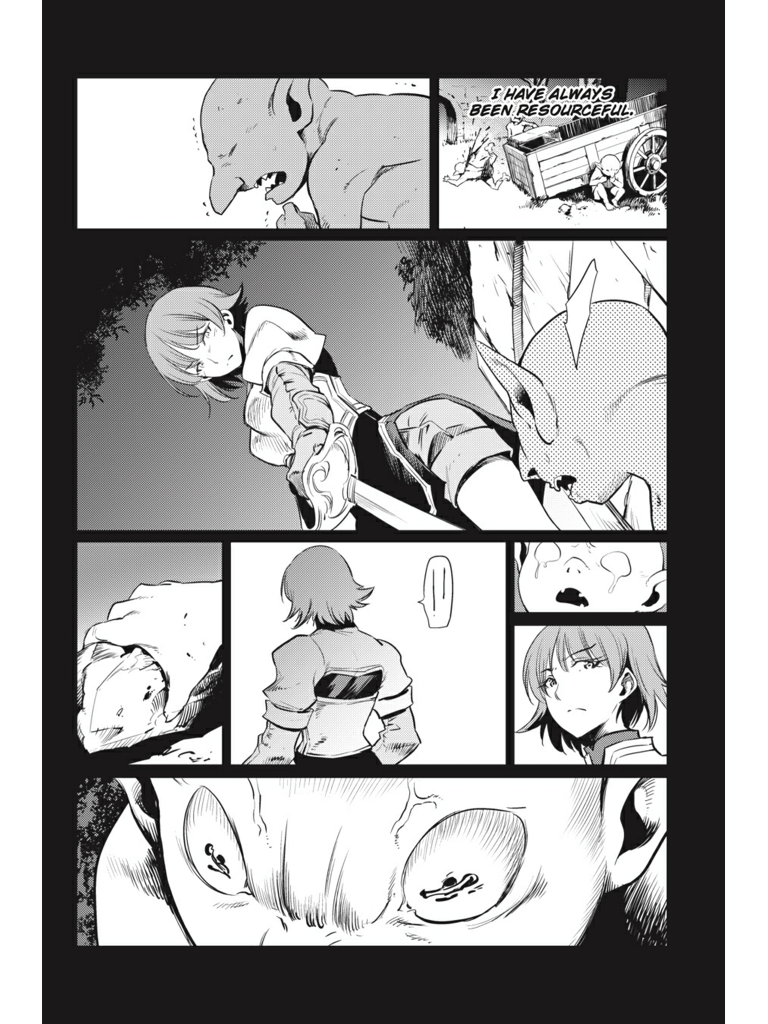 This scene above was really interesting as well. The very first time we met goblin slayer and he saved the day he made sure to kill the kids. Now we know why that was such a smart move. It really goes to show how bad a threat the goblins actually are.
I know I was saying that the goblin threat seems like it's getting put down almost to easily, but now that I think about it, I find myself wondering what if. What if this would be the norm if the champions and heroes worked together normally to exterminate this threat? I mean if there were a goblin slayer army maybe this filthy threat could be purged? If this is the case then why hasn't it happened yet? It just makes me wonder how big are the "real" threats that the goblins can get such a pass when they cause so much damage and suffering?
I really can't wait to learn more about this horrible world.
Lets see what happens.
READ THIS.
Agree? Disagree? Write your comments below.
Read our other manga reviews here.
BASIC INFO
Amazon: Kindle $1.99
Author: Kumo Kagyu
Artist: Kousuke Kuose
Character Design: Noboru Kannatuki
Genre: Dark Fantasy/Adventure/ Mature
The following two tabs change content below.
Hi I'm Bernardo Español. I'm a guy with way too much energy and not enough free time.
Latest posts by Bernardo Español (see all)