Nardio Manga Review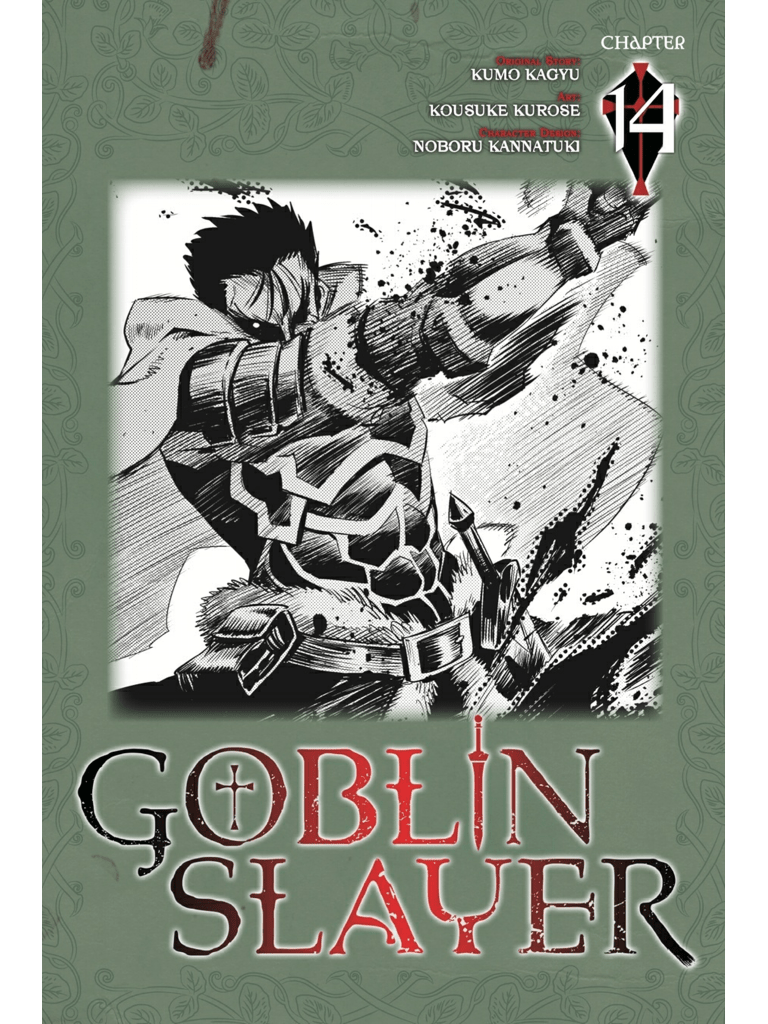 IS GOBLIN SLAYER CHAPTER 14 WORTH YOUR TIME?
Yes!!!!!!
WHAT DID I THINK WITHOUT SPOILING IT?
First off if you haven't yet, go read our spoiler free reviews of chapter one, chapter two and chapter 3 then decide if this is for you.
Chapter 14 of Goblin Slayer continues with the battle against the goblin horde. It kind of rushes through things, but is still fun. The artwork is wonderful and as always never disappoints.
I love that we are seeing a few background characters having time to shine in chapter 14. I really hope the manga brings in some more character development to them as well. As is, they are just embodiments of their classes. While that was fun, in the beginning, I hope we get a bit more.
I think this arc is going a little too fast. Hopefully, things get fleshed out a bit more. I'd love to see what more of the background heroes and the heroes from the last party are doing. That said it's been entertaining.
As always I loved the issue. Now comes the inevitable and painful wait for next month's chapter.
GET THIS!
SPOILERS SPOILERS SPOILERS SPOILERS
SPOILERS SPOILERS SPOILERS SPOILERS
SPOILERS SPOILERS SPOILERS SPOILERS
SPOILERS SPOILERS SPOILERS SPOILERS
LET'S TALK ABOUT GOBLIN SLAYER CHAPTER Fourteen!
This is going way too darned fast. There was a good bit of ominous build up and the goblin threat seems to have been way over blown.
Yes, that is mostly due to Goblin Slayers meticulous and smart planning, but damn things have been going too well. It seems that in the face of real adventures goblins really are a minor threat. Even the champions went down a bit easy.
I dunno, I was hoping for a longer more drawn out battle and so far it looks like an overwhelming one sided victory. Yes, I know that is a good thing, and yes I am still loving this series, but as is the goblins seem like nothing more than fodder.
On a side note, I have started reading the light novels and it blows my mind how many manga's are getting made out of them. The light novel author doesn't really go into depth with a lot of the battles and they are over far too fast. It seems the manga is taking liberties with stretching things out. That is a damned good thing. Hopefully, the manga goes even slower and makes things more epic. This arc comes towards the end of the first light novel and it is over way too darned fast. This very manga chapter is mostly filler created for the manga to stretch things out. This really needs to happen more often. I hope that the original author coordinates with the manga to fluff things up a bit and the world a bit more depth.
I find myself starting to worry that the Goblins may never end up as an epic threat that really challenges our heroes. That the threat and dread from the first two chapters might never be seen again. I really don't want this to end up like every other manga series where the heroes never face any real dangers or suffer any real consequences.
All that said, I guess the goblins really were never much of a threat for experienced adventurers. That point gets beaten to death over and over again. It's just that they are more fearsome in packs, left unattended, and when ignored. It really does make sense that a goblin horde like this would get slaughtered easily if there is only one real intelligent threat in the whole bunch. Especially if the heroes knew they were coming. I just wish the vaunted goblin champions were more than fodder. Sure they are putting up a darn good fight for the heroes, but it still seems a bit to one sided.
This again makes me wonder about how scary or tough the "real" threats are in the world. Will our heroes be forced to face those? Will they team up with the goblins? I, as always, find myself over thinking the issues and wondering what if.
Let's see what happens.
READ THIS.
Agree? Disagree? Write your comments below.
Read our other manga reviews here.
BASIC INFO
Amazon: Kindle $1.99
Author: Kumo Kagyu
Artist: Kousuke Kuose
Character Design: Noboru Kannatuki
Genre: Dark Fantasy/Adventure/ Mature