The Nardio Review
 
IS Lock's Quest WORTH YOUR TIME?
No. Not at all.
WHAT SHOULD YOU PLAY IT ON?
PC only.
HOW IT PLAYS AND WHY IT FAILS:
Horrible controls and punishing tower placement time constraints make this a this an exercise in frustration. There is a ton of potential here and it can be fun every once in a while, but it's not enough to justify the frustration this game brings.

Steam Page description:
ABOUT THIS GAME

Build defenses and battle against the Clockwork horde in the next generation remake of the critically acclaimed 2008 Nintendo DS title, Lock's Quest! You play as Lock, a boy who stumbles upon an invasion of his Village, which triggers a wider war between Kingdom Force and a revived Clockwork Army, led by the nefarious Lord Agony. A gripping story unfolds as you progress through 75 Days of warfare, across a dozen unique maps, aided by a collection of turrets, traps and special attacks. Experience the game as it was meant to be, with a high-quality soundtrack, new high resolution portraits, and revised gameplay with support for both Keyboard / Mouse and Gamepad!

Place Kingdom Force units to defend your capitol in a brand new Endless Mode – Antonia Defense!
Build up your fortifications each day to defend against a timed Clockwork assault. Use dozens of Turrets, Traps and Helpers to stop the advance.
Fight alongside your defenses, using context sensitive Special Attacks, and devastating Super Attacks, which impact a wide range of enemies.
Unlock the secrets of Kingdom Force and the Archineers via an engrossing story with a multi character cast, told via hand drawn cinematics and cutscenes.

Remaster Features:

All music remastered in high definition, with orchestrated introduction and ending
Player controls remapped for keyboard/mouse and gamepad input
Cute pixel characters and maps brilliantly enhanced in high resolution, a new revamped User Interface, customized for increased PC and consoles resolution, including all new GUI Art.
Brand new Antonia Defense Battles featuring a new map
New progression system automatically unlocks new turrets at specific story plot points
Endless Mode: Place Kingdom Force units to defend Antonia in this new and special mode
Lock's Quest should have been a Steam Early Access game instead of a fully released port. It's just not ready for prime time.
Lock's Quest's controls are horrible. Unresponsive, inaccurate and clumsy, the more I played the more I found myself frustrated. I tried the mouse and keyboard and also the controller and neither works good enough. Because of this, combat is maddening, not because of the difficulty of the enemies, but the piss poor controls holding me back. Targeting enemies, doing the stupid attacking mini game instead of just attacking.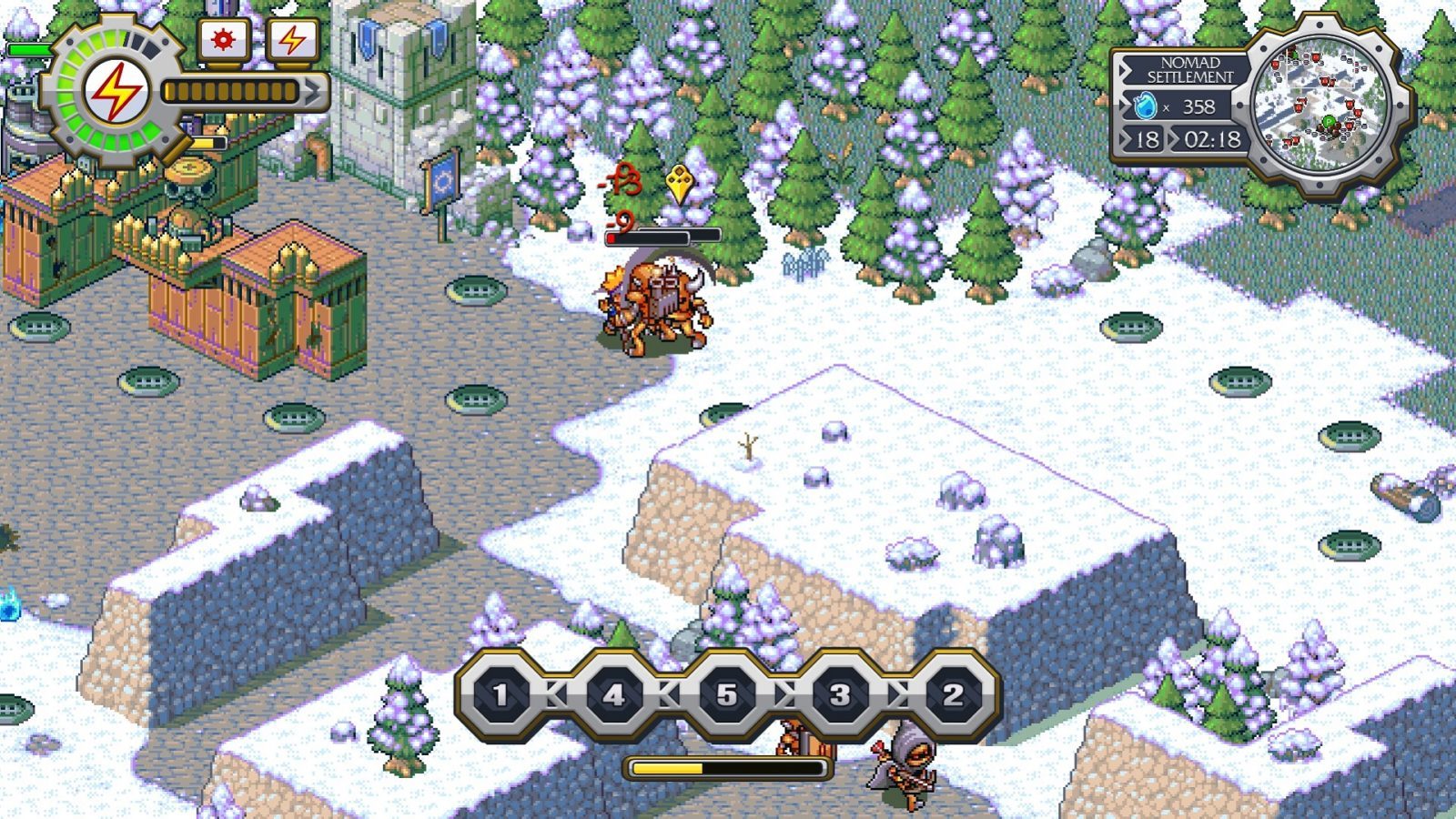 It all feels frustrating and unintuitive.
For some reason, placing defenses has a short time constraint that makes the game even more frustrating. Time is wasted as you look around the map trying to get a feel for the environment. Lock's Quest almost demands that you try and fail a few times just to get an understanding of the map and enemies before you can try to build.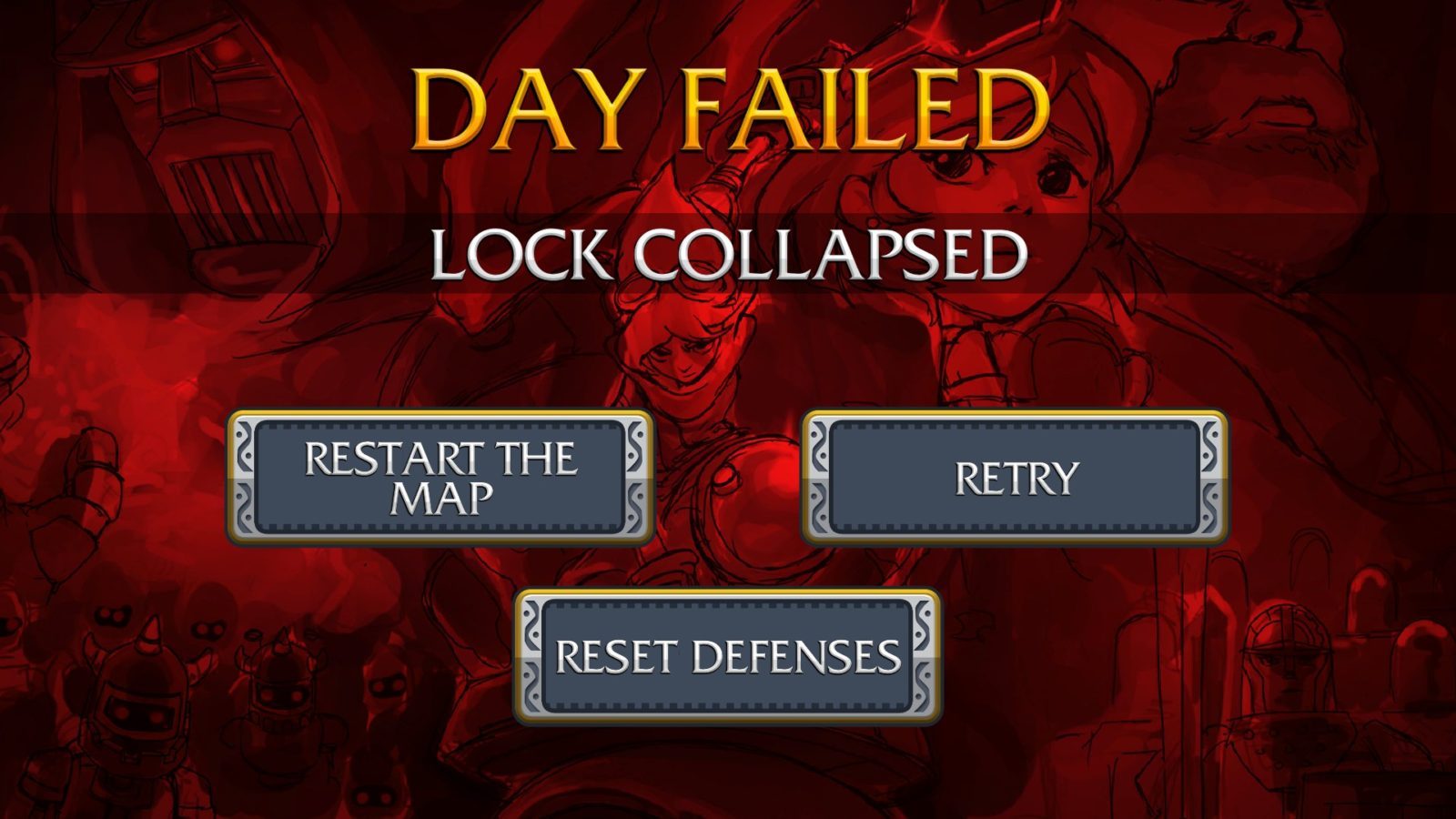 That is not fun.
Special mention has to be given to the towers not attacking at times. Huge, huge pain there to watch enemy troops just walk up to a wall as if there was nothing trying to stop them.
Making matters worse is the horrible user interface that doesn't allow you to just back out and restart the menu. Because of this, you need to either outright fail and try again or go to the main menu and hope that the game is saved where and how you want it saved. Yup, the player doesn't have control of saving progress in the game and it's maddening.
I spent well over four hours trying to understand and enjoy Lock's Quest, but the more I played it the more I disliked it.
The story is not good so far, the characters aren't likable and the world is boring.
Lock's Quest isn't a fun game. Honestly, it feels like a good game concept that was ruined by bad game design decisions. For example, you almost never have enough money. Defense turrets and items are horribly expensive. NPC units almost never help out in stages but are there in between stages to berate you. I cannot for the life of me understand why have an attacking mini game for the player? Why make it get so convoluted so fast? It's just stupid, frustrating and doesn't even seem to do much more damage. Worse it make's it easier to have your player surrounded and killed.
Lock's Quest player combat feels like the developer tried to force the original Nintendo DS version to utilize the touch screen tap mechanic in every possible way. That may have worked for the Nintendo DS, but here it's convoluted and stupid. Frankly it just doesn't work.
There is so much wrong with Lock's Quest that I worry this review will just turn into a rant, so I'll keep it short. I read that this was a fun Nintendo DS game. Well, for me, this is a bad PC game. Even with a controller, I hated the experience. There is potential here, now we just need some other developer to pick up the pieces and make a better game out of them. This needs to be redesigned entirely for the PC, not just ported. I honestly doubt the developers even playtested this port.
I could go on and on but screw it.
AVOID THIS
 A FREE REVIEW COPY OF WAS GIVEN TO ME TO REVIEW THIS GAME.
Agree? Disagree? Write your comments below
BASIC INFO:
WEBLINKS
Not promoting this.