The Nardio Review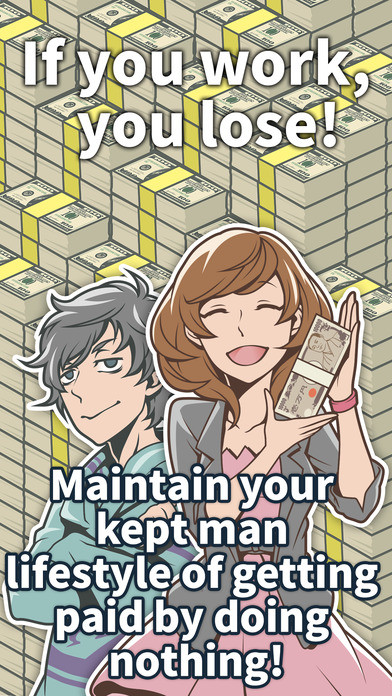 IS Ultimate KEPT MAN WORTH YOUR TIME?
Yes!
WHAT SHOULD I PLAY IT ON?
iOS & Android
HOW IT PLAYS:
Kept Man is an idle tapper that is light on features and replay and yet big on story and heart. 
Ultimate Kept Man is wrong. O so very wrong. It's so wrong it's right. Ultimate Kept Man has you living with your rich girlfriend as you do every single thing possible so that she keeps supporting you and you don't have to work.
Wrong.
It's also an idle tapper. How perfect is that? You proceed in the game by doing next to nothing.
But not everything is perfect in the world of Ultimate Kept Man. You see your rich, loving, rich, supportive, rich girlfriend has a super angry rich dad, who for some unknown reason doesn't seem to like you very much. No idea why. Anywho, to stay on his good side you start doing small tasks for your girlfriend so that she, in turn, tells rich daddy how great you are. It also helps that by doing these small, totally not work tasks, you get raises in your allowance.
Wrong…
The fun part comes in where you find yourself doing crazier and crazier things to keep your rich girlfriend happy and the money flowing. But hey, it beats working…sorta.
OK, the premise is funny and kinda stupid and the gameplay is pretty shallow and boring, but what kept me going was the story. Yeppers, Ultimate Kept Man has a small comic style story that happens every time you unlock a new thing to do to avoid working that is really entertaining. Long after I got bored with the gameplay or lack thereof I found myself constantly going back to find out how it all ends. I gotta say, it was honestly worth it.
There is no replay at all here, once you unlocked everything you are done. That said, I am good with one and done experiences like this. Ultimate Kept Man is a fun little experience. It's a freemium game so there are small ads on the bottom of the screen and the option to boost your tapping income by watching videos. Honestly, the boost does next to nothing, so there is no point. Besides that, the experience is pretty straight forward and the ads are never annoying.
BASIC INFO:
Freemium
idle tapper
Funny Story
WEB LINKS: