Nardio Game News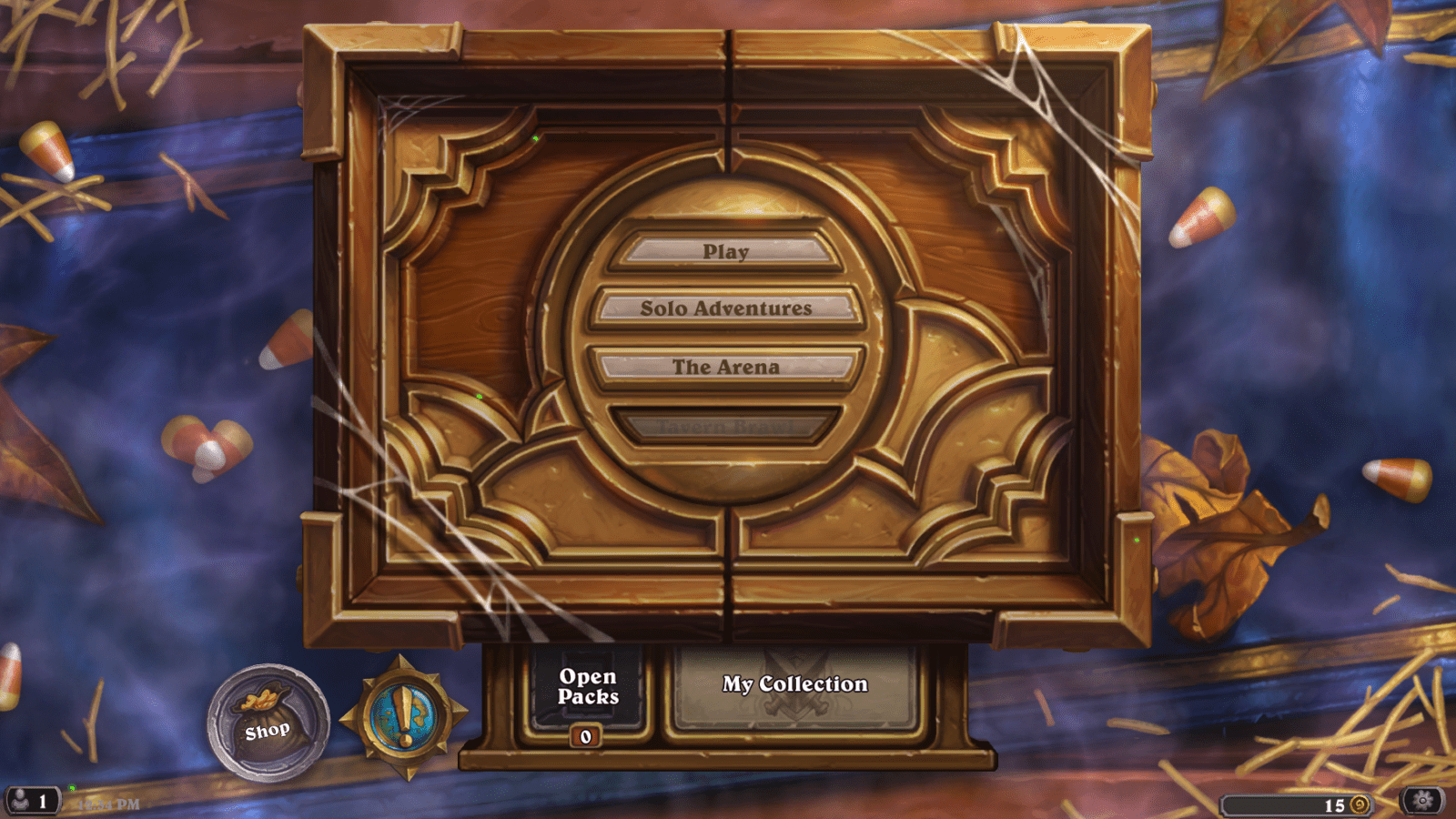 Hearthstone is at it again! I logged in today to find things are all spooky in my fave card game. I got some free card packs, a free arena ticket and the boards are halloweeny!
Check out some of the official post from Blizzard's website below:
Tempting Treats

Once each week during the celebration, the Headless Horseman is handing out a creepy card pack and an Arena ticket just for logging in!

Log in between Oct. 24 at 11:00 a.m. PDT and 10:00 p.m. PDT on Oct. 30 to receive one Whispers of the Old Gods card pack and an Arena ticket.
Log in between Oct. 31 at 12:01 am PDT and 10:00 p.m. PST on Nov. 5 to receive one Knights of the Frozen Throne card pack and an Arena ticket.

The Great Hallow's End Arena Costume Party

During Hallow's End you can experience an all-new dual class Arena Mode* with an added twist: Each of the nine classic Hearthstone Heroes will be attending in costume!

When you start an Arena run during Hallow's End, you'll choose a Hero, then a Hero Power, and the cards offered in your picks will feature cards from BOTH of those classes, in addition to neutral cards. And don't forget, you'll get a free Arena ticket just for logging in each week, so there's no excuse not to attend the party!

A Tricky Tavern Brawl

The Headless Horseman Rides is a special Hallow's End Tavern Brawl that will run from Oct. 25 to 28.

The Headless Horseman has been marauding through the countryside, and it's up to you to stop him! You'll go in disguise to catch the fiend by surprise—after the Brawl begins, you'll get to Discover which costume you'll wear. Each costume has its own deck featuring cards from several classes and, for the first time, a passive Hero Power that you'll need to make the most of if you want to succeed at sinking the sinister specter!

There's a feast of fearsome fun to be had at the Headless Horseman's Hallow's End hootenanny. Don't forget to check out a Hallow's End Fireside Gatherings Tavern near you and get Nemsy Necrofizzle as the celebration continues!

We hope you'll join us, and we wish you a HA! HA! HAPPY HALLOW'S END!
Also, we need to discuss and adore the heroes in costume! OMFG!