Nardio Manga Review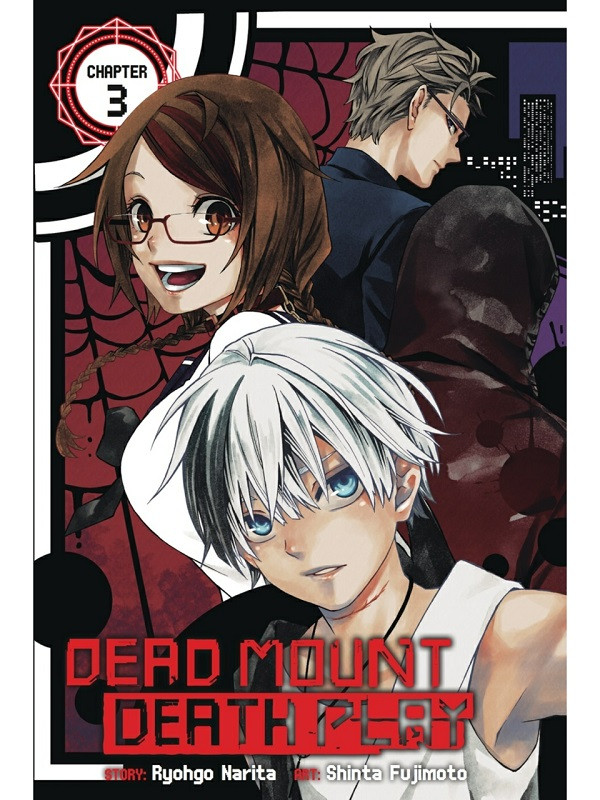 IS DEAD MOUNT DEATH PLAY #3 WORTH YOUR TIME?
YES!
WHAT DID WE THINK WITHOUT SPOILING IT?
Dead Mount Death Play #3 is the Third chapter in an ongoing manga that you can buy chapter by chapter. Read our review of the first chapter here.
Dead Mount Death Play #1 was one big ole exposition dump on the reader. Thankfully it was entertaining one. Chapter 2 sped through narrative and character building that was fascinating fast and fun. Chapter 3 begins to establish our main character in his new surroundings. How does an all powerful evil(?) entity mesh in modern day world? Well, he is pretty outta place. Add to that his youthful appearance and penchant for death powers and we have a surprised populace.
What makes this chapter really pop is who he seems to fall in with. Our hapless time traveler falls right into a group of deadly assassins. It is kind of fitting for a necromancer to fall in with modern-day death dealers. On the other hand, it's pretty interesting to see them be surprised at the powers of death being used in a magical way. I guess this means the straight men to the fantasy happening in this world will so happen to be killers.
What is normal going to be like here?
Not to spoil anything, but the manga is pretty self-aware about the type of person our protagonist is and its questioning of it makes me wonder how dark this is going to be. Oddly, we are three chapters in and I still can't tell. I like that. Right now all of the characters we have been introduced to seem to be interesting and none seem to fall into any boring character roles.
I loved it.
The art is still fun but more traditional in this chapter. Things aren't as crazy as the previous two, but if they stay this way, I'll still be a happy reader. That said I am sure this is going to get occasionally trippy and I am excited about it.
I have no idea where this series is going and I am addicted to the ride. I just bought the next three chapters so look forward to ongoing reviews. Last I checked there are about 22 chapters now available. If, if this series continues to be entertaining, I can see myself enjoying our Monday Manga review of Dead Mount Death Play each week. That said, I still do plan on reviewing other manga alongside this.
I enjoyed Dead Mount Death Play #3 and continue to recommend the series for adult readers looking for something dark, mysterious with a bit of darkness and violence. 
I cannot wait to start reading the next chapter.
Agree? Disagree? Write your comments below.
Read our other manga reviews here.
BASIC INFO
Amazon: Kindle for $1.99
Genre: Seinen/Supernatural/Gory/Action/Fantasy