Nardio Manga Review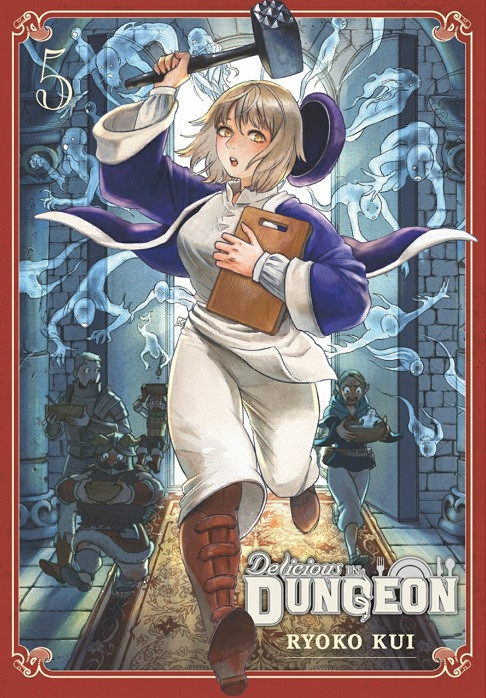 IS DELICIOUS IN DUNGEON, VOL. 5 WORTH YOUR TIME?
YES!!!!!
WHAT DID WE THINK WITHOUT SPOILING IT?
Volume 5 is perfect!
Delicious In The Dungeon Vol. 5 is everything I was hoping it would be and more. Plot points are addressed. New problems and threats arise. More character development happens. And, of course, more delicious'ish food gets consumed.
This sounds like too much but it's not. Delicious In The Dungeon Vol. 5 continues the series perfect story telling and doesn't let me down. I absolutely love how every character is being written. I continue to find myself surprised at new twists and happy to see some of my previous theories bear fruit.
The art remains phenomenal and the pacing is surprisingly fast here. That said, as always, it's perfect.
JUST BUY THIS!
This is no longer a lighthearted series.
Thankfully.
Darkness was always teased here and there, and now it finally starts to creep in. Don't worry, it's not too dark or violent, but the world we were teased with is making itself known. Threats have emerged and our party needs to face them. From the get go things don't go well and it doesn't let up. The surprise twist later on at the end of the book honestly threw me a bit.
I cannot fathom this series ending anytime soon and I love it! There is sooooo much depth here that was seemingly just there to tease us but now it's being addressed. I get the feeling that Delicious In Dungeon is going to be one of those series that answers all the questions.
I love this.
I love this manga so much.
JUST BUY THIS AND EVERY VOLUME BEFORE IT!
Spoilers:
###########################
####################
#####################
##################
Falin is part dragon now!!!!!!!!!!!
CALLED IT!
Now we have some evil human trying to kill our group and I get the feeling things aren't gonna go well for him. I mean, yea, he seems like he can do it, but the fucker is really, really out numbered. I wonder if the next chapter is going to be some big ole murder brawl.
The political turmoil is actually being addressed. I can totally see the elves sending in a hit squad to try and kill our heroes. I mean, I know they are gonna win in the end, but it feels like by the end of the series there are going to be a lot of people working to take over the dungeon for whatever reason.
Spoilers End
XXXXXXXXXXXXXXXXXXXXXXXXXXXXX
XXXXXXXXXXXXXXXXXXXXXXXXXXXXXX
Agree? Disagree? Write your comments below.
Read our other manga reviews here.
BASIC INFO