Nardio Manga Review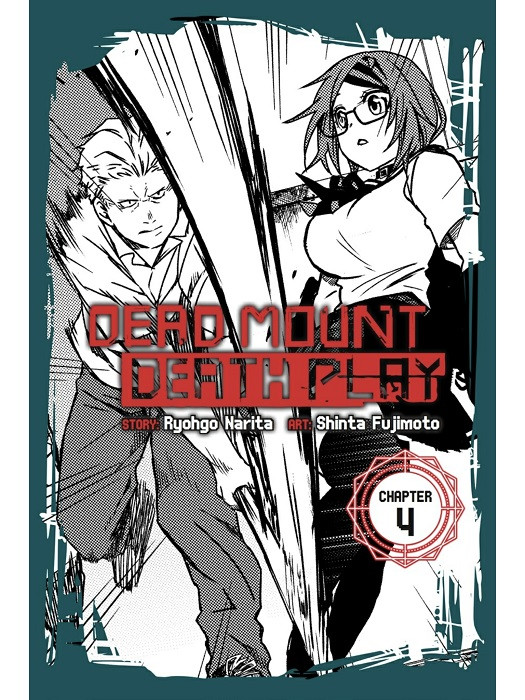 IS DEAD MOUNT DEATH PLAY #4 WORTH YOUR TIME?
YES!
WHAT DID WE THINK WITHOUT SPOILING IT?
Dead Mount Death Play #4 is a good followup to the first three chapters. Not great, and it has some weak points, but it is still worth your time. 
Dead Mount Death Play #4 has us dealing with the aftermath of the first three bloody, introductory chapters. Our former god of death, Polka, has killed, time traveled, been killed, been made into a somewhat understandable character, killed more people and finally, has been taken in by a gang of modern assassins. (Take a breath) The last part was pretty interesting because it's been established that our hero (?) isn't really a bad person, but has no qualms about killing people trying to kill him or hurt kids. No now it seems he might have fallen in with the wrong crowd.
The very wrong crowd.
All that said, he doesn't seem to be in danger. If anything, the assassins may have bitten off more than they can chew. He doesn't even seem to see them as a threat. At all… That leads us to chapter 4.
With our death god making himself at home with the assassin who killed him (ish) and then was promptly killed by him, it's weird. So weird it's called out by a character in the chapter. Sure, it came off a bit exposition'y, but the fact remains, it's weird. Our protagonist has no issue with it nor does his recent victim.
While that is some crazy, suspension of disbelief weird, we are dealing with a nigh-immortal being and a batshit crazy person who seems to be enjoying her new found undeadness and her new associate's awesome death powers.
I feel like this is going to turn into a story that plays with morally grey and kills a lot of really bad people who just so happen to be stupid enough to get themselves killed. This very chapter has a character (who seems to just exist for exposition) weighing in on who really is the "evil" one in this whole crazy circle of killers. It was an interesting moment, and I hope it's something becomes the norm.
Of course, we are treated to bits of our death god's powers.
All that said, The characters are starting to feel a bit shallow and one dimensional. Sure Polka has some backstory, but he is generally written pretty nonchalant bordering on the bored. (I hate protagonists who are written that way.) Our little psycho killer school girl also seems devoid of a personality for now. Then there is exposition guy. That's his thing, he gives you the info you need and moves the plot forward. I'm starting to worry about just having shallow characters in the long run.
All that said, it's only chapter four, and this series continues to hold my attention. I still like a lot of things that are going on here. The story, while a bit more meh than the previous three chapters, was still entertaining. A neat little twist popped up at the end. The art is also still pretty darned awesome. So this may be the weakest chapter so far, but it's interesting enough that I am still in it for the long haul.
If you liked the first three chapters of Dead Mount Death Play, I recommend this chapter as well.
Agree? Disagree? Write your comments below.
Read our other manga reviews here.
BASIC INFO