BEWARE CLOSEUP OF A SPIDER. IF YOU DON'T LIKE BUGS DON'T LOOK FURTHER
"Yo, Jazz, come over here!" Bernardo yelled over to me from the bathroom. "Yeah, yeah what is it?" Turned out to be a pretty cool looking spider.
It's times like these I'm so happy that I dropped the money on the 90mm macro lens. Most of the time when trying to get macro shots of insects they're moving around too much to get a good in-focus image. But this spider (Cheiracanthium mildei) was super cooperative and posed for the camera. Bernardo shined our little LED light on it so I could keep my shutter speed still relatively high without having to pump the ISO too much. Since it's macro, even the tiniest camera shake leads to a blurry image, and let me tell you, my hands are shaky.
I wouldn't say it's the most interesting spider out there, but I'm pretty happy about how the images came out. I'm hoping maybe some day I'll be able to get in a good picture of a jumping spider, but for now I'm content with this.
You can see below the size of the spider in comparison to the environment. It was still large enough that I was able to get in pretty close and have it take up the full frame.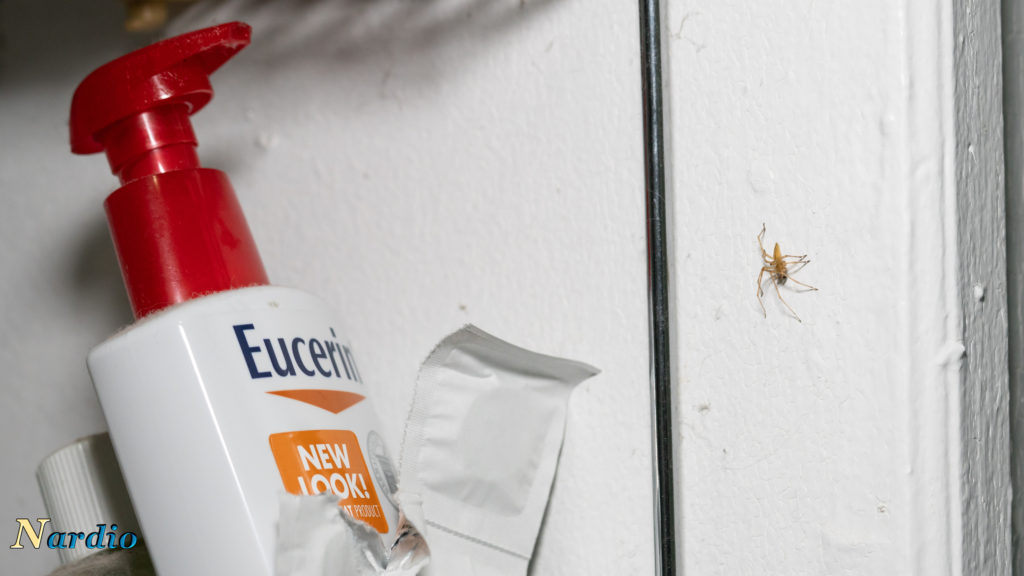 Camera: Sony A6500
Lens: Sony SEL90M28G FE 90mm f/2.8-22 Macro
Aperture: F11
Shutter speed: 1/250th of a second
ISO: 1600