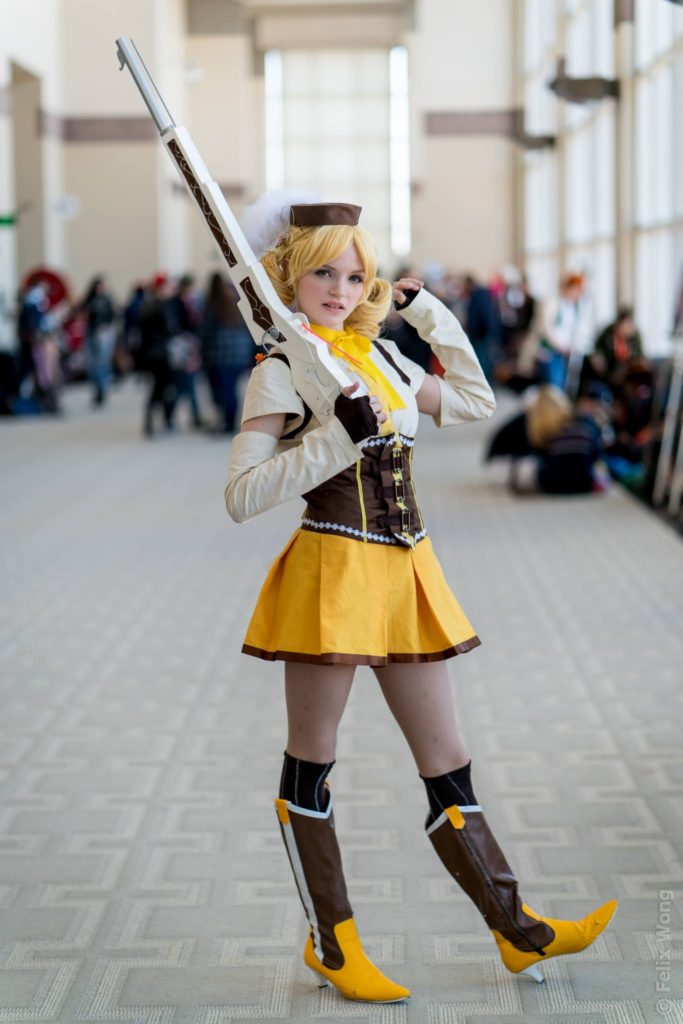 (Photo via Felix Wong Photography)
Hi! I'm Eklays Cosplay and you might remember me from my Uraraka cosplay tutorial.
So, picture this: It's 2013, the summer after a disastrous first year at college, and my friends and I are driving home from the old AnimeNEXT location (if you were there, you remember the rickety elevators and volleyball nets by the red dock.) Halfway home our car breaks down. We were five inconspicuous girls stranded on the side of a Jersey highway between a Dunkin' Donuts and the drive thru lane of a bank. It's June, and my fake eyelashes are melting off. My friend still has her itchy Ponyo wig on, and for some inexplicable reason, I am wearing brown leather Mary Janes and blue neon socks.
I like to think this day was the turning point in my cosplay career. ANEXT 2013 was my third year cosplaying, and it had started to lose some of the novelty and excitement it had in high school. This was before I started competing and performing in masquerades. While waiting for the tow truck and our ride, we started planning the next year's cosplays, and we knew exactly what we wanted to be – the reigning queens of shojou and the hottest magical girl group around – Madoka Magica.
(Photo via Stephanine Murrow. Left to right: Commissioner Cosplay, Ekalys Cosplay, Hotaru.Cosplays, StaleCookies Cosplay, & Emrys Cosplay)
Flash-forward 11 months and it's two weeks to ANEXT 2014. I was competing in Hall Cosplay for the first time as Elsa from Frozen, and the stress was real. It was like skiing up Mt. Everest while trying to knit a sweater out of sequins. It was just a hot mess. I had not one, but two, important costumes to make. Since my Mami costume was rushed the first time I made it, I've had to make a lot of alterations and updates. As a result, this is the costume I know better than any other. So follow me on this 3 three year journey that involved making and re-making my Mami Tomoe costume!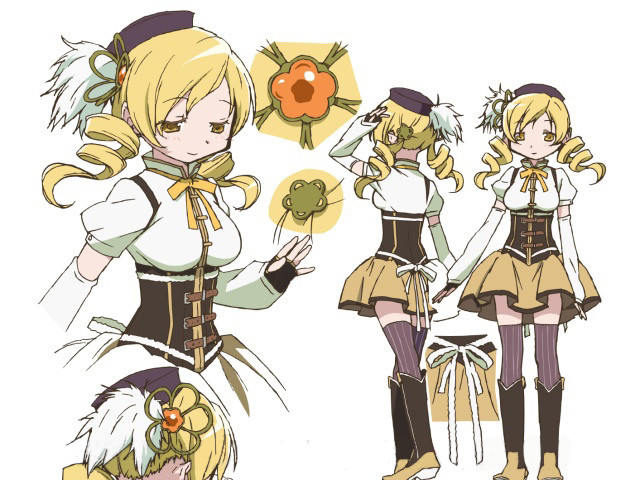 The Skirt
If you're a novice looking to learn the basics of sewing and cosplay, Mami is your girl. The skirt is the easiest thing you will ever sew. Mami wears a basic, box-pleated skirt made out of either tan or mustard yellow kona cotton (the color varies in reference photos.) My skirt has two main pleats in the front, and two in the back. For the closure, install a zipper in the back. (Guess what? It doesn't even have to be an invisible zipper, that's how easy this thing is.)
Then, use the creme-de-la-creme of cosplay tools: heat n' bond. (Or it's cousin: stitch witchery) I will never forget the day I first used this. If you haven't used heat n' bond before, here's an overview: one side is paper and the other is a plasticy, fusible adhesive. To add the brown stripe to Mami's skirt, you simply iron the tape around the bottom of the skirt, pull the paper off, and iron some brown ribbon on top. It couldn't be easier. Before long, you'll want to heat n' bond your whole costume together.
(Note: you could also sew the brown strip on, but I like that heat n' bond is stiff enough to help the skirt stick-out.)
*Pro tip, if you ever bust a hem and need to hold it together quickly, don't super glue it, use heat n' bond.
Blouse
I can't say it enough: Mami is a great costume for learning.  The blouse she wears is a  fairly common dress shirt style, and you could make it in an afternoon if you wanted (I know, because I did. While covered in glue and glitter, bent over the machine with panic.) Unfortunately, the pattern I used (Simplicity 2447 View E, minus the ruffle) is discontinued, but if you can find it, it's the only dress shirt pattern you'll ever need.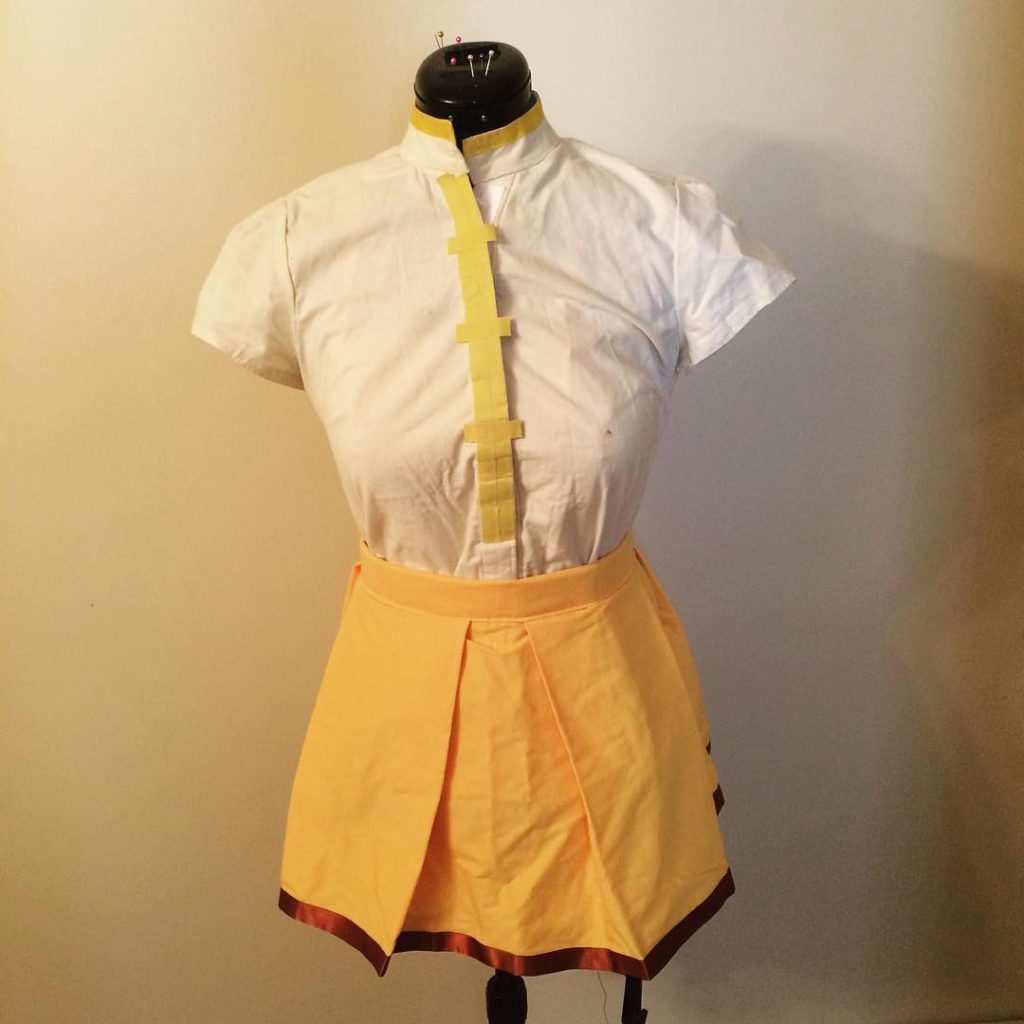 (Pay no attention to the wrinkles. My costume was stored in a plastic bag for almost 2 years before I took this photo…)
Now, here's something I pay careful attention to in cosplay: fabrics. It's very easy to make a costume out of just cotton or satin, but then you have no variation in the fabric textures. So with Mami, I researched what fabrics are meant to be used for dress shirts. Something you want to remember is that dress shirts aren't usually lined, and white fabric tends to be see-through. Instead, you can use quality fabrics like oxford, poplin and broadcloth. Now, this ain't your bargain bin broadcloth (you won't see Joann's symphony broadcloth, thank you very much). I found some ivory broadcloth online that has a tight enough weave to be perfectly opaque.
The only alteration I made to the pattern was in the closures. I didn't use buttons because buttonholes scared me at the time. So I took the easy way out and used stick on velcro down the front. But now, wiser and older, I stand by this decision for a different reason. Mami has yellow stripes down the front of her blouse and if I'd used buttons I wouldn't have been able to heat n' bond the ribbon over them. So it works out. (Just remember to heat n' bond the ribbon before you add stick on velcro, or you might melt it.)
Use the same fabric from her blouse to make the arm warmers. These are just rectangles of fabric sewed into a tube and hemmed. Use elastic as needed.
Corset
Take a deep breath. If I had to guess, I would say this waist cincher is the scariest part of Mami's costume, and probably the reason why many cosplayers choose to buy this costume instead of making it. But it can be done, and I dug into the archives of my cosplay patterns to show you how.
(As a sidenote: there are many different ways to make this piece. If you really want to cinch your waist, you can go full corset or you can modify a purchased corset. There's lots of options.)
First, note that Mami's corset piece does not come up over her bust. That is why I choose to call it a waist-cincher, not a corset; you'll have an easier time finding patterns searching for the words "waist-cincher pattern". Related caveat: in some photos it appears that her cincher has straps. On my costume, these are separate pieces. I applied brown bias tape around the shoulders of the blouse. But, if you want to make a cincher with straps, there are lots of Ren Faire patterns for that exact thing. There's a lot of variation in Madoka costumes when it comes to the reference photos, and you'll just have to decide what works for you.
This piece is scary, so I'm gonna talk about fabric first. Mami's corset had a definite sheen to it, which is why many cosplayers choose to make it out of pleather or vinyl. I did not want to do this, and having since worked with vinyl (which is a highly underrated cosplay material), I think it would be a headache for this particular piece. However, a plain cotton fabric would be too bland, especially when I'd already used two cotton-based fabrics.
So I dug through the sale section and resurfaced with taffeta. Real taffeta is a form of silk; this stuff I used is the synthetic kind. It's an odd fabric with an almost papery texture. But what I like about taffeta is that it tends to have subtle striations of shimmer. In this case, the chocolate brown fabric is shot with strands of coppery brown that give the fabric some nice dimension.
I modified the waist cincher from this pattern because it was simple and I had it laying around. All of the pieces are interfaced and plastic boning was inserted in each seam. Mami's corset is held closed by three buckles, which I knew was not going to be enough. So I made hidden laces. The corset closes normally with grommets and laces down the front. Then I made the front panel separately (this is the piece with all the fun stripes), and sewed that onto one side.
Note: I didn't use heat 'n bond on this garment. All of the stripes and ribbons are sewn so that there'd be no chance of them falling off. I sewed some floral lace ribbons around the top and bottom edge. I'm pretty sure the satin, cream-colored bow on the back came off a chocolate box…But it looks great!
Boots
Start with the tights. You've had a long ride; give yourself a treat. I pulled some old brown tights out of my dresser, cut off the thighs, and used a paint marker to add the stripes. Mami's stripes aren't completely even, so you can let your best friend paint them on the night before the con while you stand there in a sleep-induced haze. It'll be fine. Trust me.
In the name of recycling, I used the leftover pantyhose material to sew Mami's fingerless gloves. They've never frayed, which is a miracle in and of itself.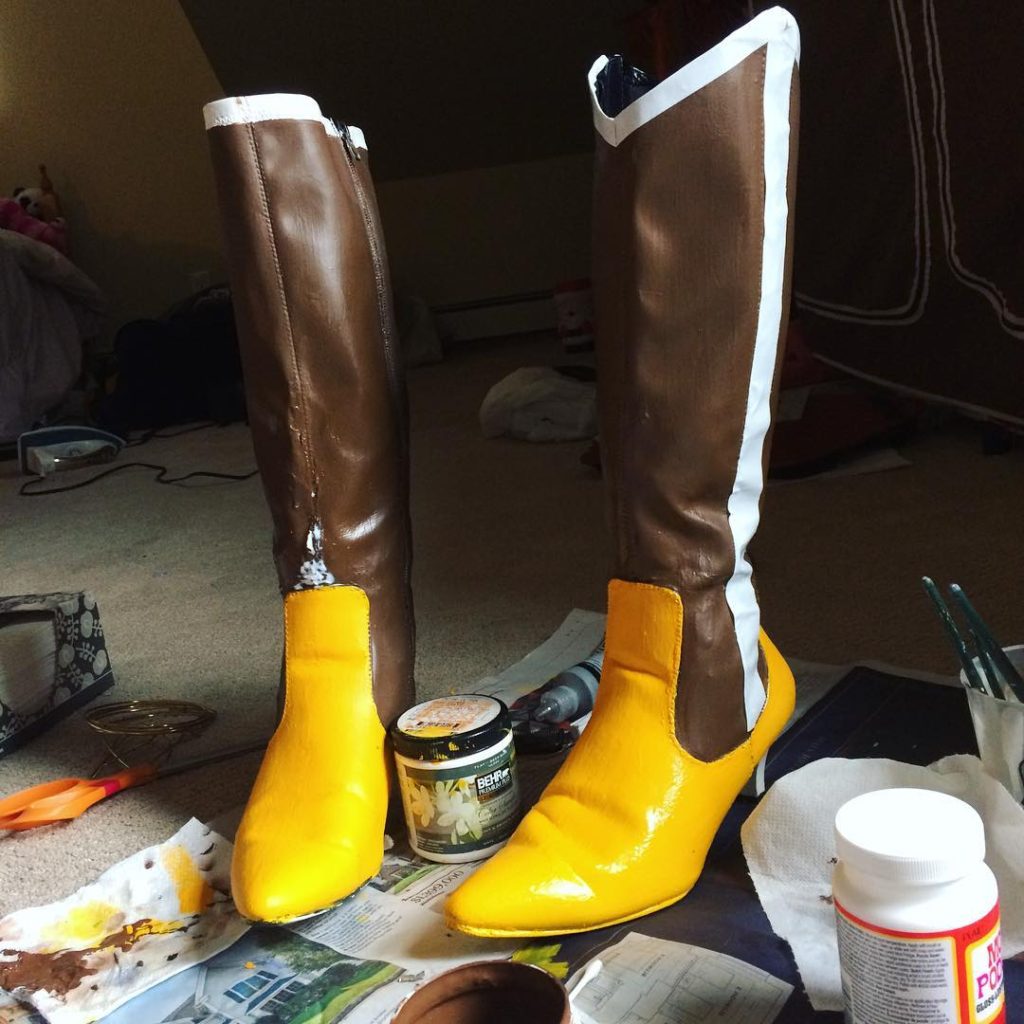 As for the boots, I had a pair of gogo boots that are approximately two sizes too big for my feet. They'd been gathering dust in the corner of my room since Halloween 2007, so I wiped them clean and got to painting. Or, that's what I would've done if I had any paint. But it was the night before the con and I didn't. (If you're keeping track, this is about when I started crying and my mom started to worry.) Ever the problem solver, my mom rushed to the hardware store and handed them swatches of my fabric to color match and then mix up paint samples. I painted the boots outside in the dark. Alone. I think that basically makes me a nature survivalist.
(As a sidenote: If anyone ever wants evidence that I don't know what I'm doing with cosplay, direct them to this post, please. The best way to paint Mami's boots would be to use angelus leather paints. That way the paint won't crack and peel like a sunburn. Yuck. Anyway, I've since repainted my boots. Live and learn.)
In 2016, I put on my big girl pants and re-made my boots. I cut the triangular shape into the top of the boots, covering the raw edges with white duct tape (which I tacked down with a little e6000). I made the little orange side tabs out of some craft foam, painted them, and glued them on. The ones on the inside have a snap so I can still access the zipper. I also used a strip of white duct tape about an inch wide to make the stripe down the side.
The Wig
The wig is perhaps the most important part of Mami's costume. Never has there been a more recognizable pair of drill curls. I specifically looked for a wig without pre-style drills. Mami's curls get smaller with each loop, and I didn't want them to look stiff and crunchy. I got the idea to use clear packing tape and wire from this legendary tutorial from Envel Cosplay.
I shaped the wire form into about two and half loops and anchored it into the pigtail with some glue (probably e6000). Then I coated both sides of the wire form in mod podge and carefully laid a lock of hair on top. Then I painted on some more mod podge. I built up the curls in layers, adding glue and then hair, and then more glue. This way, I could leave the final layer of hair unglued, so it still appears soft. There's also no wire in the last inch or so of each curl, that way the hair falls naturally, instead of stiff.
And don't forget to make some flowers out of sculpey! She has one pinned to each pigtail.
And while you're at, you might as well make the hat. Mami's wears a cute little pill-box hat that you can make with some old fashioned art and crafts skills. Just cut out a circle of cardboard, cover in with the same brown fabric you used for the corset, then make about a 1.5-inch strip of fabric to around the circumference of the top. I reinforced it with some interfacing. (As a bonus, mine is encrusted with Elsa glitter on the inside. Fun times.)
Then all you have to do is get yourself some big fluffy feathers and tack it on.

I made the soul gem a separate piece. The flower is shaped out of 12g craft wire. I didn't know how to use resin at the time, so I made her soul gem using an orange, flower shaped bead. The whole thing clips into the wig using clear butterfly clips.
Rifle
This rifle is my baby. It's the first prop I ever made and I couldn't be prouder. There's something sort of magical about making Mami's weapon. If you're familiar with Madoka, you know that all the magical girls have a weapon once they transform. But Mami, technically doesn't. She has the gold ribbon, which does some useful tricks, but isn't the best offensive weapon. In canon, Mami creates her weapon. She researches guns, and had to figure out how to make her rifle out of the ribbons (which is why each gun only had one shot).
I used the reference image above to sketch out the basic shape of the rifle. It's about a yard long without the barrel. The barrel is a pvc pipe. You can pick these meter long ones up from home depot, pre-cut.
Once you have the pattern, the hardest part is behind you. I cut the shape out of foam board twice and then sandwiched it around the pvc pipe and glued it all together.
There's another pokey bit right beneath the barrel (Mami may know everything about rifles, but I do not know what that piece is called). I used a small wooden dowel to create this. Then, every crack and crevice was filled in with paper clay.
Seal the whole thing with mod podge and spray paint it white. I use Krylon CoverMaxx white gloss spray paint. It gives a thick, almost enamel-like finish.
Most of the details are straight forward, it's just a matter of carefully drawing and cutting. For the cross-shaped detail above, I drew out the shape and cut it out of craft foam. Then I cut it again out of computer paper, and folded it both horizontally and vertically to make it 3D. I glued that down to the foam and sealed it with lots of glue.
Below, you can see two little fins on top of the end of the barrel. Then are shaped from foam, using a pen to make the lines / indentations.
I don't know what this orange bit is supposed to be. Is it a sight? Decoration? I have no idea. You could tell me it was a flux capacitor and I'd believe you. In any case, I made the round part out of a large button and a disc of plastic I had lying around. I used some more wire to shape the…other bit? (I am sorry, refer to the pictures for a better understanding.) But let's be real, this detail is all about that orange thing. I tinted some high gloss mod podge with orange food dye and poured it into a floral-shaped resin mold. One of the flowers lays flat, the other I folded up, and glued an orange bead right in the middle.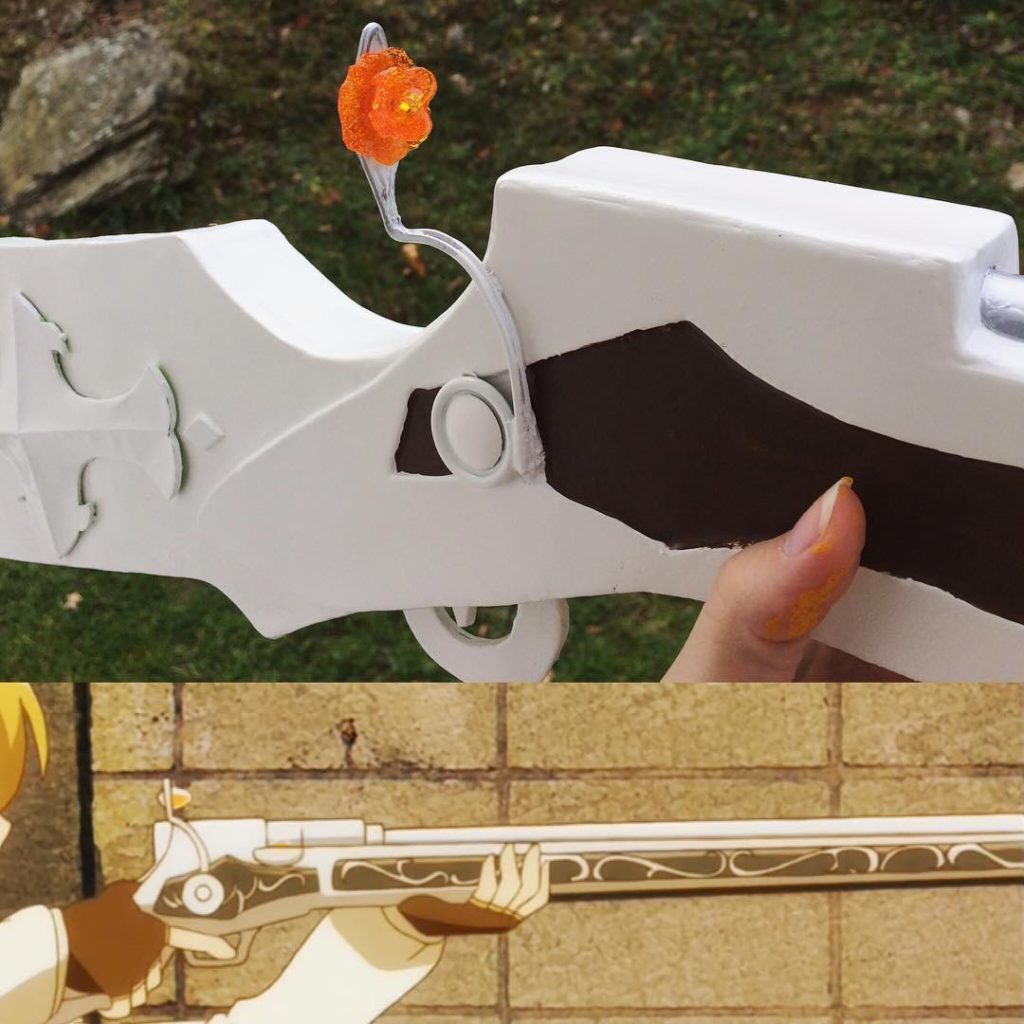 Lastly, paint the barrel silver, and paint the brown parts of the gun. Then I free-handed the silver swirls using 3D puffy paint.
Almost 4 Years Later and I'm Still Cosplaying my Fave Magical Girl!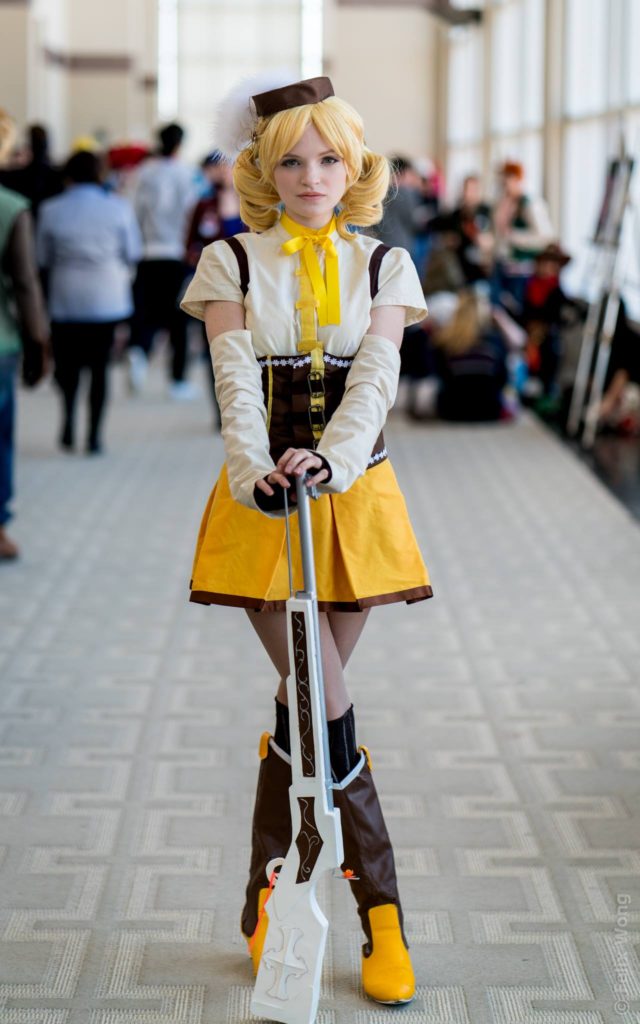 (Photo via Felix Wong Photography)
So you've finished sewing, crafted your prop, and painted it all. Now tie a yellow ribbon around your neck to keep your head on right, and you're ready to fight witches!
You can find me on:
Ekalys Cosplay Is Also Part of Lady Mourning Cosplay
Huge thanks to
For allowing us to use his pictures for this post.