The Nardio Review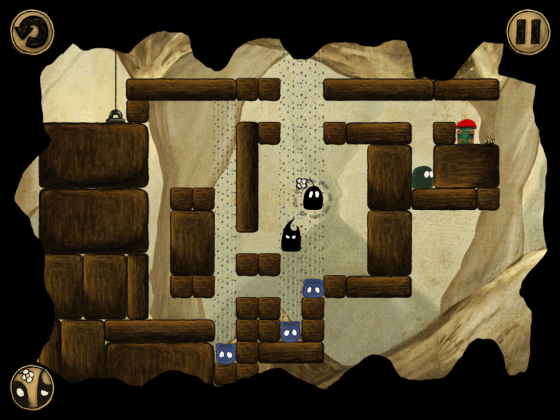 Say hello to our stars!
Is it worth your time?
YES
What should I play it on?
About Love, Hate and the other ones HD is iPad only.  There is a separate app for smaller devices.  Personally, I can't image wanting to play this on a smaller screen.  It plays perfectly on iPad iOS 5.1 and later. You get the same great experience with all devices. As always I prefer gaming on my iPad 2.
What did you think without spoiling it?
BUY THIS!
About Love, Hate and the other ones HD is one of the cutest, most interesting puzzle games I have ever played.  You control two characters who either pull or push characters to and from them in the most adorable way possible.  The stages are interesting and there are sometimes  different ways to beat levels.  There are 70 stages that can range from totally easy to taking about an hour or so of time to figure out. Each new area has its own distinct look and brings with it new challenges to overcome.
How does it play?
Wonderfully.  The simple tap controls are spot on.  The music is perfect. The sound effects are perfect.  The graphics have tons of little touches that make this just scream personality and let you know the developer really put a lot love into this.  At no time whatsoever had I encountered a single problem while playing About Love, Hate and the other ones HD. Besides the perfectly done puzzle action, I have to say that the unique art design in action is really what won me over.  Screen shots just don't do this game justice. This is one of the games I can honestly say is best on an iPad. About Love, Hate and the other ones HD is a work of art in your hands.
The game doesn't have a scoring system and I think it's fitting, not lacking.  There is no little clock at the corner of your screen detracting from the experience, which leaves you free to be able to puzzle at your own pace and immerse yourself in this endearing world.  The gameplay is interesting enough that you will just find yourself coming back for more without needing the incentive of "stars."
If you made a move you want to take back, no problem. The developers added an "Undo" button. No pressure, just take that move back. No judgment or penalties at all.
Why it works:
Not to gush too much but About Love, Hate and the other ones HD, but it is perfectly made for a touch screen device.  Everything looks great, the sound is excellent and the puzzles are really interesting.  The entire time Jasmine or I have played this game we both had smiles on our faces.  Sure the game can get frustrating at times, but it's never punishing or feels cheap.  There are plenty of levels to go back to enjoy. It's fun enough that I found myself going back to replay it again a few times after beating it.
No like?
Nothing. The game is pretty much perfect for me.
Last thoughts:
I'd love to see some more levels added later on.
Basic Info:
1 player game.
$2.99 iPad
.99 cents iPhone/ iPod
51.5 MB
Great replay value.
NO In-App Purchases!!!
Child friendly. No violence, cussing, nudity, etc.
Weblinks:
Game website: http://www.tinyandbig.com/games/loveandhate/
Tobias Bilgeri: http://www.bilgeri.eu/
App Store iPad: https://itunes.apple.com/us/app/about-love-hate-other-ones/id558459510?mt=8
App Store ipod/iPhone: https://itunes.apple.com/US/app/id558459510?mt=8&ign-mpt=uo%3D4
If you like this review be sure to check out the rest of our app reviews HERE!