The Nardio Review
Is Go Home Dizzy worth your time?
Yes
What should I play Go Home Dizzy on?
Go Home Dizzy plays great on any device. As always I prefer gaming on my iPad.
What Did We Think Without Spoiling It?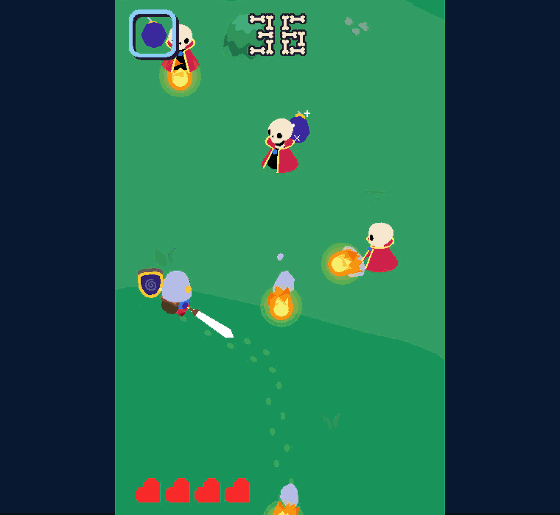 Go Home Dizzy is insanely addictive.
At first glance I honestly didn't have high hopes for Go Home Dizzy.  It doesn't fit my iPad screen perfectly and it looks a little rough around the edges. I was expecting another fast, dirty ad-focused broken game mess. After my first few play throughs though I genuinely loved it. The super simple gameplay combined with randomized gameplay gives it extra depth and excitement. Go Home Dizzy is very reminiscent of old arcade style games, especially the part where you lost all of your upgrades when you die. Best of all Go Home Dizzy is free. Freemium free, but the ads aren't intrusive and you never feel like you are the victim of cheap/broken gameplay.
GET THIS!
How it Plays and Why it Works:
Flawless one tap controls, cute art design, unlockable outfits and addictive gameplay make this a great game to just pick up and play. Direct your spinning hero so he can avoid or attack the enemies on screen by tapping the screen when his sword is pointing in the direction you want to go. If you don't tap, he'll simply spin around. It's a simple premise but the controls are great. As you progress there are more foes and projectiles you need to avoid. One of the great things about the game is the ability to upgrade my soon-to-be-dead guy. Of course on death I lose all that progress, but I can recollect my money so long as I can reach my corpse on the next playthrough. I keep getting better and better at the game on each playthrough. And I'm motivated to keep playing because this isn't endless. I'm trying to get my guy back to his home. Knowing there is an end makes me want to play the game that much more. The main menu art and music are epic. Best of all, Go Home Dizzy just has "it". It's fun, it's kinda endearing and it's cute.  I'm having a great time with this game and honestly think you should give it a try.
No Like?
Nothing at all. I just wish there was a mode where I could keep all of my upgrades instead of losing it all upon death.
Agree? Disagree? Write your comments below
Read our other App Reviews
Basic Info:
Free with ads
77.3 MB
Universal app
Lots of replay
Weblinks