The Nardio Review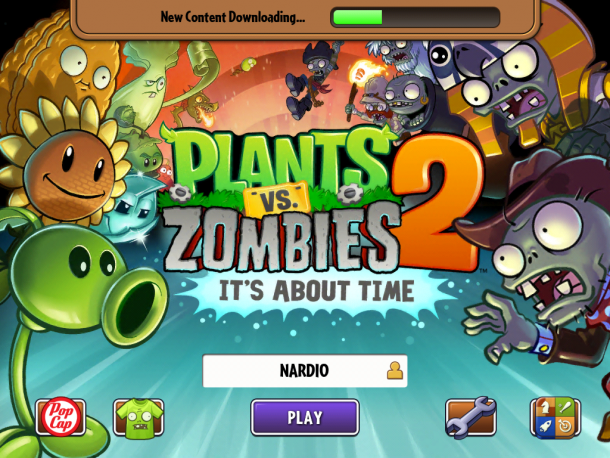 Is it worth your time?
YES!!!
What should I play it on?
The iPad.  I just don't feel as comfortable playing this on my iPhone.
What did you think without spoiling it?
More of everything we loved from the first game. Now with more challenges and the ability to skip some with real money.
Plants vs Zombies 2 is the sequel we were hoping for with tons of content and even more challenges than the first game. The important thing to know here is Popcap made the game Freemium but never ever forces you to spend any money. Sure there are some ads here and there offering you the ability to buy plants and upgrades early, but it's never forced. It never ever feels like a cash grab. It does, however, feel very fun and has amazing gameplay. I have no problems whatsoever recommending this game.
I recommend supporting Pop Cap Games with the in-app purchases.
How does it play?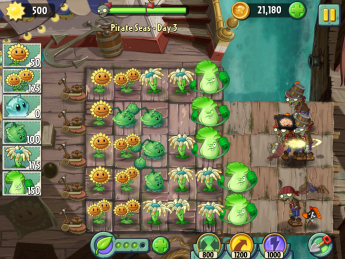 It plays great. The input reaction is as smooth as ever. I like the new art design PopCap introduced. Everything from the plants, zombies and backgrounds pop.  Combat is smooth and the levels are very well designed. I love that Plants vs Zombies 2 feel like a more challenging game than the original.
To help with that new level of difficulty there are three new power ups you can buy with in-game currency. Thankfully you can easily earn gold. If you are ever overwhelmed you can use said power ups to get through. Sometimes things can get too tough for most gamers so I actually like that there is the power up option. These power ups are very powerful and totally fun. The only time I felt obligated to use the power ups were in the challenge levels later on. I would just find myself soo swamped that yes, I admit it, I used the power ups to get through it. I was more annoyed by the insane army sent against me than anything else. Thankfully, this doesn't happen very often in the main game. As far as the main game goes you can play through it and never have to spend a single dime.
There are three time zones to play through now with more in the works. You can only enter one area once you complete the main areas and earn enough stars. For the most part, this works out pretty well. While you sort of lose that fluid feeling of progression because of the star gates, you do have a ton of challenging gameplay to take up your time.  Of course if you want to you can unlock the different worlds by just spending actual money. You can also do the same with plants you would get later on in the game. There are also a few plants available only through purchasing, though thankfully none of them are necessary at all for beating the game.
Why it works:
You can play offline!!!!!
I was horrified that some gaming sites were reporting that PvZ2 would require a constant online connection. I am so happy that bit of game gossip was dead wrong.
PopCap gave us everything we loved from the original Plants Vs Zombies and went nuts adding more stuff. The level of polish here is wonderful. Too often games are released with game breaking bugs or just annoying screw ups. Thankfully I have been enjoying this game since launch with no problems whatsoever.
The gameplay feels like not much has changed, but that's the great part. They added to the winning formula, without taking much away. I love the new plants, I love the new zombies and I even love the layout for stage select area. Seeing bits of stuff moving around here and there really show the amount of love and polish PopCap has put into this game.
This review should have been out awhile ago, but I just couldn't put it down.  I love just picking up my iPad and getting lost in the gameplay for a half hour or so.  Sometimes I just go in and nuke the zombies with my power ups, other times I just play without even using the plant food.  The way you play is up to you.
Meanwhile my friends have been asking me if it's worth it. Yes, yes it is. This game has all of the best value and gameplay from the original Plants vs Zombies, adds to it substantially, and perfectly works it into a free to play masterpiece.
I have no issues at all recommending this game and I cannot wait for more updates.
No Like?
I'm not a fan of the star system to progress to later levels.  I understand why they implemented it, but I still don't like it. Plant and bonus upgrade prices can be considered a bit pricey.  Then again I'm getting an entire game for free and I never, ever need those plants or extra upgrades…. So it's kind of a draw.
Of course the more I play the game the more I see myself splurging to get some of the extra upgrades just for fun later on.  Why?  Because this game oozes replay. Just like the original Plants vs Zombies, Plants vs Zombies 2 is a pick up and play game. Unlike the first game you have more choices as how you are going to do that.  Having the option, yes I'm saying option, to buy different plants and upgrades to further help the replay of this game is awesome.
At the end of the day three bucks a week or here and there really isn't a big deal considering it's all totally optional.
For all the polish and love put into this game, I am more than happy to help support PopCap games.
Basic Info:
Price: Free!
Continuing developer updates and support
44.7  MB
Ability to play with different profiles
Retina Display
Great replay value.
Universal App
Web links:
Developer Website: http://www.popcap.com/plants-vs-zombies-2
Apple App Store: https://itunes.apple.com/us/app/plants-vs.-zombies-2/id597986893?mt=8