The Nardio Review
Is Zap Zombies worth your time?
No.
What should I play Zap Zombies on?
I would rather play this on the iPad so I can better see the treasure/ad boxes that pop up.
 How it Plays and Why it Fails: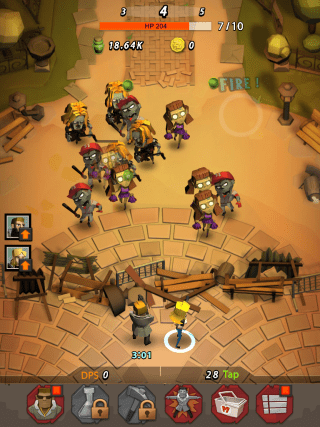 Zap Zombies is slow, boring, repetitive and really pushes video ads on you to progress. 
It's just not fun.
Zap Zombies looks good. The sound is ok. It's just not fun.
Zombie hordes will descend upon you over and over again as you tap the screen to kill them all. Over time you are "able" to unlock other people to fight alongside of you. Problem is they are priced horribly.  Insanely so.  The only realistic wat to get them it to watch video ads that will give you enough money to buy them.  Every character has cool down effects, none are memorable. Every five and ten levels you will deal with a "boss" zombie or a few if them, who are just larger versions of what you have been destroying over and over again.  That's it. Meh.
You also unlock a mine that lets you farm gold with tapping or just slowly over time. That gold can be used to power up your attacks.  Meh.
It's just not immersive or fun.  There is a reset/prestige feature that happens at level 55 but I don't care. I gave up at level 25 and I only lasted that long for this review.
The zombie hordes are never threatening. You lose nothing if you fail to kill  a "boss" in time.  It's just repetitive. The Zombie hordes come in small numbers and the wave is over before you know it.  The stage transitions seem to happen too darn often in my opinion.  It's jarring and just not fun.  One stage just ends and you start another off just like it. I feel like I am not working towards anything. I don't notice any progression and I just don't want to keep watching ads to progress.  I like clicker games, but Zap Zombies felt like it was supposed to be a defense game and the staff behind it said, "Hey clickers are in!" and boom this happened.
Avoid this…
Agree? Disagree? Write your comments below
Read our other App Reviews
Basic Info:
Free with ads
113 MB
Universal app
iOS 7.0 or later
Weblinks