The Nardio Review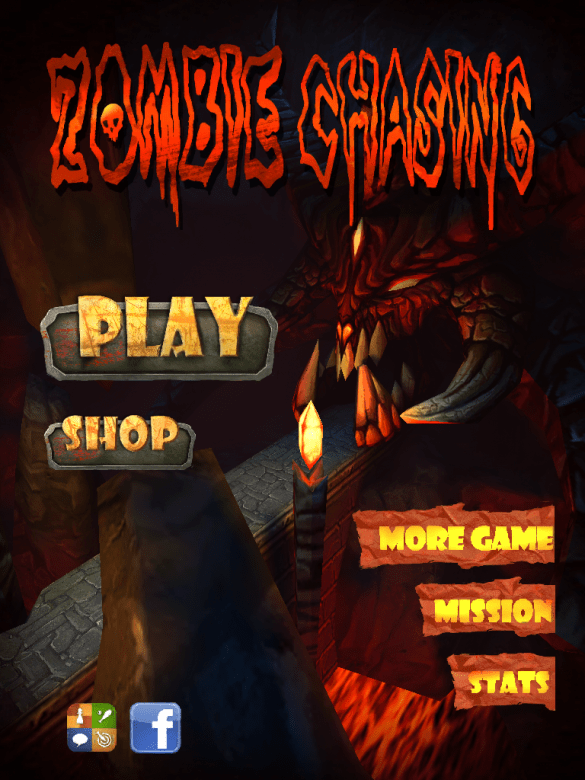 Is it worth your time?
No.
What should I play it on?
Avoid Zombie Chasing. I played it on my iPad and the controls weren't good enough to keep playing it.  Hopefully an update can help this become the great game that it can be.
What did you think?
Zombie Chasing is free, but still not worth it.
If my swipes aren't being detected in a game controlled by swipes then the game is broken. This game is broken.
It's a dark endless runner that seems to be using the exact same engine as temple run, but thankfully it adds more gameplay areas into the mix.  You start the game running out of what looks like Diablo's mouth to find yourself being chased after by some bad guys who look almost exactly like the baddies in Temple Run. There are multiple character skins to choose from that, for the most part, seem to be variations of the first 4.  I have to say the soccer player skin is really cool.
Zombie Chasing has in-app purchases that will limit your ability to max out your stats if you don't want to buy gems.  (Why is it always gems?) You don't need them to try to enjoy the game, but from what I can tell they don't help much either.
How does it play?
Very badly. Swipe detection is just not working at times.  You're at the mercy of the game.  Will Zombie Chasing allow you to run farther this time until it decides no more swipes for you?  You will only find that out when your character dies while you're pawing at the screen like a confused kitten.  It should work, but it doesn't and it's frustrating.
Why it fails:
Zombie Chasing's controls don't work well enough to warrant keeping it on your system.  Only being able to max out your character by paying for gems is just plain wrong. Especially when you realize that many of the other, better, free running games don't require that.  Another problem I have with the game is the camera following you when your jump.  It's a sudden jarring camera motion that just bothers my eyes every time I have to jump. Kind of like a movie with too much shaky cam. It feels like this game was rushed out too fast without proper testing.
There are two other things that bother me about this game:
What's up with the insane amount of cleavage from the female character model?
To earn 20 free gems the game asks for your name and email without telling you what it plans to do with the information.
There are better options for endless running games in the iOS store. Get  Subway Surfers, Temple Run, or Pitfall instead.
Basic Info:
Price: FREE on the Apple App Store!
Worth: Zero
32.3MB
Universal App
1 player game.
30 Minutes of frustration value until you delete it.
Weblinks:
http://www.magicbone.com/?portfolio=zombie-chasing