Nardio Age of Sigmar News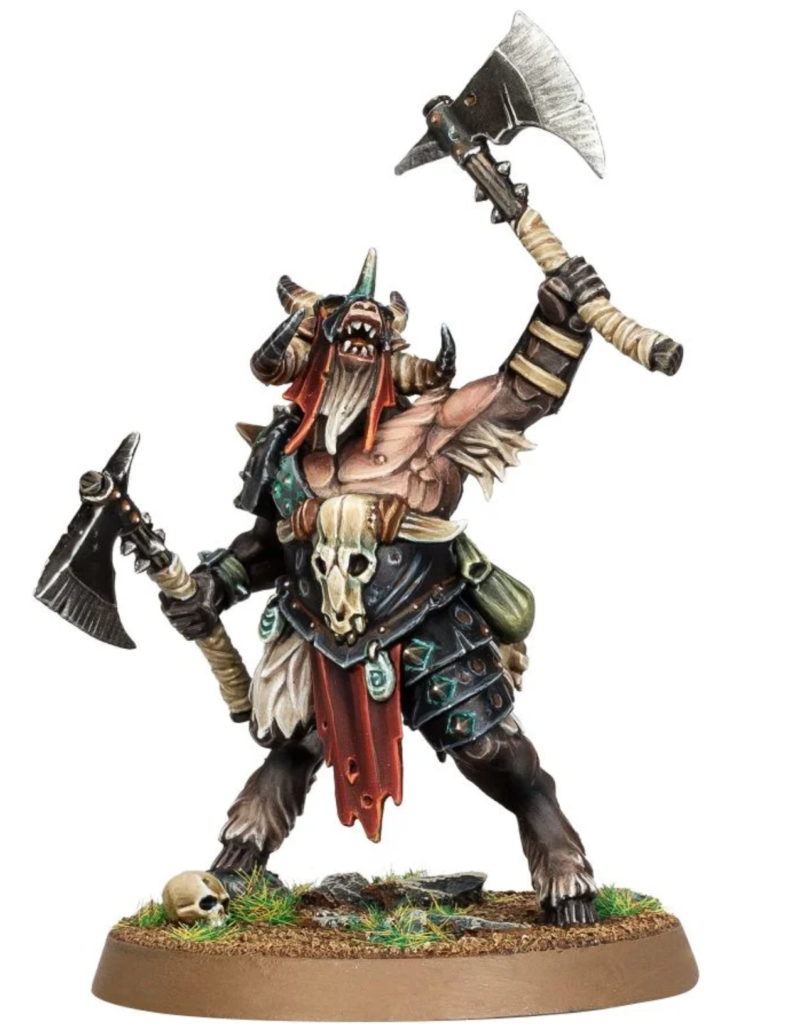 Beasts Of Chaos Are Here!
Beasts Of Chaos are getting a Vanguard set, Battletome and lots and lots of plastic in todays Games Workshop Pre-Order! Check them out below:
Beast of Chaos Battletome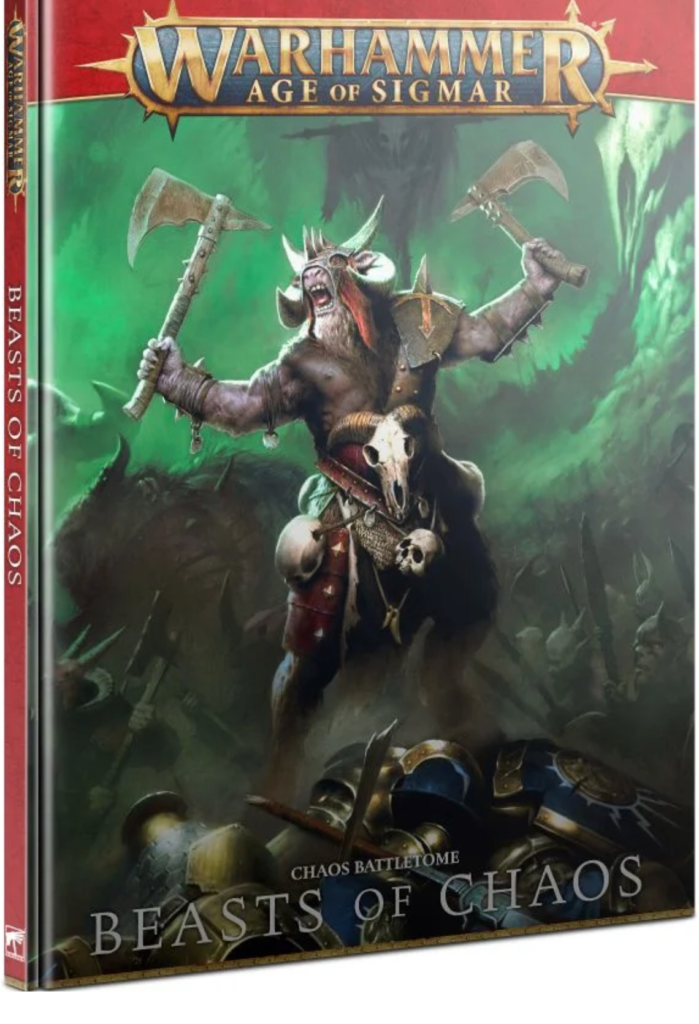 Battletome Beast Of Chaos is the new required reading for old and new fans of this faction alike. Loaded with lore and more importantly the stats for Beasts Of Chaos in this edition, it's a must buy if you are into the faction. If you are using the worlds currency of the USD, you can get it officially from GW for $55.  Of course, if you get it from a third party seller you can save a good bit.
Check out the official description:
The Beasts of Chaos are the purest embodiment of primeval violence. These braying killers surge out from their wilderness lairs in vast herds, intent on carnage and desecration. Ever since the dawn of the Mortal Realms, they have stalked their most remote regions, butchering anyone foolish enough to trespass on their territory. Monstrous hybrids of man and animal, they consider themselves the true children of Chaos, fuelled by ferocious instincts and a deep-seated hatred of civilisation. When roused to war, they stampede across the lands, grinding cities and fortresses alike to rubble beneath their hooves.

This book offers all the knowledge and rules you need to command your own beastherd in games of Warhammer Age of Sigmar. Discover the twisted history of the Beasts of Chaos from the Age of Myth through to the Era of the Beast, where their savagery is once again spreading through the Mortal Realms, leaving only a wilderness of brutal survival in their wake.

This 104-page hardback book contains:

– Extensive background material on the Beasts of Chaos, including their primordial roots, predatory herds, and profane rituals
– Loads of savage artwork depicting the gor-kin's mutant forms and hatred of civilisation
– 34 warscrolls and pitched battle profiles for the Beasts of Chaos, from humble Ungor Raiders to the mighty Beastlord
– Rules for the four mightiest Greatfrays, plus command traits, artefacts of power, spell lores, and battle traits like Beastherd Ambush and Rituals of Ruin
– Path to Glory campaign rules that send you out to claim offerings for your Herdstone, plus two new battleplans and three warscroll battalions for use in narrative play
– Matched play content, including four grand strategies and six battle tactics unique to the Beasts of Chaos
– An inspirational gallery of Beasts of Chaos miniatures, with painting guides to get your collection ready for the tabletop

This battletome contains a one-use code to add the book to your digital library in Warhammer Age of Sigmar: The App.
Next up is the Beast of Chaos Vanguard Set.
You can see this as a starter set for the faction, that said, the starter set is almost useless without the Battletome above… Why don't they sell these together? Anywho, The Vanguard: Beast Of Chaos set is going to cost $140 from Games Workshop.
Description:
The Beasts of Chaos are twisted amalgamations of man and beast, filled with a burning desire to see the edifices of civilisation torn down and despoiled. Born from the primordial power of Chaos itself, these creatures gather in immense herds, stirring themselves to a frothing rage beneath looming, rune-scarred totems before loping forth in search of prey.

If you want nothing more than to bring ruin to the Mortal Realms, this box makes an ideal start for a Beasts of Chaos army – or an excellent expansion to any existing collection – and will save you money when compared with buying the kits individually. The set includes a mighty Great Bray-Shaman to lead your army, along with a selection of durable and hard-hitting Battleline units in the form of Gors, Bestigors, and Ungors, as well as hard-hitting Dragon Ogors with which to break through enemy lines. It's a full army in one box, leaving you ready to crush foes in your games of Warhammer Age of Sigmar.

This set includes the following multipart plastic models:

– 1x Great Bray-Shaman
– 3x Dragon Ogors
– 10x Gors
– 10x Bestigors
– 10x Ungors, which can also be built as Ungor Raiders

All models are supplied with their appropriate bases.
Next up is the new fancy smanshee leader for the faction…Honestly, he's kinda meh to me.
Meet the new Beastlord!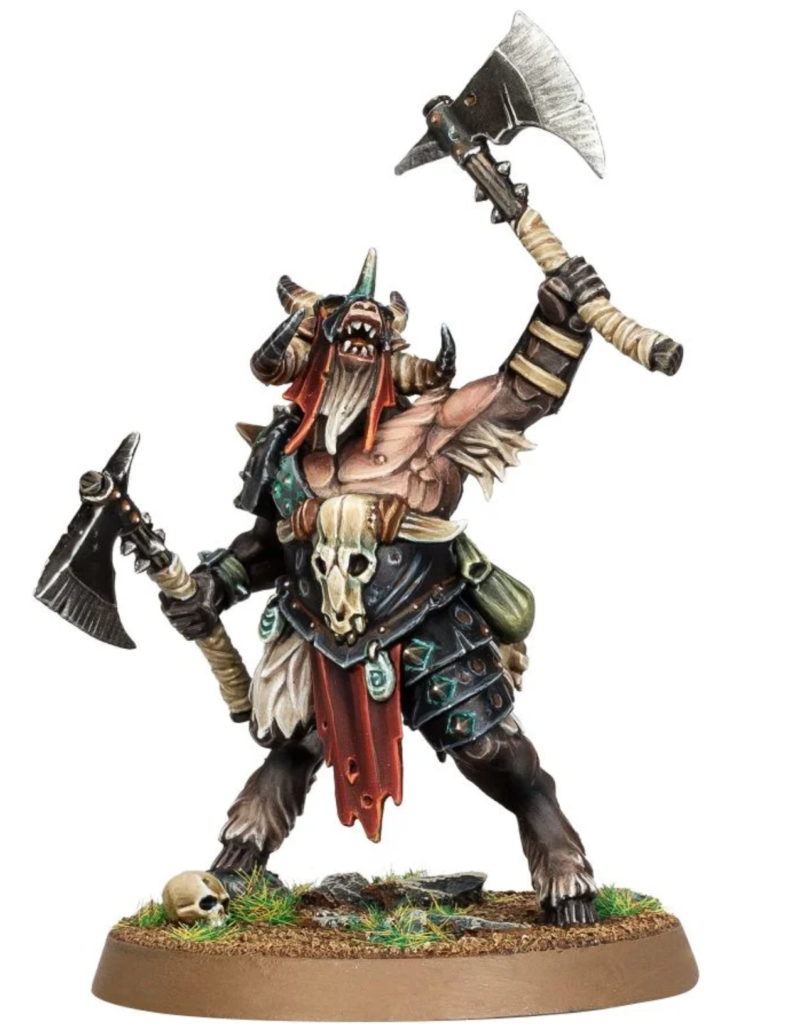 Check out the description below:
In the merciless society of the Beasts of Chaos, only the mightiest rise to power. These are the Beastlords – hulking killers who command through intimidation and brutality, and delight in sinking their man-ripper axes into the skulls of their foes. The largest and most feared of their kind, Beastlords rule over their herds with an iron hoof, leading raids to plunder and destroy civilisation wherever it encroaches on their wild territories.

This multipart plastic kit builds a Beastlord, a fearsome chieftain of the gor-kin. Armed with a pair of man-ripper axes – just as good for ripping through orruks, aelves, and any other heroes unlucky enough to get in his way – this savage war-leader is decorated with grisly trophies claimed from his rivals. Furred, horned, and musclebound, he's posed in a bellowing call to battle, extolling the pure savagery and might of the Beasts of Chaos.

This kit comprises 7 plastic components, and is supplied with a Citadel 40mm Round Base. This miniature is supplied unpainted and requires assembly – we recommend using Citadel Plastic Glue and Citadel Colour paints.
Ehh…..
Now check out the older, cheaper and muuuuuuuuuch cooler
Beastlord with paired Man-ripper axes
Even his name is friggin cooler. He looks soooooo much cooler. Best of all, he is only $20!