The Nardio Review
Is Blocky Roads worth your time?
Yes.
What should I play it on?
Blocky Roads is a universal app for iOS 4.3 or later. I have this installed on my iPad and iPhone and Blocky Roads is perfect for both.
What did you think without spoiling it? 
From Dogbyte Games, the creators of one of my all time favorite iOS racing games Redline Rush, comes Blocky Roads. Blocky Roads is a mix of Offroad Legends, wonderful voxel art and a little town building thrown in.  While this might seem a bit weird, in practice it works. It's an adorable game that, while frustrating at times, works pretty well. Rocky Roads is a side scrolling game that has you trying to get from one end of the level to the other. The levels start off simply enough, but soon becomes a memorization game. Remembering where to speed up and slow down is the key here. To keep things from getting monotonous you are able to unlock different cars and even create your own. You are also able to unlock  parts of your farm and more customization for your avatar as well as new cars. Rocky Roads is fun, but sadly it isn't perfect. The air rotation mechanic seems flat out  broken so when you want to adjust in air you find that you can't. The levels are still beatable, but they are a lot more frustrating than they have to be. That being said I still find it very enjoyable.
The only in app purchases in the game are to unlock the vehicles you can otherwise unlock yourself. No worries about pay walls here.
How does it play?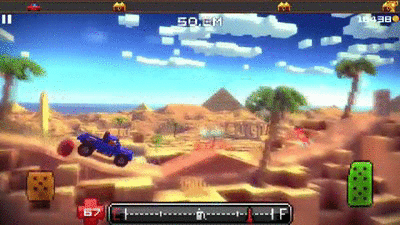 The controls are ok. Oddly the in-air flipping mechanic to right yourself before landing just feels broken. Sometimes it might seem to work and other times you are just screaming in the wind. For a game that can be very difficult at times it's a big problem for me. Thankfully, the game is still enjoyable enough to keep coming back to. I just hope Dogbyte Games fixes the air flipping problem soon.
The levels are still beatable, but it makes the game seem a lot more frustrating and cheap than I'm sure was intended. The levels look great and the voxel style is perfectly used here. It's not a Minecraft cash in at all if that is what you are worried about. The music is also really catchy. Besides the wonky flip controls I have no problem with Blocky Roads.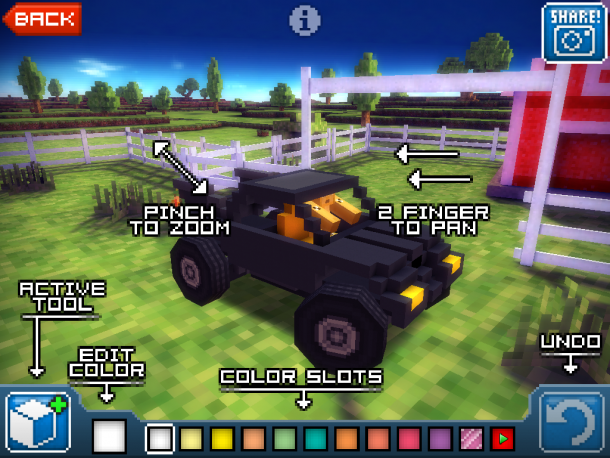 Basic Info:
Cost: $1.99
Universal App
12 Tracks
4 challenge tracks
Unlockable content
1 player
40 MB
Web links:
Game Website –  http://www.dogbytegames.com/
Facebook: http://www.facebook.com/BlockyRoads
iOS App store – https://itunes.apple.com/us/app/blocky-roads/id720725216?mt=8
Amazon App Store: http://www.amazon.com/DogByte-Games-Blocky-Roads/dp/B00GSQJJ34
If you like this review be sure to check out the rest of our app reviews HERE!