The Nardio Review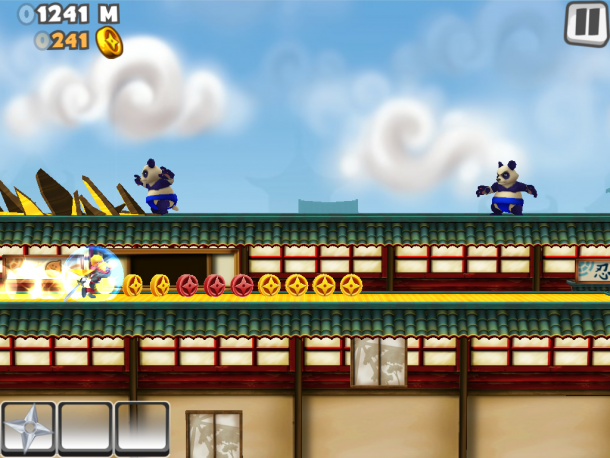 Is NinJump Rooftops Worth Your Time?
Yes.
What Should I Play It On?
NinJump Rooftops is a universal app for the iOS 4.3 or later. You get the same great experience on all devices, but I prefer playing on the iPad.
What Did You Think Without Spoiling It?
Sometimes you want a fun side scrolling endless runner. Thankfully, Backflip Studios just gave us another fun & free option with NinJump Rooftops. NinJump Rooftops is pretty much a perfect pick up and play, side scrolling, endless runner that deserves to be on your device. If you've played the original NinJump game this feels like a natural progression. With easy to earn currency and a small amount of ads to deal with, Ninjump Rooftops is an easy game to love and recommend.
How it Plays and Why it Works:
The controls are perfect, the graphics are great and the gameplay is always smooth.  A feature that really helps NinJump Rooftops stand out is the enemy/dash mechanic. Hit three of the same enemies just right and you automatically get a boost. from the enemy. You are treated to an adorable animation of being carried along for a good distance. This adds some depth to the game when you find yourself with two ninja stars already in your possession and two birds in front of you. What do you do?
Another thing I love about Ninjump Rooftops is the message at the end of my run that tells me whose distance is better than mine.  Ugh, does that make me want do at least one more run. I am normally not a leaderboard person, but seeing some other person's face  ahead of me really motivates me to want to play some more. Right now I am losing to a ridiculously cute girl. With unlockable outfits, upgradable boosts and powerups, NinJump Rooftops is sure to keep you busy during the holidays.
No Like?
Nothing really.  The game is pretty much perfect for what it is.
In Conclusion:
NinJump Rooftops is another great endless runner that should be on your iOS devices this holiday season.  The best part?  It has a Plinko bonus game!  Check out Outworded if you are interested in another great Backflip Studios game.
Basic Info:
Free on iOS
49.4 MB
In App Purchases
Universal app
Rated 9+
Weblinks
Developer: BackFlip Studios
Agree? Disagree? Write your comments below
Read our other App Reviews