The Nardio Review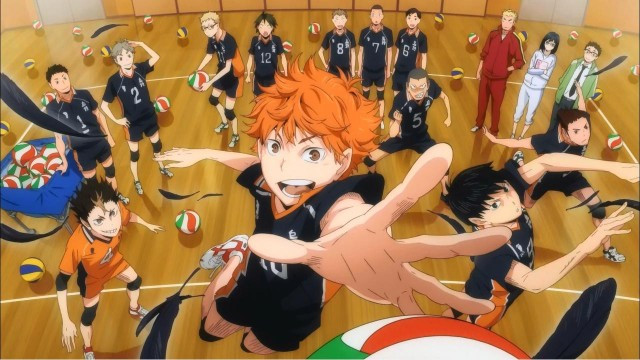 Is Haikyu!! Season One Worth Your Time?
Yes. Even if you're not a sports fan you'll enjoy the show.
What Should I Watch it On?
As far as I am aware it is available on both Crunchyroll and Hulu.
What Did We Think Without Spoiling It?
Haikyu!! Starts off as a cliche sports anime, but it quickly moves away from the stereotypical "if I try hard enough I'll win" mindset. There's quite a lot of humor here and the episodes move at a pretty quick pace. Just when you think things are dragging the show speeds things up and you're back on the rollercoaster ride. I don't have any real interest in volleyball, but Haikyu!! does a good job melding the more technical information into the frantic action of the game.
Why it Works?
Haikyu!! was able to get me, a non volleyball fan, to get into the various tactics and strategies of the game. The explanations are never too heavy-handed and the way it comes up in conversation seems natural. I've learned more about volleyball than I ever learned in PE class. From the get-go the anime builds up a lot of tension through the matches both real and practice. While you can guess the way most of them will go, the action is so exciting that you don't mind being taken for a ride. It helps that all of the main characters have their own distinct look and personality. Sure, a lot of them are stereotypes you see in other anime, but you can't help but kind of like them because they're all kind of ridiculous in their own right and often the stereotype gets turned on its head. While their interactions with each other are mostly humorous they often they delve into much deeper feelings of jealousy, regret and pride. For a seemingly light sports anime, Haikyu!! has a lot of depth.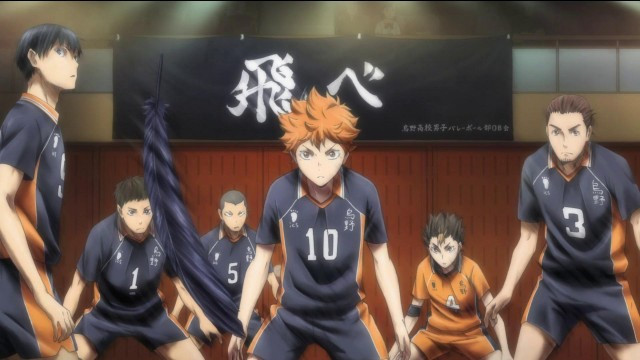 One of the things I really enjoy about this anime is the way it deals with defeat on a personal level as well as a team level. While defeat is a common theme in most sports anime, Haikyu!! doesn't solely focus on the main team, they even go so far as to show the emotions of multiple teams from the Karasuno girls volleyball to Karasuno's opponents. More importantly, the biggest defeat is that of the Karasuno team itself. It had been a powerhouse but after the old coach retired, it quickly fell to the lower ranks and were often referred to as the flightless crows. Again, this isn't an uncommon theme, but for Karasuno the team had falled to the point where they weren't even considered a threat or worth cheering for.
Another strong theme that Haikyu!! plays with is the that of the individual over the team. While many of the characters have their own individual strengths, it's only when they're on the court as six players that they can overcome obstacles and reach their true strength. With that said, without their individual talents improving, the team can suffer if one or two players are not putting forth their best effort. It's an interesting dichotomy that is at the heart of the anime and is what really makes it shine. You see growth on both fronts and, of course, you see the inter-team tension as a couple of the teammates grow at an astonishing rate. You even see the difference between Karasuno's dynamic and other teams as they play against powerhouses and "weak" teams alike.
The animation is reall top notch here and you really get the sense of action and movement, especially in those pivotal game scenes. The art direction sometimes changes mid-episode to emphasize how crazy powerful a serve or spike is. While I generally don't like these kinds of shifts, it's done very well and really shows the impact a certain move has on the opposing team. The character designs are a bit generic but you can easily tell the players apart and quickly ascertain their personality from their appearances. And the show more than makes up for the so-so design with hilariously exaggerated expressions. Everything is very fluid and while there are some still-frames they're either done to emphasize an upcoming move or slow time to give you a chance to see what the characters are thinking/feeling. It works and it isn't overdone.
No Like?
As much as I enjoy Haikyu!! it has its faults. I really wish that there were more insights into their matches against other teams and teasing apart how exactly they lost and what the other team did better. Even simple things like sending players on the bench to record the games of other teams would go a long way into showing the coach and team members have done their research. Heck, we see that kind of dedication from other teams, why shouldn't we see it from Karasuno? It's an excellent way to introduce other aspects and tactics in volleyball. Besides that, I do kind of wish the team weren't so centered around Kageyama and Hinata.
Basic Info
Season 1 – 25 episodes
Stream on Hulu and Crunchyroll
Season 2 available on Crunchyroll