The Nardio Review
Is it Worth Your Time?
YES!
What Should I Play it On?
Mr. Crab is a universal app for iOS 5.0 or later. Honestly, with the seriously amazing graphics this game brings, I can't imagine wanting to play this on a smaller screen. Trust me, you want the larger screen to appreciate what Illusion Labs has created. It works so perfectly on the big screen I haven't bothered to install it on my phone.
What Did You Think Without Spoiling it?
JUST BUY IT!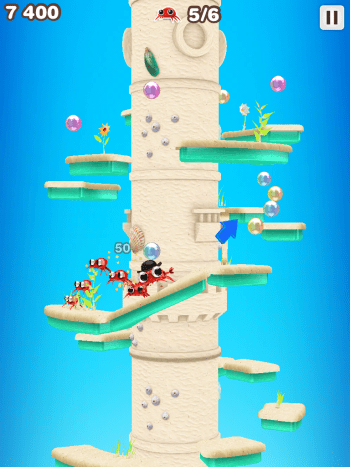 Mr. Crab is seriously great platforming fun for the iOS. The gameplay is really fun. The one touch simple controls first make you think this game will be a walk in the park, but the longer you play the more challenges lie ahead. So far I haven't found any problems with Mr. Crab. Perfect controls, no lag, and really tight gameplay. This game was released just right.
In Mr. Crab you need to traverse to the top of a cylindrical level. Mr. Crab is constantly moving forward, using walls to bump his way to move in the opposite direction. In the process you need pick up baby crabs, avoid enemies and hazards and pick up as many coins as you can along the way. To make things more interesting the levels are timed. Mr. Crab utilizes the three star scoring system. Stars depend on the speed of the overall run and how many baby crabs you managed to pick up. Thankfully you don't need to try and get all three stars each level to proceed. At first, I really enjoyed just trying to run through it, stars be damned. Eventually I found myself trying to rescue every baby crab in the level even if it cost me time.  They are just really cute to me.
Mr. Crab has that perfect blend of amazing graphics, gameplay and sound that draws you in.  What started as a quick game last night turned into an hour. If I didn't have to go to bed because of exhaustion I'm sure I would have been playing it longer. And here I am today, playing it nonstop. I am really just wowed at how polished and immersive Mr. Crab really is. If you are looking for your next platformer with tons to do and a whole lot of replay you will find it right here.
Now go buy it.
How Does it Play?
Perfect.  The tap to jump control is perfectly responsive. The graphics are super nice, like console level stuff.  While the game can get fast and busy there is never any lag. The music and sound effects really finish the deal.  The skittering of the crab legs, the different enemy sounds when you jump on their heads and the really catchy mood setting music seal the deal.
Why it Works:
Mr. Crab was released perfectly.  No flaws whatsoever to take away from this really great gaming experience.  The fact that there is so much content available at the get go is another thing to love.  The last amazing thing I'm going to gush about is the ability to switch up Mr. Crab's hats.  After you beat a boss you get its hat.  AWESOME!
You won't be running out of things to do in this iOS app for a good while. At .99 cents Mr. Crab is a deal you need to snatch up right now!
No Like?
Nothing.
Wish List:
More levels soon.
A pet crab. (Not really about the game, I just want one.)
Basic Info:
Cost: $.99
Universal App
TONS OF REPLAY
1 player
Different Hats!!!
47.5 MB
Web links:
Game Website –  http://www.illusionlabs.com/#
App store – https://itunes.apple.com/us/app/mr.-crab/id599515468?mt=8
If you like this review be sure to check out the rest of our app reviews HERE!