The Nardio Review
Is Bit Bit Blocks worth your time?
Yes!
What should I play Bit Bit Blocks on?
Single player Bit Bit Block plays great on any device. For two players I recommend an iPad or iPad Pro.
What Did We Think Without Spoiling It?
Bit Bit Blocks is a simple but fun match four or more game that's great for solo and surprisingly two player fun.  I've been following the game for a while looking for a new couples game to play with my girlfriend and Bit Bit Blocks looked perfect.  After getting a review copy this weekend I gave it a spin by myself for about a day to get used to it and see how it felt. Afterwards I handed it over to Jasmine and she spent a lot of time addicted to it as well.  Finally the past two nights we squared off. I won less than I lost. Jasmine is a fast learner. Overall we both enjoyed the game and would recommend it to friends who like matching games and couples who want more to do together.
!GET THIS!
How it Plays and Why it Works: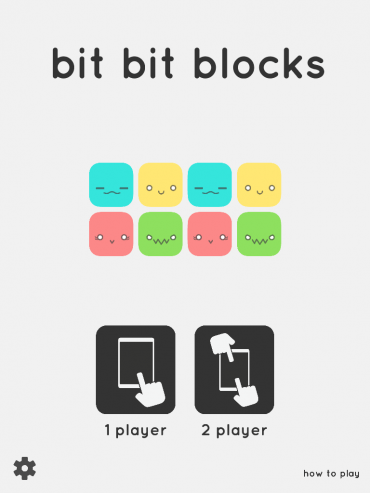 Rock sold controls. Clean, cute and simple art design.  Unlockable color combinations and addictive gameplay. Bit Bit Blocs is a wonderful matching and strategy game that manages to capture that addictive and yet relaxing gameplay from Bejewled and Tetris. Like Tetris the gameplay can seem a bit shallow and the Bit Bit Blocks could use a few extra modes. The music is all kinds of catchy as well.
Solo impressions:
Bit Bit Blocks tutorial is pretty darned great. It guides you through the basics and sets up a few matches to help ease you into it.
Unfortunately both single player modes seem to play the exact same to me. There is Campaign and Columns. If there is a difference it eludes me. I just made bigger blocks and sent them off flying just the same and seemed to progress.  Campaign and Columns modes both play great (and the same?) until you get to level 7.  Then sadly they both suffer from impossible AI. This really makes me wish Bit Bit Blocks had more to do. I think an extra mode or two would have been amazing here.  Maybe a puzzle mode, or some other things to pad the single player experience out some more. The same can be said of the two player versus mode. That said the survival mode in Bit Bit Blocks is something I have been playing on and off for the past few days because it's just fun. Bit Bit Blocks Survival mode is just perfect way to relax while trying to beat your high scores. It would be nice if we could identify each other's high scores so we could have a little competition going even when we aren't playing each other at the same time.
2 Player Vs impressions:
This is where Bit Bit Blocks really shines. It's fun and darn addicting. The more you play together the better you both become. Matches went on longer and longer as we got used to each other as an opponent. It seemed we pushed each other to go faster and play better. The light finger movement needed to move the squares is great for this game because the iPad doesn't end up sliding around. Also our fingers are never blocking what we need to see or each other's spaces.  Bit Bit Blocks is really well thought out. I can imaging throwing this on randomly on game night to keep us both busy in between other games, but after a few matches we both found ourselves wishing we had more to do in game against each other.  We both agreed more modes need to be added in.  We enjoy it, but a lot of other games at this price point bring more to the table.
No Like?
Level 7 and higher difficulty is broken. Before that the difficulty curve is perfect and then BAM! Impossible. Because of that the only real viable single player mode is survival mode. I really wish there was more to do in Bit Bit Blocks.  Below are some ideas that could be added in to help the Bit Bit Blocks replay value.
Wish List:
Personally I feel that $2.99 justifies the price of Bit Bit Blocks, unfortunately I know others won't feel the same way. To help this game evolve and feel more like it's worth its price there should be some more features. Here are some suggestions:
Single player ideas:
Having some different shaped maps and/or some barriers that players need to destroy before they do damage to the opposing side. I think some inspiration can be had from Candy Crush's maps.
Bit Bit Blocks has those awesome sounds happening with the main menu blocks, maybe a Simon like mini-game?
Two Player ideas
Giving players the ability to set health for themselves. I'd like it if some of Jasmine's and my games lasted even longer. Allowing us to set up some sort of health system might help stretch things out.
Give us the ability to sign in so we can track scores, wins and losses.
Maybe having the opponents colors mix in with yours?
Different shaped two player maps. Maybe some obstacles that you need to be aware of that pass back and fourth between both players that delete blocks that touch it?
Maybe having larger blocks take longer to cool down if you don't tap them?
Pong like mini-game? I know it sounds cheesy, but we are already facing off near each other. Maybe mix in a few classic games into the mix. Ice Hockey, checkers, backgammon. I think the square faces represented on chess pieces would be awesome. Fill this baby up with some more two player games that are free to clone and all of a sudden Bit Bit Blocks become The Two Player App to Beat with something for everyone.
Agree? Disagree? Write your comments below
Read our other App Reviews
Basic Info:
$2.99
73.2 MB
Universal app
Lots of replay
iOS 6.0 or later
Weblinks: