About seven years ago, I came across a new brand of makeup called e.l.f. (eyes lips face) that sold all of its products for $1.00 each. I was intrigued by this brand that I learned about through a blurb in a teen magazine. No one else had heard of it and it wasn't sold in stores so there was no way of knowing whether it was actually quality makeup. For $1.00 a piece though I was skeptical. It turned out that e.l.f. claimed to sell its makeup so cheap because they didn't advertise.
Imagine my glee and excitement when, soon enough, e.l.f. makeup popped up in my local Target (in a small Texas town) and eventually Kmart — the only two stores where you could physically buy the makeup. I stocked up and was utterly impressed with its quality. It was definitely comparable to other drugstore brands and so much more inexpensive. In the last few years, e.l.f. released a Studio line of more "higher-end" products that range between $3.00to $6.00 for the majority of the products. I've been a big fan so I pretty much died when I found out they were opening a store of their own — right in downtown Manhattan. I finally made my way down and raided the place and was SUPER excited to find a whole gaggle of products I'd never seen. Here are my new favorite e.l.f. makeup all-stars!
e.l.f. Studio HD Mattifying Cream Foundation

Price: $6.00
Why I Love It: Good foundation is hard to come by, and I've tried my fair share of them. This foundation in the Studio line by e.l.f. makeup is fantastic because it's super creamy yet it doesn't leave my oily skin super greasy. It's great for moderate to heavy coverage too. I'm not really crazy about the sponge it comes with because it just tends to soak up most of the foundation, (Try it with a Beauty Blender!) but otherwise it's fantastic!
My Rating: 4/5
e.l.f. Studio HD Lifting Concealer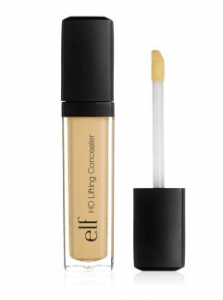 Price: $3.00
Why I Love It: This concealer has vitamin C, green tea and mulberry and is one of the new items in the e.l.f. makeup line. Not sure how much those key ingredients are really helping the look of my skin as the company claims, but I love the coverage of this concealer. It comes in a couple of tones and also in a lavender and green — which are for "balancing" and "adjusting" your skin tone. It's definitely an amazing concealer for the dark circles (there's a "brightening" tone also) under your eyes, and I love the price! Can't go wrong in just trying this one out.
My Rating: 4/5
e.l.f. Studio Mineral Infused Face Primer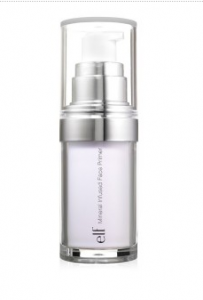 Price: $6.00
Why I Love It: Now this product — I REALLY love! What I've been really enjoying about e.l.f. makeup is that they keep adding colors and options to their existing products like this face primer. I've been using it for a while, and I love its super silky consistency and the fact that it doesn't actually make me more oily (like primers tend to do!). But now e.l.f. makeup introduced a green and lavender option which help with the "adjusting and balancing." I have some residual redness from the acne that I have habitually suffered from for the last 10 years of my life, so the green is fantastic for that. This face primer really just melts onto your skin — definite all-star!
My rating: 5/5
e.l.f. Studio Lip Exfoliator
Price: $3.00
Why I Love It: Out of all the new products by e.l.f., this is absolutely my favorite of favorites, and the people reviewing it on their site seem to agree with me. I have a problem with my lips always getting chapped and then I just pick at the skin. Lip scrubs are usually pretty pricey, so I was ecstatic when I saw this one for $3.00 that has all sorts of yummy stuff like vitamin E, shea butter, avocado, grape and jojoba oils. It goes on like a balm in this easy lipstick tube and works WONDERS. My lips always have that little tingle you get when you exfoliate, and boy are they soft! Definitely, definitely buy this!
My Rating: 5/5