The Nardio Review
Is it Worth Your Time?
YES!
What Should I Play it On?
This Fantasy Adventure review is for the iPad version. iOS 3.2 or later is fine here. Honestly, I can't imagine wanting to play this on a smaller screen than an iPad.  It works so perfectly on the big screen I haven't bothered to install it on my phone.
What Did You Think Without Spoiling it?
The single greatest 3D RPG on the App Store right now. 
 And it's Free!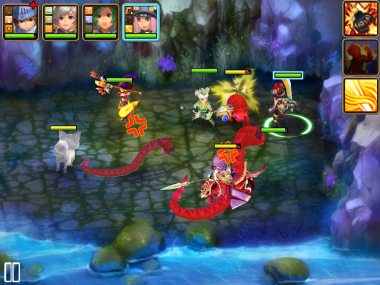 Fantasy Adventure is the best RPG I have played so far on my iPad. The gameplay is really fun and the graphics, storytelling and music really draw you in.
Combat here is fast-paced and requires moving your party a lot by hand and being aware of where everyone is and what they are doing at all times. This kind of action-oriented RPG is way more fun for me than the traditional turn based affair. You fight against onslaughts of monsters in a series of static arena areas that are broken up in a way that feels like your character is moving through a journey.
The story is interesting and the controls are perfect. I have no real problems with this game. There are no glitches, crashes, cheap deaths or running out of things to do for a good long while. The craziest part is it's free! Honestly even if Fantasy Adventure wasn't free, I'd still wholeheartedly recommend it. Fantasy Adventure is a new classic RPG game, with gorgeous graphics and updated tap and swipe controls that works.
Fantasy Adventure has in app purchases, but you never need them.  I ended up just buying $5.99 in gold just to support Userjoy Games.
I'm looking into whatever Userjoy puts out from now on.
How Does it Play?
Seriously perfect. The controls are perfected version of the tap and swipe controls Battleheart introduced. I haven't had an issue where taps/swipes aren't detected. I especially love being able to tape on the healer icon and select the character image that needs heals in the upper left hand corner.  It really is a great way to quickly assign emergency heals and is a huge life/game saver.
Fantasy Adventure's music is just relaxing enough to warrant draining your iPad's batteries on this great free app. The graphics are also really, really great. I love watching the run animations and the spell animations are pretty great. The backgrounds are interesting and the enemies are all fun to watch as well as fight. I really love that the game teaches you what to avoid when fighting bosses early on. At first I was worried it would make the game too easy but that was far from the case. Running out of a red circle is easier said than done with enemies slamming you back into them or others casting spells that make your running speeds painfully slow. This game is challenging and really kept me on my toes as I played through it. The interesting thing is Fantasy Adventure doesn't really penalize you at all for dying. You still keep the loot you made before you die and even the leveling progress. The save system here is really fast and easy too.
The item upgrade system is just genius. You don't really need to buy new weapons or armor since you can upgrade what you have to their stronger counterparts. Keep an eye on the store though because the trinkets are what will really help you out. They can only be upgraded so much, so when a new better version comes along feel free to snap it up because its limits are much higher than what you might already have.
Why it Works:
Fantasy Adventure has it all. Perfect controls, great graphics, no lags or crashes and tons to do. The story is actually interesting and doesn't have too many clichés. The main Roland really does come off as a good guy without being cheesy.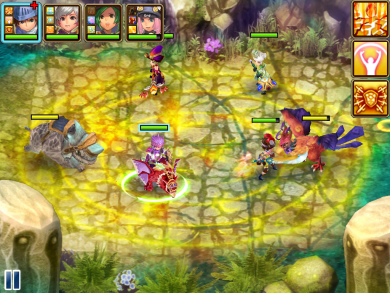 I also really enjoy the fact that you can mix and match your party however you choose.  Don't want Roland as your main tank, go ahead and switch him up with an awesome wolf instead (When he becomes available that is).  Want an all distance set up for Roland to work with? Thats doable too.  The game adds more people for you to try out for fun. Unfortunately they don't really change the story at all and some tend to have the same powers and skills as others. Still, it's a nice touch that you can choose your party members. 
For a Freemium game you would expect things to cost a ridiculous amount, but they really don't. Sure some items might cost a good bit of gold, but you are able to earn it pretty quickly in game. And when you find yourself being kicked around by some of the tougher boss fights you are going to grind anyway. If you are a fan of grinding you are going to love this game. Gear and Hero upgrades in Fantasy Adventure really give immediate results. There is really a sense of character progression here if you want to work for it. If not hey, spend a few bucks, thank the amazing developer and just buy your way to the top.
Userjoy Interview:
Below is an interesting interview I found online by Big World Technology.   Here John, an Executive Producer at User joy explains their design choices over the years and gives some interesting insight about their fantastic games.

No Like?
There is no news on a  sequel yet.  I really want more Fantasy Adventure fun on my iPad.
Wish List:
Basic Info:
Cost: FREE
Universal App
Three Save Slots
Challenge areas
TONS OF REPLAY
Best RPG on the iOS
1 player
50.6 MB
Web links:
Game Website –  http://www.uj.com.tw/uj/english_web/001aboutuj.htm
App store – https://itunes.apple.com/us/app/fantasy-adventure-hd/id587748050?mt=8
If you like this review be sure to check out the rest of our app reviews HERE!